Analysis
An elastic bandage is stretchable that implies localized pressure on the wound. Elastic bandages are generally used to treat muscle sprains and strains, as they decrease blood flow to the specific region that helps in limiting swelling at the injury site. These are utilized for treating bone fractures. The basic structure of an elastic bandage has altered, due to the danger of latex allergies. While some bandages are still manufactured with latex, without the use of natural rubber, many woven and knitted elastic bandage provide sufficient compression. Once wrapped around the wound, aluminum or stretchable clips are often used to fasten the bandage. Some elastic pads even use Velcro closures to secure the wrap and stabilize it.
Increasing numbers of recreational operations, such as adventure sports and trekking lead to numerous cuts, abrasion, minor wounds, and body parts wound formation. Elastic bandages are required in such cases. In addition, the increase in road accident cases globally that leave people with non-fatal wounds require bandages to be applied quickly to avoid further harm. This is also fuelling the elastic bandages market. Increasing incidences of both national and workplace injuries are significant reasons for dealing with an elastic bandage. Domestic activities like cooking in the kitchen, daily chores, falling, cooking burns, household products poisoning are significant causes of injury, especially among females and kids. This is another factor driving the elastic bandages market. However, the high cost of advanced dressing and adverse effects on the skin of the bandage in extreme cases may restrain the elastic bandages market on a global scale.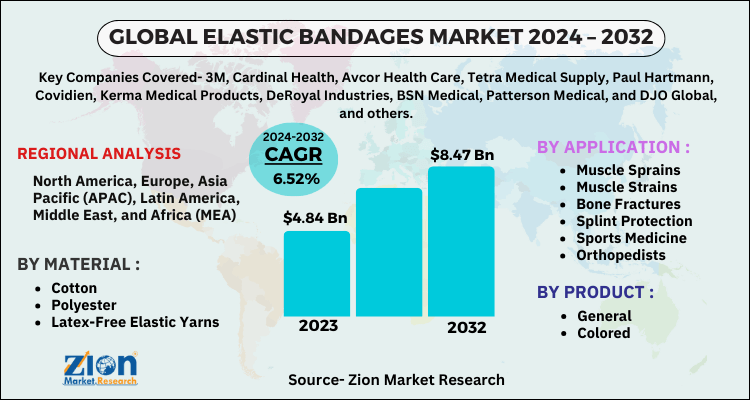 The elastic bandages market is bifurcated into product, material, and application. By product, the elastic bandages market is classified into general and colored. The colored elastic bandages are non-allergenic due to the use of high-quality natural fibers that eliminates itching. It has a soft-strong texture that allows blood circulation, which makes it ready to be applied across all fields for long time periods when needed. Colored elastic bandages can be used to treat varicose, orthopedic injuries, sports trauma, traction of soft tissue, and surgery. The material segment comprises polyester, latex-free elastic yarns, and cotton. The application segment includes splint protection, orthopedists, muscle strains, bone fractures, muscle sprains, and sports medicine.
North America is anticipated to dominate the elastic bandages market globally in the future, owing to the rising prevalence of chronic wounds and orthopedic injuries and increasing regional surgeries that need more elastic bandages. Over the forecast period, Europe is anticipated to experience rapid development in the elastic bandages market. Low production costs and increased healthcare expenditure will drive the Asia Pacific elastic bandages market in the future.
Some key players of the elastic bandages market are 3M, Cardinal Health, Avcor Health Care, Tetra Medical Supply, Paul Hartmann, Covidien, Kerma Medical Products, DeRoyal Industries, BSN Medical, Patterson Medical, and DJO Global.