Analysis
E-waste or electronic waste is the waste material produced from rejected electronic devices and materials as well as components used in their manufacturing process. E-waste consists of mobile phones, televisions, computers, white goods such as washing machines, tablets, fridges, digital cameras, toys, toasters, dryers, home entertainment systems, stereo systems, kettles, and any household or business items with electrical or circuitry components with battery or power supply. E-waste has been rising exponentially due to the increased manufacturing of electronic devices across the world owing to increased preferences of people towards electronic gadgets and technology. Such factors are contributing to the e-waste management market growth over the forecast period.
E-waste management is experiencing the highest growth rate for waste streams in developed as well as developing countries. Decreasing lifespan of electrical and consumer electronic devices is responsible to generate large electronic waste, which is rapidly growing each year. As per the estimation of the United Nations initiative for E-Waste production, in 2012 the world generated around 50 million tons of e-waste, on an average 15 lbs each person globally. In the same year, the UN also stated that the UK produced 1.3 million tons of electronic waste. China produced 11.1 million tons of e-waste, followed by the United States accounting for 10 million tons. Rising adoption rate of advanced technology devices coupled with increasing demand for upgraded latest technologies is further expected to drive the industry growth in the coming years. E-waste management initiatives by various governments have been taken to decrease e-waste generated across the world. Industry players are also taking various measures to recycle e-waste to reduce environmental pollution and hazards. For instance, in June 2014, Dell introduced its first computer made from plastics obtained from recycled electronics.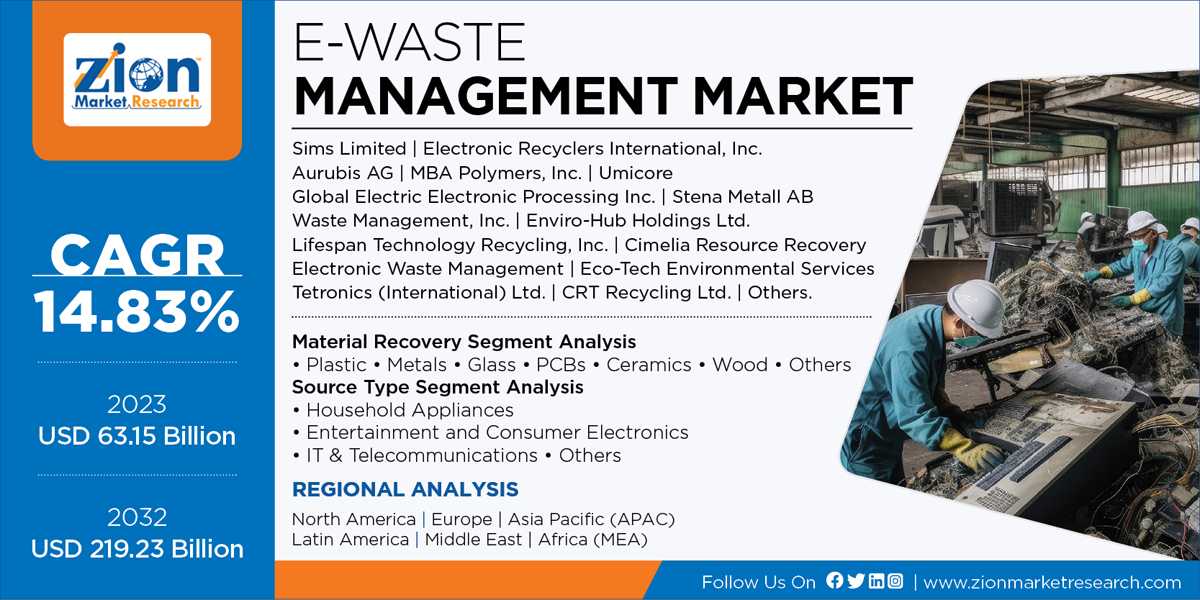 Based on material recovery, the e-waste management market is segmented into plastic, glass, metals, ceramics, PCBs, wood, and others. On the basis of source type, the market is segmented into household appliances, entertainment and consumer electronics, IT & telecommunications, and others.
North America held substantial revenue share of the global e-waste management market in 2017 and the region is anticipated to continue with its regional supremacy over the forecast period. The growth of this regional market is attributed to the increased number of equipment and devices which are discarded every year since consumers upgrade to the technologically advanced products. Moreover, rising government initiatives in the U.S. to recycle e-waste is anticipated to further drive industry growth in the region over the forecast period. Asia Pacific is predicted to provide significant opportunities for the e-waste management. The region is a manufacturing hub, growing per capita income, and rising middle-class population is contributing to increasing demand for consumer electrical and electronic goods in Asia Pacific. Such factors are expected to drive the e-waste management market growth in the Asia Pacific region over the forecast timeframe.
Some of the industry players operating in the e-waste management market include Enviro-Hub Holdings Ltd., Global Electric Electronic Processing Inc., Boliden AB, Tetronics (International) Ltd., MBA Polymers, Inc., Umicore S.A., Stena Technoworld AB, Aurubis AG, Electronic Recyclers International, Inc., and Sims Metal Management Ltd. Industry players are mostly focusing on research and development activities to initiate the management of e-waste.