Analysis
A distributed acoustic sensing system (DAS) is a fiber optic optoelectronic instrument that measures acoustic interactions along with the linear measure of a fiber optic sensing cable. The combination of optical fiber and light speed creates a mechanism insulated from environmental interference, which provides a continual or scattered temperature profile along the length of the sensing cable.
The rapid increase in global energy consumption has increased the need for new and unexplored fossil fuel resources. Currently, the production and transportation of energy are conducted in highly complex situations, such as increasing tectonic activity, soil instabilities, and ultra-deepwater operations, to ensure no negative impact on terrestrial fauna and fisheries. There need for real-time complex liquefied natural gas (LNG) assets control and high temperatures in thermal enhanced oil recovery (EOR) methods is growing. Thus, fiber optic sensing or distributed acoustic sensing is a unique and cost-effective technique to assess the mechanical health of large structures and conduct an efficient damage assessment. All these factors are driving the distributed acoustic sensing systems market. The automation and digitization of oil and gas technologies coupled with the rising need for productivity, efficiency, and safety during operations provide a huge opportunity for fiber optics in the oil and gas industry. Distributed acoustic sensing systems are useful in pipeline monitoring and surveillance and add value to distributed fiber optic sensor monitoring solutions for reservoirs and wells. The growing cost of multi-lateral hydraulic fracturing to improve oil recovery with continuous strength of capital expenditure on thermal developed oil recovery techniques will provide new growth opportunities for the distributed acoustic sensing systems market globally.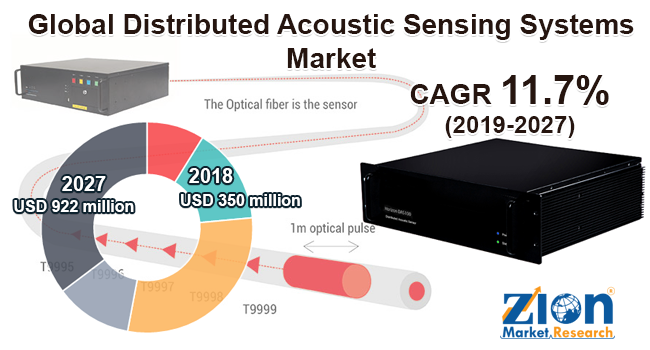 By application, the distributed acoustic sensing systems market includes wellbore integrity monitoring, cross well analysis, injection flow, transport tracking and health monitoring, production flow, and others. The production flow segment is likely to hold the largest market share, whereas the cross well analysis segment is anticipated to grow rapidly over the projected time period. On the basis of type, the market for distributed acoustic sensing systems is bifurcated into multimode and single mode. The multimode segment is projected to hold the highest market share while single mode segment is anticipated to grow significantly over the estimated time period.
Europe is expected to hold a considerable share of the distributed acoustic sensing systems market in the years ahead, owing to rapid advancements witnessed in various technologies and the regional presence of prominent players. The North American distributed acoustic sensing systems market is anticipated to grow modestly over the projected time period, owing to improved infrastructure in major countries like the U.S. and Canada.
Some noticeable players in the distributed acoustic sensing systems market are Banweaver, Fotech Solutions, Future Fiber Technologies, Halliburton, Hifi Engineering, Omnisens, OptaSense, Schlumberger Limited, Silixa, and Ziebel.