Global Fiber Optics Market Size
The Global Fiber Optics Market size accounted for USD 3.1 Billion in 2020 and is expected to reach USD 4.9 Billion by 2028, growing at a CAGR of around 6% between 2021 and 2028.
Fiber Optics Market Overview
Fiber optics are microscopic threads of pure glass used to provide high-performance networking to long distance and is deployed to transfer light signals. Optical Fibers are mostly used in the telecommunication arena such as television, internet and telephone. It transmits data in form of photons by altering light particles into light pulse via an optical wire. Optical Fiber comprises of an inner core and outer cladding. They are of two types Sing-mode Fiber and Multi-mode Fiber, in terms of refractive index it is classified into Step index Fiber and Graded index Fiber. Cost-effective and economical, less power consumption, and non-flammability are the factors propelling the market.
Fiber optics are not only deployed in telecommunication industry but are also used in military, medical, oil and gas sectors. Ongoing technological advancement, demand for secure communication has led the keys players to focus vigorously upon product enhancement, mergers & acquisition and collaborations.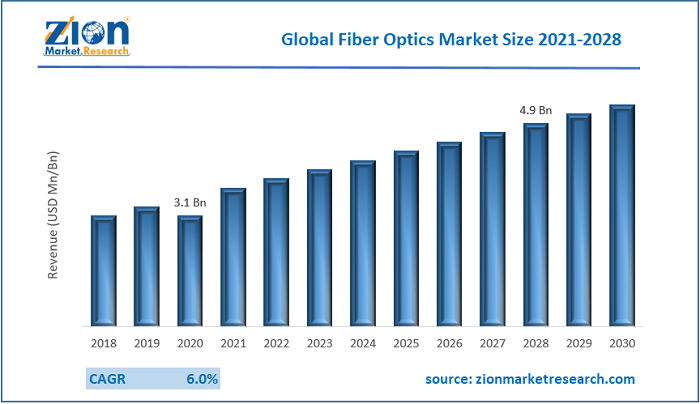 Request Free Sample
COVID-19 Impact Analysis
The lockdowns imposed by various countries to contain the spread of Covid-19 has impacted the global operations and supply chain which had a negative consequences on Fiber Optics market as the global sales declined. As a result of lockdown, the industry became stagnant as the production and retailing operations slowed down. Moreover, significant growth of internet users has upsurged the demand for Fiber optics. Various scenarios have been analyzed on the basis of inputs from various secondary sources and the current data available about the situation.
Global Fiber Optics Market Size Growth Factors
The growth of the fiber optics market is majorly boosted by raising awareness about data security issues and employment of the optional raw material. Apart from this, increasing demand for the handset, which employs optical fiber for LED light is increasing the requirement for fiber optics market. The fiber can transfer light from the one place to a distance location.
In addition, Fiber Optics Market Size Report, it can be employed for taking the heat away from light, which permits a single huge light to be separated into small points of light tinnier than any source single-handedly. Hence, it can be employed in galleries, museums, and design/architecture. On the other hand, the high initial price is believed to the major challenge for the development of the fiber optics market. Rising demand for the internet across the globe and increasing importance of data transfer, cloud computing, and the Internet of Things are other major factors strengthening the market overall. Ongoing demand for enhancing 5G connectivity is playing a vital role in stimulating the Fiber optics market.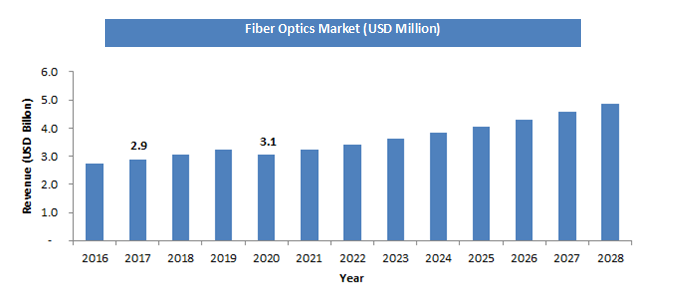 Request Free Sample
Report Scope:
Application Segment Analysis Preview
The global Fiber Optics market is divided into two categories: application and region. The market is segmented into telecom & broadband, healthcare, defence, private data transfers and other. The telecom & broadband segment is anticipated to grow on account of heavy spending in ICT industry along with the increasing users in China and India. Growing demand for mobile phones, broadband services and secured data management are the factors driving the telecom industry.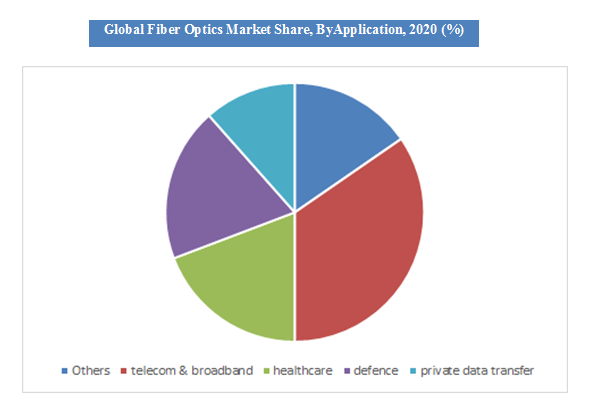 Request Free Sample
Key Market Players & Competitive Landscape
Some of the major players of global Fiber Optics market includes Finolex Cable Limited, Australian Fiberoptic Communications, Yangtze Optical Fiber and Cable Co. Ltd., Ofs Fitel, Sterlite Technologies Limited, Corning Inc., Fujikura Limited, and Prysmian SpA, among others.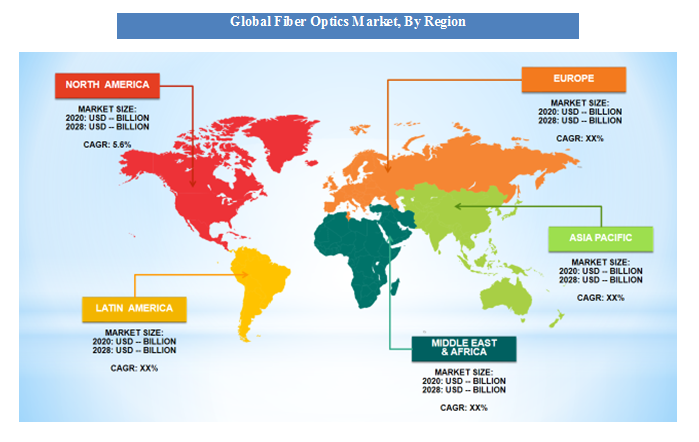 Request Free Sample
The Global Fiber Optics Market is segmented as follows:
By Application
Telecom & broadband
Healthcare
Defense
Private data networks
Others
By Region
North America
Europe

France
The UK
Spain
Germany
Italy
Rest of Europe

Asia Pacific

China
Japan
India
South Korea
Southeast Asia
Rest of Asia Pacific

Latin America

Brazil
Mexico
Rest of Latin America

Middle East & Africa

GCC
South Africa
Rest of Middle East & Africa