Free Analysis
An optical fiber is a flexible and transparent fiber made by drawing glass or plastic and is used to transmit light between the two ends of the fiber. There are wide usages in fiber-optic communications, where they allow transmission over longer distances and at higher bandwidths than wire cables. Instead of using metal wires, fiber optic cables are used in order to signals travel along them with lesser amounts of loss. Furthermore, fibers are also used for illumination and are wrapped in bundles so that they may be used to carry images and used in other applications also.
The major factors which are driving the fiber optics market growth are increasing demand of fiber optics in different avenues such as telecommunication sector, private data networks, and others. Growing demand for high-speed internet is also impelling the demand of fiber optics market. However, some restraining factors which hindering the growth of the fiber optics market are the high cost of raw material and complex manufacturing process. Nonetheless, rising demand for a remote sensing technique which allows data transmission without any physical medium will fuel the fiber optics market growth in the years to come.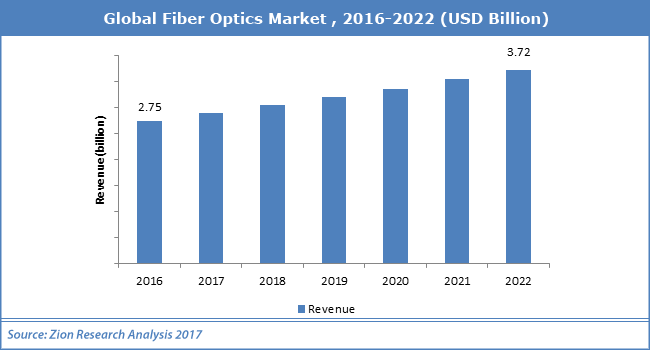 Fiber optics is used in different applications such as telecom & broadband, cable television, private data networks, oil & gas, utilities and others. Among these applications, the telecom sector is dominating the fiber optics market and is estimated to persist over the forecast period. Other applications of fiber optics are industrial, healthcare, commercial and data storage. Fiber optics is used as an imaging tool, light guides and also as lasers for surgeries. Fiber optics is used as hydrophones for seismic and SONAR uses, submarines as wiring in aircraft and other vehicles and also for field networking. In telecommunication sector, the fiber optics help to receive and transmit data. Fiber optics play cog role in industrial and commercial sector owing to its uses in various fields. For instance, fiber optics is used for imaging in inaccessible areas and acts as sensory devices to measure temperature. In conventional wiring, there isEMI issue which is overcome using fiber optic cables. It is also used for wiring in the automobile industry.Fiber optic cables are also used for research and development and testing across all the above-mentioned industries.
North America and Europe are expected to grow steadily in coming years. Asia Pacific is estimated to show significant growth on account of increasing use of new telecommunication technologies such as FTTx applications and 4G mobile usages. Therefore, due to rise in usage of 3G/4G data, demand for fiber optics is expected to escalate by network operator in Asia Pacific region.
Key players in the fiber optics market are PrysmianSpA, Australian Fibreoptic Communications, Finolex Cable Limited, Sterlite Technologies Limited, Ofs Fitel, Corning Inc., Yangtze Optical Fiber and Cable Co. Ltd., Fujikura Limited, and others. High initial investment and maintenance cost is expected to restrict entry of new players in the fiber optics market.