Free Analysis
Dermatoscopy is the examination of skin lesions using a dermatoscope. It is a process to observe skin lesions by dermatologists, which mainly contains a transparent plate, a non-polarized light source, a magnifier, and a liquid medium between the device and the skin, and produces digital images or videos. The growing consciousness about one's physical appearance is leading to an increased inclination toward dermatology, as it is one of the effective methods to enhance an individual's personality and aesthetic appearance. There has been growing importance of dermatology in the cosmetic industry globally.
Over the last decade, there has been a growing trend of technically advanced products, which has led to the availability of a wide range of diagnostic devices for the detection of skin disorders. As per the American Academy of Dermatology (AAD), one in every three Americans visits a dermatologist and one in every four are affected by skin disorders annually. Physicians and healthcare professionals are using these tools to diagnose and treat various skin disorders, which have proved to be highly productive and efficient in comparison to conventional diagnostic methods. These are some factors likely to fuel the dermatoscopes market globally in the future. However, the rise in prices of dermatoscopes makes them less affordable for people, which, in turn, might hamper the dermatoscopes market globally in the future.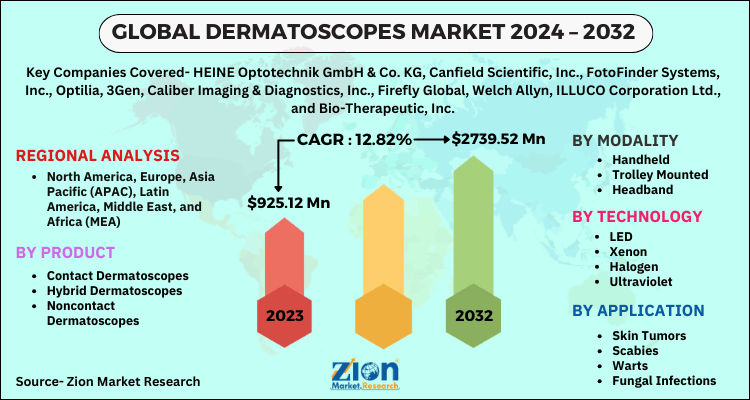 The global dermatoscopes market is segmented based on product, technology, modality, and application. Based on product type, this global market is segmented into contact dermatoscope, hybrid dermatoscope, and noncontact dermatoscope. The technology segment of the dermatoscopes market includes LED, xenon, halogen, and ultraviolet. Based on modality, this market is divided into the handheld, trolley mounted, and headband. By application, this global market includes skin tumors, scabies, warts, fungal infections, and others.
By region, North America and Europe are likely to dominate the dermatoscopes market and hold almost 65% share together over the forecast time period. This can be attributed to the increased cases of melanoma among men in the U.S. due to the exposure to ultraviolet rays and tanning. In Europe, there are favorable governments policies regarding the awareness related to various skin cancers and developed healthcare infrastructure. The Asia Pacific region is projected to register the highest CAGR in this global market in the future, due to rising medical tourism, improved economic growth, and stability.
Some leading players of the global dermatoscopes market include HEINE Optotechnik GmbH & Co. KG, Canfield Scientific, Inc., FotoFinder Systems, Inc., Optilia, 3Gen, Caliber Imaging & Diagnostics, Inc., Firefly Global, Welch Allyn, ILLUCO Corporation Ltd., and Bio-Therapeutic, Inc.