Free Analysis
Data center colocation provides services for space, storage, power, cooling and physical security of the server, and networking devices to integrate them with several network facilities and telecommunications providers at a low cost. Colocation is a data center facility, wherein a firm can rent their servers and computing hardware devices. Server workload is growing every year along with depicting the ill-effects on IT operations. But, data center colocation has reduced the investment cost related to the construction of data centers, which has further lowered the operational cost for many enterprises.
Cloud computing is one of the sectors that is likely to drive the data center colocation market in the future, due to its low operational cost. The cloud market comprises large global companies, such as Microsoft Cloud and Amazon Web Services along with the companies operating in the provider segment. In terms of infrastructure, third-party vendors and renowned corporations support their services with large-scale data centers and rent spaces to colocation service providers. Besides, combining colocation with the cloud can increase security, create cloud interconnection opportunities, and reduce latency. Moreover, digitization of consumer health records has also been contributing to the data increment in the last few years. Modernization of legacy operating systems, innovations in the medical equipment industry, and improvement in patient response systems help in data generation, which, in turn, is projected to further boost the data center colocation market in the upcoming years.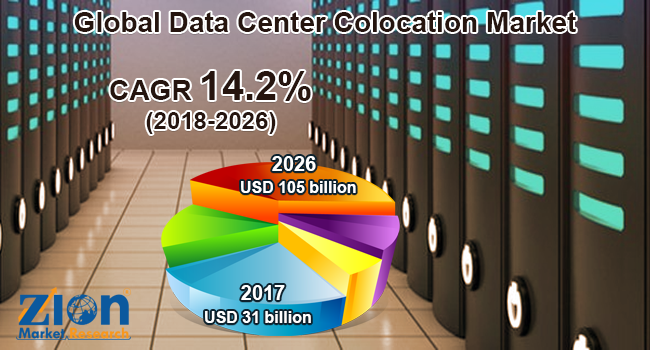 The market for data center colocation is segmented on the basis of lease type and end-user. By lease type, the market is bifurcated into retail and wholesale. By end-user, the market is segmented into small and medium enterprises and large enterprises.
By region, North America is anticipated to dominate the market for data center colocation and hold a major market share in the forecast period, due to the emergence of a large number of data centers in this region. The Asia Pacific data center colocation market is a developed hub for e-trading. The region holds huge growth potential for trading associations which is looking to access colocation services and upgrade their network. Japan, China, and India account for a large number of data centers owing to the increasing demand from IT, BFSI, telecom, and social media sectors in these countries, and thus, boosting the region's data center colocation market.
Some leading players in the data center colocation market include ANEXIO, Inc., Atlantech Online, Inc., CE Colo, Coreix Limited, CYRUSONE, Digital Realty Trust, Inc., Equinix, Inc., First Colo GmbH, H5 DATA CENTERS, IBSCY Ltd., Interoute Communications Limited, Linxdatacenter, Netmagic Solutions, NextraOne, North Shore, RACKSPACE US, Inc., Red Level Networks, Sabey Data Center Properties, Sentinel Data Centers, and Viettel IDC.