Free Analysis
Shea butter is as an edible fat that is extracted from the shea kernels or nutshells of the shea tree. Shea butter has major applications across a wide range of industries, such as cosmetics, food processing, pharmaceuticals, and others. Cosmetic shea butter is also known as Vitellaria paradoxa and is referred as vegetable oil the international trading market. Shea butter does not contain any artificial chemicals and comprises oleic acid and stearic acid.
In the cosmetic industry, the shea butter is used as an alternative to the vegetable oil, as its contents are rich in fatty acids. Shea butter is widely used in the cosmetic industry, as it helps in replenishing skin cells naturally. This is the main growth driver of the cosmetic shea butter market globally. As the product also has various other properties such as smoothening and moisturizing the product is widely used in the cosmetic industry. The steadily rising demand of the organic and natural cosmetic ingredients, due to growing consumer awareness and escalating importance of sustainability among the manufacturers are also fuelling the global market for cosmetic shea butter. However, the high cost of raw material and availability of various substitute products may limit the cosmetic shea butter market globally. Alternatively, the increasing penetration of cosmetic shea butter via online retailing channels will provide several growth opportunities to the cosmetic shea butter market on a global scale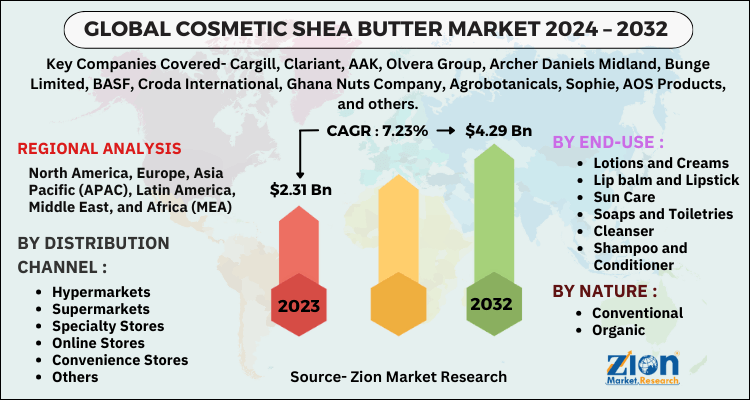 The cosmetic shea butter market is fragmented based on nature, end-use, and distribution channel. Based on nature, the market is segmented into conventional and organic. By end-use, the market includes lotions and creams, shampoo and conditioner, sun care, soaps and toiletries, cleanser, lip balm and lipstick, and others. On the basis of distribution channel, the market comprises specialty stores, hypermarkets, convenience stores, online stores, supermarkets, and others.
Europe accounted for the most significant share of the cosmetic shea butter market globally, in terms of value in 2018. This can be attributed to the growing consumption of cosmetic shea butter by the regional cosmetic industry. The North American cosmetic shea butter market is likely to witness noteworthy growth over the predicted period, owing to the rising consumer demand for organic cosmetic products.
Some major players operating in the cosmetic shea butter market are Cargill, Clariant, AAK, Olvea Group, Archer Daniels Midland, Bunge Limited, BASF, Croda International, Ghana Nuts Company, Agrobotanicals, Sophim, and AOS Products.