Free Analysis
Cosmetic ingredients are a chemical used in personal care products such as soap, lotion, shampoos, perfumes, and powders. Cosmetics and personal care products play a vital role in our lives, as they not just enhance our aesthetic beauty but well being too. For instance, sun creams are used for well being and skin care, while hair care products and moisturizers are used as grooming products. Cosmetics ingredients are categorized as synthetic and organic. Synthetic cosmetic ingredients include aluminum salt, phthalates, paraben, and petrochemicals etc; whereas, organic ingredients extracted from natural sources include plant extract, vitamins, proteins, waxes, oils & fats, additives, preservatives and thickening agents. Growing health concern and increasing demand for cosmetic ingredients is expected to propel the cosmetic ingredient market growth over the forecast period.
The global cosmetic ingredient market is expected to witness robust growth in the near future. Cosmetic ingredient market is categorized on the basis of type and application. Based on the type, cosmetic ingredient market is classified into surfactants, conditioning polymers, emulsifiers, emollients, antimicrobials, UV absorbers, antioxidants and preservatives, and rheology modifiers. The market is mainly driven by growing demand for natural hair care products without ammonia, sulfur, and paraben. However, various regulations prohibiting the use of certain chemicals as cosmetic ingredients could hamper market growth
By application, cosmetic ingredient market is categorized into skin care, hair care, makeup and oral care. Changing lifestyle and raising awareness about skin care is projected to boost the demand for skin care applications during the forecast period.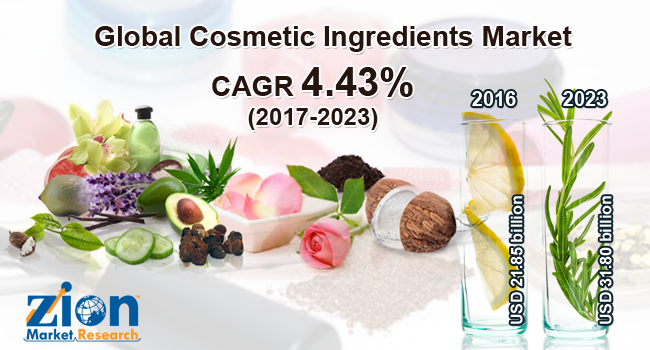 By geography, cosmetic ingredients find its market scope in North America, Europe, Asia Pacific, Latin America and Middle East & Africa. In the years to come, North America and Europe are expected to dominate the market. The Asia Pacific is expected to be the most promising region in the terms of incremental opportunities to generate high revenue. The rapid growth of urbanization coupled with growing demand for skin care in countries like India, China and ASEAN are expected to fuel the market growth in the coming years.
The report also includes detailed profiles of key players such as Akzo Nobel N.V., Ashland Inc., BASF SE, Croda International Plc, Clariant AG, Evonik Industries AG, Innospec Inc., Lonza Group, Solvay SA, and The Dow Chemical Co. The detailed description of players includes parameters such as company overview, financial overview, business strategies and recent developments of the company.