Analysis
Conductive polymers fall under the class of intrinsically conductive polymers (ICPs) having uncommon mechanical and conductive properties as compared to other polymers. Conductive polymer showcases optical and electrical properties similar to that of metals and inorganic semiconductors. They show exceptional control of electrical stimulus and have high conductivity to weight ratio. Conductive polymers can be engineered to be biocompatible, porous and biodegradable materials. They are being widely used in the microelectronics industry, diodes, batteries, electrochromic display and photovoltaic's. Other key applications of conductive polymers include computer displays, surgical tools, fuel cells, and biosensors.
Rising demand for smart materials, low cost for raw materials, advancement in the electrical and electronic sector, growing display devices, demand for lightweight electronic components, a new advancement in biomaterials are some of the key drivers of conductive polymers market. Growth in conductive polymers market is hampered by falling prices of indium tin oxide, manufacturer preference towards metal-based materials, poor selectivity of conductive polymers and low degree conductivity compared to metal-based materials.
Conductive polymers, due to their unique electronic properties have been an area of interest since last three decades. They have been readily researched and applied in areas of sensors, energy storage systems, and actuators. New research development highlights developing conductive polymers that are of three dimensional in nature. These 3D based conductive polymers are used in the development of polymer-nanoparticle hybrid materials.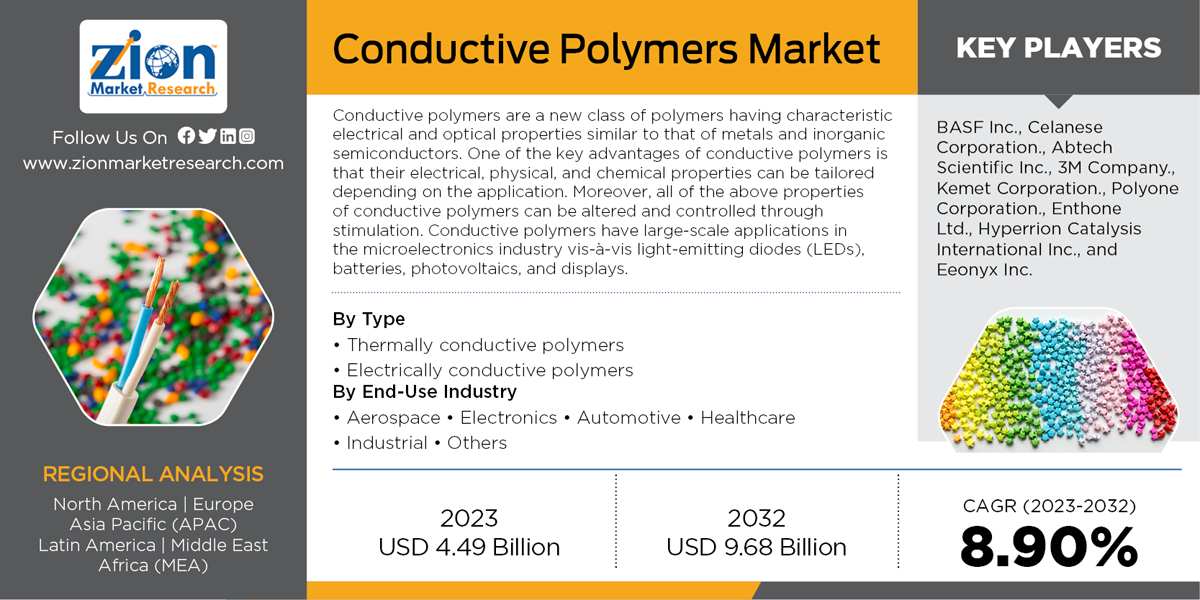 Global conductive polymer market is segmented in terms of type and end users. In terms of types conductive polymers market is classified as electrically conducting and thermally conducting materials. Thermally conducting polymers is anticipated to grow with highest CAGR for the forecasted period 2017-2025. Rising demand for heat dissipation systems for LED, consumer electronic devices, and heating & cooling systems drives demand for thermally conductive polymers. The end-user segment is bifurcated in terms of electronics, automotive, healthcare, industrial, aerospace, and others. Electronics holds the largest share for revenue amongst the end users segment for the forecast period. Thriving electronic industry propelled by expanding upper-middle-class population specifically in developing economies like India and China.
North America and Europe are the key revenue markets of conductive polymers for the forecast period. Conductive polymers market in North America and Europe are driven by high R&D expenditure, adequate infrastructure, large-scale presence of original equipment manufacturers (OEM), and favorable government regulations. The Asia Pacific is the fastest growing market for conductive polymers for the forecast period. Conductive polymer industry in the Asia Pacific is driven by rising demand for consumer electronics, automobiles, construction (renovation) of residential and commercial properties. India, China, Thailand, and Indonesia are amongst the key markets for conductive polymers in the Asia Pacific.
Some of the key players within global conductive polymers market include BASF Inc., Celanese Corporation., Abtech Scientific Inc., 3M Company., Kemet Corporation., Polyone Corporation., Enthone Ltd., Hyperrion Catalysis International Inc., Eeonyx Inc.