Analysis
Cancer is caused by uncontrolled and abnormal growth of cells. There are more than 100 types of cancer in the world. It can spread to other body parts and is one of the most fatal global diseases. Tobacco is responsible for around 33% of cancer cases worldwide. Poor diet, obesity, excessive alcohol consumption, and low physical activity are responsible for around 10% of cancer cases. Exposure to environmental pollutants and ionizing radiation are responsible for cancer. Inherited genetic can also cause cancer. Cancer can be treated by using several techniques, such as surgery, chemotherapy, radiation therapy, immunotherapy, hormonal therapy, targeted therapy, stem cell therapy, and precision medicine.
The rising occurrences of multiple cancer types, such as sarcoma, lung cancer, lymphoma, myeloma, and breast cancer, are likely to act as the major growth driver for the chemotherapy devices market globally. Cancer is the second prominent cause of death globally. According to the Cancer Research UK, cancer was caused almost 9.6 million deaths worldwide in 2018. It further stated that around 17 million new cancer cases were registered in 2018. Furthermore, around 1.7 million new cancer cases are to be detected in the U.S. and more than 6,00,000 people will succumb to the disease in 2018. Furthermore, growing stress on research and development in oncology and the rising demand for precise and biological drug therapies are likely to propel this market in the future. Efforts taken by various government and non-government organizations to increase cancer awareness and rapid technological advancements are anticipated to create opportunities for the chemotherapy devices market players. However, unwillingness showed by patients to undergo chemotherapy, slight risk of infection due to chemotherapy, and the absence of insurance and reimbursement policies in developing regions might limit this market globally.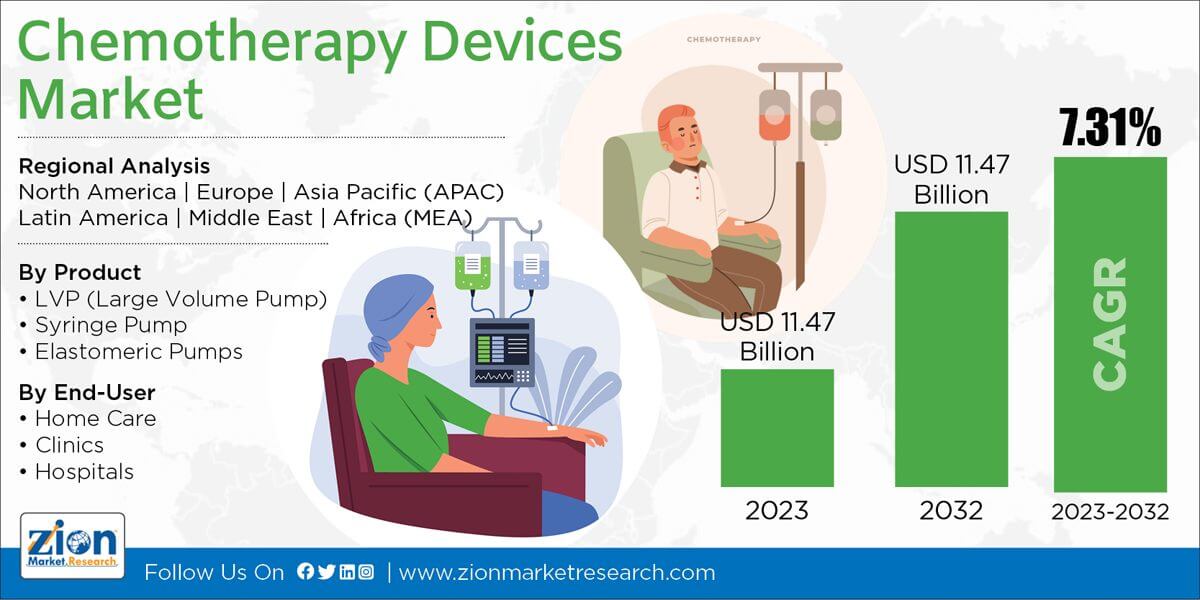 The global chemotherapy devices market has been segmented into product and end-user. By product, the chemotherapy devices market includes cannula, pump, catheter, and others. The end-user segment is divided into home care, clinics, and hospitals.
By region, Europe is likely to be the prominent region in the forecast time period. The increasing number of geriatric population, growing government expenditure on chemotherapy procedures through the National Health Service (NHS), and rapid technological advancements are likely to boost this regional market. The North American region is projected to generate substantial revenue in the future, due to the increasing occurrences of multiple types of cancers and the rising presence of highly developed healthcare infrastructure. The Asia Pacific chemotherapy devices market is anticipated to grow rapidly in the upcoming years. Rising awareness regarding cancer diagnosis and treatment, high use of tobacco and other cancer-causing agents, and rising per capita healthcare spending are expected to boost this regional market in the projected timeframe.
Some key players of the chemotherapy devices market include Baxter International Inc., B. Braun Melsungen AG, Advanced Chemotherapy Technologies, Becton, Dickinson and Company, Halyard Health, Terumo Corporation, Fresenius Kabi, Moog Inc., Smiths Group PLC, Zyno Medical, and Micrel Medical Devices S.A.