Analysis
Accessories are selected by a car owner to enhance safety, performance, or comfort. An accessory may be added at the factory by the original equipment manufacturer or purchased and installed by the owner post-sale as aftermarket goods. Car accessories are used to enhance interior aesthetics of the vehicle and give an overall entertaining and comfortable riding experience. Car accessories are integral when upgrading and enhancing car's look. These are supplementary parts that improve a car's ability and play a vital role in car maintenance process. There are various interior and exterior accessories used for car manufacturing.
Car accessories market is expected to have immense growth in the coming future. The market is anticipated to be driven by increasing demand for cars across the globe. Increasing consumer inclination towards an entertaining driving experience and growing vehicle customization among a young population are projected to boost the demand for car accessories market. However, availability of wide range of car accessories with inconsistent quality may hamper the market growth within the forecast period. Nonetheless, technological advancement to provide innovative accessories is expected to open up new growth avenues in the near future. The global car accessories market has experienced tremendous growth over past few years owing to increasing demand for cars across the globe. The growing economies in the world have made a greater impact upon the development and growth of the car industry. Regions like Europe are expected to maintain its dominance in terms of market value in the global car accessories market during forecast period.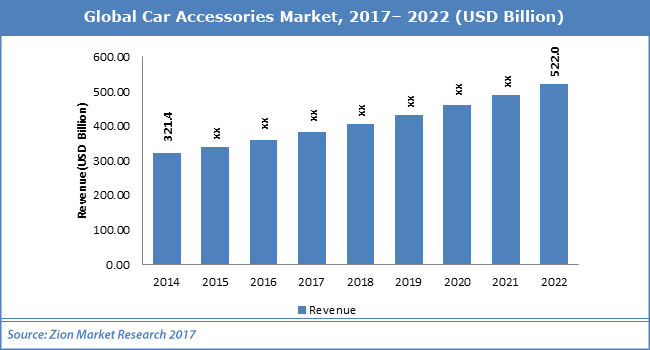 Car accessories market can be categorized on the basis of its product type into working lights, torches, appearance accessories, warning lights, driving lights, interior lights, e-sets, interior accessories, lifestyle gadget, instruments and gauges, safety, light module tuning, performance/stylish/luminaire tuning, vision products, appearance chemicals, gas & oil additives, solar powered HVAC systems, retrofit air conditioner sets, and others. All these products are used to protect vehicle and enhance safety. Among all the product types, the market is dominated by torches, lights, covers and all electronic accessories segments which are collectively expected to hold the highest revenue share over the forecast period.
By geography, the car accessories market is segmented into North America, Europe, Asia Pacific, Latin America, and Middle East & Africa region. Among all, Europe was the largest market for car accessories market in 2016, due to increasing consumer spending on car accessories in the region. After Europe, North America is likely to account 27.3% of market share by the end of 2022. The car accessories market in the Asia Pacific region is projected to grow at highest CAGR during forecast period.
Some of the key players operating in this market include U.S. Auto Parts Network Inc., Cover craft Industries LLC, Lloyd Mats, Star Automotive Accessories, Robert Bosch GmbH, Hyundai Motor Company, Roush Performance, JCA Fleet Services, Classic Soft Trim, Renault, Honda Motor Co., Ltd., and others. The key players focus on expanding their business on new strategies and have significant market share in the global car accessories market.