Analysis
The method of rigorous measurement and show of concentrations or partial pressures of carbon dioxide within the metastasis gases using a capnogram is called capnography. These devices are majorly used as monitoring tools for intensive care and anesthesia. Capnography aids anesthesiologists to prevent hypoxia and determine the situations that lead to hypoxia, which can cause irreversible brain damage. Basically, these devices are broadly used in emergency rooms, endoscopic suites, on-site emergencies, x-ray rooms, and trauma centers.
The commonness of respiratory diseases is the key factor supporting the global capnography devices market growth. Growing prevalence of various respiratory illnesses, such as pulmonary embolism, COPD, and asthma, that require intensive respiratory monitoring, is also likely to drive the capnography devices market globally. As per the European COPD Coalition, in 2014, more than 500 million people suffered from COPD globally, and this number is likely to grow in the future. Additionally, as per the stats by Global Asthma Network, asthma affects more than 350 million people worldwide, which drives the clinical urgency to incorporate capnography in extensive treatment regimens. Furthermore, the increasing need for these devices in prolonged illnesses, emergency medicine, and delayed treatments related to lung diseases in adults and children is further likely to drive this market's growth. These devices are gradually being adopted by physicians for managing respiratory disorders, as they ease medical intervention for both chronic and acute care patients. The synergistic effects of obesity, the prevalence of respiratory diseases, and unhealthy lifestyles, such as smoking, are further anticipated to boost this market.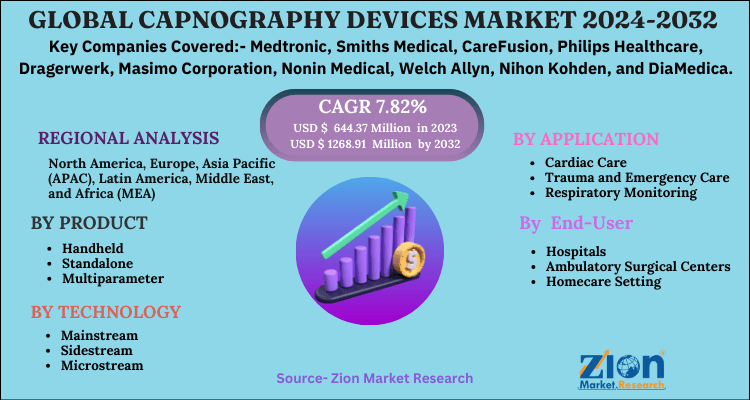 On the basis of product, the for capnography devices market is divided into handheld, standalone, and multiparameter. By technology, the market for capnography devices is divided into mainstream, sidestream, and microstream. The application segment of the capnography devices market includes trauma and emergency care, respiratory monitoring, cardiac care, and others. Based on end-user, the capnography devices market comprises ambulatory surgical centers, homecare setting, hospitals, and others.
North America dominated the global capnography devices market in 2018, due to a huge patient population, high COPD prevalence, and the presence of major device manufacturers in the region. Moreover, as per the CDC, more than 10 million people suffered from respiratory diseases, such as bronchitis, in 2016 in the U.S. alone. The rising number of patients suffering from cardio-respiratory diseases is resulting in increased use of capnography devices, thus the fueling capnography devices market. The Asia Pacific capnography devices market is likely to register significant growth in the future, owing to the rising healthcare expenditure, rapidly improving healthcare system, and growing awareness regarding the benefits of these devices.
Some leading players operating in the global capnography devices market are Medtronic, Smiths Medical, CareFusion, Philips Healthcare, Dragerwerk, Masimo Corporation, Nonin Medical, Welch Allyn, Nihon Kohden, and DiaMedica.