Analysis
Cannabis or marijuana is a budding plant, also known as hemp, belongs to the family of Cannabaceae. For a long time, marijuana was used as a foundation for hemp fiber and oil, which are used for therapeutic purposes and as psychoactive drugs. Currently, the use of cannabis has been extended to consumable drinks called cannabis beverages or drinks. Cannabis beverages are gaining popularity in the market due to the rising demand for wellness beverages by the consumers. This is the primary factor likely to fuel the global cannabis beverages market over the estimated timeframe. Low sugar content, clean ingredients, and an appropriate quantity of cannabis are attracting cannabis smokers toward cannabis beverages, which, in turn, is projected to further drive the global cannabis beverages market in the future. Moreover, the various health benefits of cannabis beverages, such as improved sleep patterns, restricted weight gain, relief from depression and anxiety, controlled blood pressure, etc., are also anticipated to augment the growth of the cannabis beverages market globally in the upcoming years. The legalization of cannabis in Canada and the U.S. has created new growth opportunities for the cannabis industry to develop cannabis beverages.
The global cannabis beverages market is segmented by type, end-use, and distribution channel. By type, the market is segmented into alcoholic and non-alcoholic beverages. The alcoholic cannabis beverages market is further segmented into cannabis-infused beers, cannabis-infused spirits, cannabis-infused wines, and others. The non-alcoholic cannabis market is further segmented into marijuana tea, marijuana elixirs, cannabis soda, and cannabis coffee and cold brew. By end-user, the global cannabis beverages market is categorized into household and HoReCa. By distribution channel, the cannabis beverages market is segmented into B2B and B2C (convenience stores, hypermarkets, specialty stores, online stores, and others).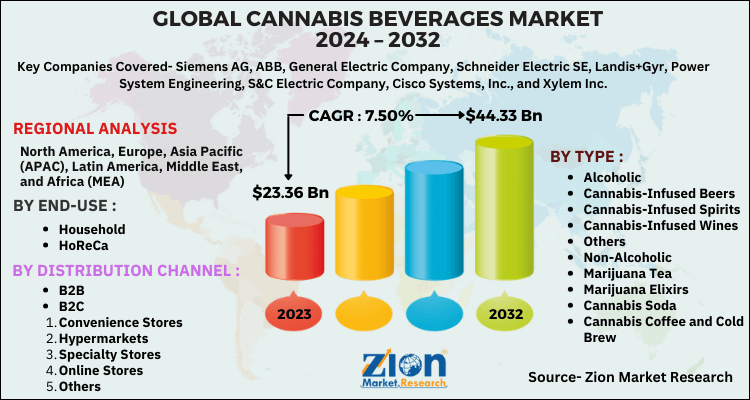 By region, North America held the major share of the global market in 2018 and is estimated to dominate over the forecast period as well. The growing spending on cannabis beverages is expected to propel this regional market's growth. Europe is anticipated to hold the second position in the global cannabis beverages market in the future, owing to the rising investment for cannabis beverages and growing awareness.
Some key players of the global cannabis beverages market are Beverages Trade Network, Coca–Cola, Lagunitas, The Alkaline Water Company, New Age Beverages Corporation, COALITION BREWING, Dutch Windmill Spirits, Heineken, Klosterbrauerei Weißenohe, SK Rodnik, Koios Beverage Corporation, The Supreme Cannabis Company, General Cannabis Corporation, Heineken, Coalition Brewing, Bhang Corporation, and Cannabis Energy Drink, among others.