Analysis
A candle is generally a cylindrical piece of wax with a wick embedded in it. This wick is used to produce light when it burns. A candle burns as long as the surrounding wax does not melt completely. Apart from lightning purpose, candles are now also used in celebrations and for creating a positive and soothing environment.
The global candle market is expected to witness significant growth over the forecast time period, owing to increasing applications of candles. Candles are also used for decoration of houses and offices and in celebrating festivals like Diwali and Christmas, which is another major factor driving this market. Moreover, the increasing disposable incomes and changing lifestyles of consumers have enabled them to spend more money on candles with better shapes and exotic aroma, which is also boosting this global market. However, the presence of a large number of unorganized candle manufacturers may hamper the candle market globally. Alternatively, the rising popularity of environment-friendly and decorative candles are expected to generate new opportunities for the candle market in the future.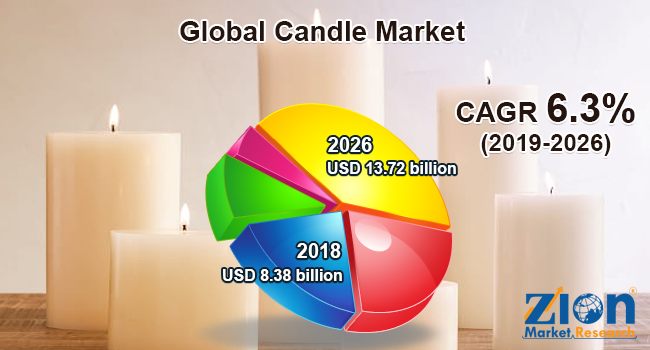 The global candle market is fragmented based on product and raw material. The product segment includes wax-filled container candles, votive, tea lights, pillars, cartridge candles, birthday candles, and others. Tea light candles are circular in shape and come inside of a metal or plastic cup and have more width than height. These candles are inexpensive, which will fuel this segment's growth over the forecast time period. Moreover, votive candles are also expected to witness considerable growth, owing to their frequent use during Christian prayers.
By raw material, the candle market is divided into soy wax, stearin, rapeseed wax, beeswax, palm wax, paraffin wax, and others. The beeswax segment is expected to show moderate growth, owing to its shiny appearance which makes it suitable for use during festivals. Moreover, these candles are organic in nature and improve air quality. Additionally, paraffin and stearin segments dominate the market globally.
Europe is the dominating region in the global candle market and is expected to witness substantial growth over the forecast time period as well. This region is mostly dominated by the Christian population, which uses votive candles. The Asia Pacific candle market is expected to witness maximum growth in the future, owing to a large number of festivals celebrated across the region all the year-round, especially in India.
Some key players in the candle market are Vollmar, Baltic Candles, Bolsius International, Delsbo Candle, Duni, Hansa Candle, KORONA Candles, CerasRoura, Contract Candles, and Candle Scandinavia.