Free Analysis
Cancer can be defined as uncontrolled growth of the cell. Cancer starts when cells grow out of control and outnumber normal cells. Uncontrolled growth of cell leads to the formation of the tumor which can interfere with the nervous, digestive, and circulatory systems. Tumor cell releases hormones that alter body functions. Tumors that stay in one location and show limited growth are considered as benign cancer. Whereas, the cancerous cell which flows throughout the body part, using blood, lymph, and destroying the healthy tissue are called malignant cancer. According to the American Cancer Society, cancer is the second most common cause of death in the U.S. and accounts for nearly 1 of every 4 deaths. The World Health Organization estimates that, worldwide, there were 14 million new cancer cases and 8.2 million cancer-related deaths in 2012. There are over 200 different types of cancer, and each of which is classified by the type of cell that is initially affected. Various types of cancer include prostate cancer, blood cancer, lungs cancer etc. The treatment of cancer has become of prime importance owing to increase in a number of global cancer patients. Different types of drugs are administered to cancer patients depending upon therapy used to treat the patient and type of cancer.
Growing incidences of target disease such as lung cancer, breast cancer, cervical cancer, etc. are expected to be the major driver for the global cancer drugs market. In addition, increasing research and development on biological and targeted drug therapies for the treatment of cancer coupled along with the expiration of patents is expected to trigger the growth of global cancer drugs industry in the coming years. However, the high price of drug development and stringent regulatory policies coupled along with the possibility of failure may pose the challenge to cancer drugs market. Nevertheless, increasing focus on personalized medicine coupled along with huge investment in anti-cancer drugs research across the globe are expected to act an opportunity for cancer drugs market in near future.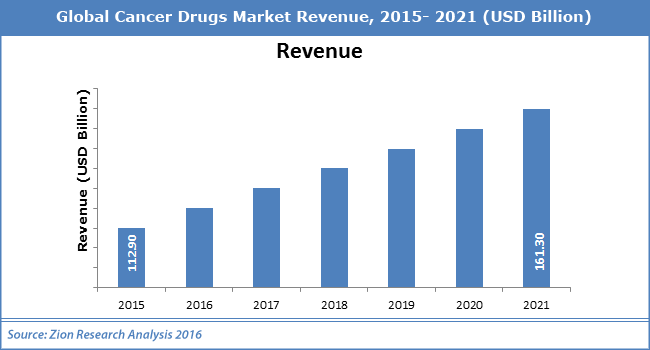 Based on therapeutics, cancer drugs market has been segmented into immunotherapy, targeted therapy, chemotherapy, hormone therapy and others. Immunotherapy segment is expected to grow at the fastest rate during the forecast period. The cancer drugs market is segmented based on cancer type into breast cancer, blood cancer, gastrointestinal cancer, prostate cancer, skin cancer, lung cancer and others In terms of revenue, blood cancer segment dominated the market in 2015.
North America is expected to remain the dominant region over the forecast period. Increasing healthcare awareness is expected to boost the market in this region. Europe was the second largest market followed by Asia-Pacific. North America is expected to show fastest growth rate during the forecast period while Asia-Pacific market is projected to grow at a moderate rate during the forecast period. The Middle East and Africa, and Latin America are also expected to experience noticeable growth in the years to come.
Some of the key players in cancer drugs market include Bayer, GlaxoSmithKline, Novartis, Sanofi and Pfizer, Amgen, Merck, Bristol-Myers Squibb, Celgene Corporation, Ariad Pharmaceuticals, Eli Lilly, Hoffmann-La Roche Ltd, Boehringer Ingelheim GmbH, Johnson and Johnson and Teva Pharmaceuticals among others.