Analysis
Bunker fuel is referred to the fuel that is poured in ship's bunkers to operate its engines. Industry material safety sheet for marine fuel oil categorizes it as very toxic and hazardous to aquatic life having long-lasting effects. Bunker fuel is divided into various types such as bunker A, B, and C. Bunker C type is the most vicious and thickest that require blending or heating to make it flow. It is mixed with 10% of lighter fuel, such as diesel to make it affordable to be used in shipping. It is characterized as persistent oil and can spread at large distances, as it does not evaporate easily. It has a characteristic odor and is available in black to brown color liquid.
Development of blue economy coupled with increasing globalization in world trade in emerging markets has enhanced marine industry in past few years. Further, global investment in commercial fishing fleets and marine fisheries is boosting marine fuel demand in the fishing vessels industry. In 2015, global seaborne trade was above 10 billion tons, highest till now in the UNCTAD records. Since 2008, tanker trade segment has registered its best performance in 2015. As per the estimates of "World Trade Organization", merchandise trade volume will remain constant and will grow at the same rate as that in 2015. Growth in global seaborne trade shipment is projected to increase marginally in 2016, as compared to the historical trends. However, 80% of seaborne trade contributes to carbon emissions, polluting the atmosphere, this can act as a restraining factor for global bunker fuel market.
Increasing consumption in oil & gas sector for extraction activities and offshore exploration, increasing government support, and raise in the ocean-borne field are preliminary driving factors for bunker fuel demand. However, policies pertaining to adoption of LNG along with fuel usage reduction can restrain the market growth over the forecast timeframe.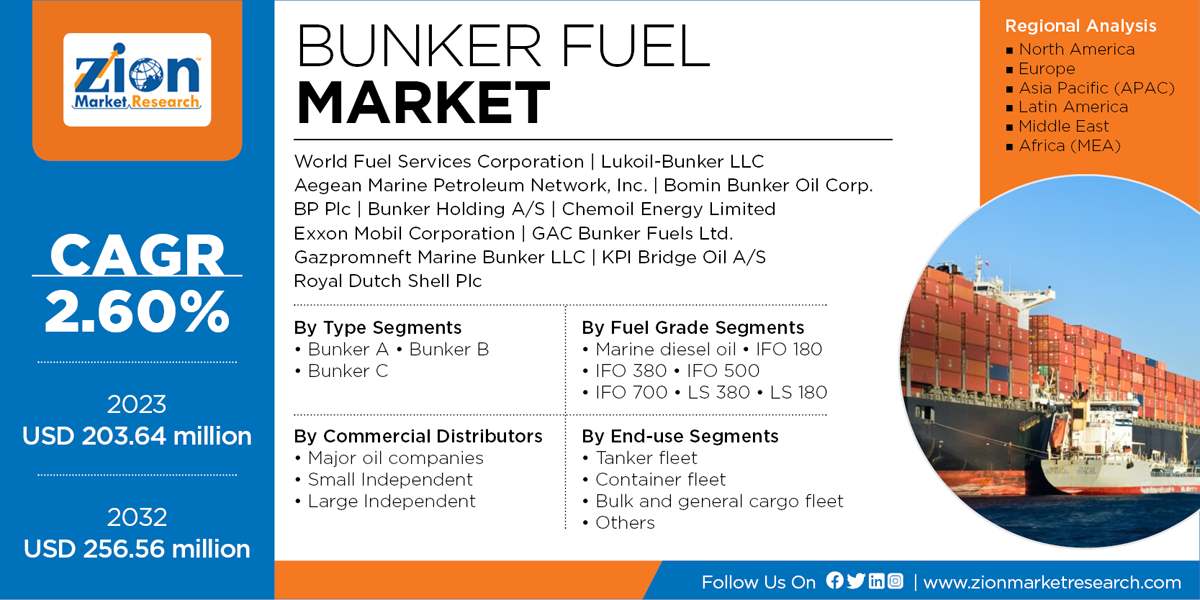 As per the type of fuel, global bunker fuel market is segmented into bunker A, bunker B, and bunker C. Bunker A is projected to contribute significantly in the industry. Various fuel grades are marine diesel oil, IFO 180, IFO 380, IFO 500, IFO 700, LS 380, and LS 180. Low sulfur (LS) 380 will depict highest gains over the forecast timeframe owing to its lower polluting characteristics. Distributors providing this fuel to end-use consumers are largely independent, small independent, and major oil companies. Small independent players are expected to grow in the market at a faster rate as compared to rest of the distribution segments till 2024. Global bunker fuel market is bifurcated according to end-user as tanker fleet, container fleet, bulk and general cargo fleet, and others. Tanker fleet is expected to gain momentum during the forecast timeframe owing to increasing oil & gas as well as other chemicals industries.
The Middle East & Africa is at a nascent stage in the global bunker fuel market but is expected to have a significant growth rate till 2024. The growth of the region is attributed to its supply of oil & gas products through tanker vessels worldwide. North America is accounting for a substantial share in global bunker fuel market owing to its ever-increasing cruise passenger's growth rate in the last decade.
Certain prominent manufacturers in the global bunker fuel market are World Fuel Services Corporation, Lukoil-Bunker LLC, Aegean Marine Petroleum Network, Inc., Bomin Bunker Oil Corp., BP Plc, Bunker Holding A/S, Chemoil Energy Limited, Exxon Mobil Corporation, GAC Bunker Fuels Ltd., Gazpromneft Marine Bunker LLC, KPI Bridge Oil A/S, and Royal Dutch Shell Plc.