Analysis
Blood is a red liquid with suspended proteins and cells. It contains white blood cells, red blood cells, and platelets. Blood plays a key role in the transport of oxygen and nutrients to the cells in the entire body. In addition, it helps in the removal of metabolic waste and carbon dioxide generated by the body cells. Blood screening is the process of blood examination for a particular disease. The early identification of diseases helps in curing and monitoring diseases. Blood screening is essential for the diagnosis of diseases, such as cancer, HIV (Human Immunodeficiency Virus), hepatitis B and C, etc. Moreover, blood screening is required to identify the blood group, pregnancy, etc. Blood screening is essential for blood transfusion to prevent blood transmissible infections. Hence, it is carefully screened for severing diseases, such as hepatitis B and C, HIV, and syphilis, before storing it in a blood bank.
Rising health expenditure, increasing acceptance of nucleic acid testing, and technological advancements witnessed in the blood screening process are driving the blood screening market growth globally. Initiatives undertaken by various governments and government associations for healthcare are creating new growth opportunities for the global blood screening market. However, compound regulatory frameworks, shortage of skilled workforce, and the existence of substitute technologies may hamper the global blood screening market growth.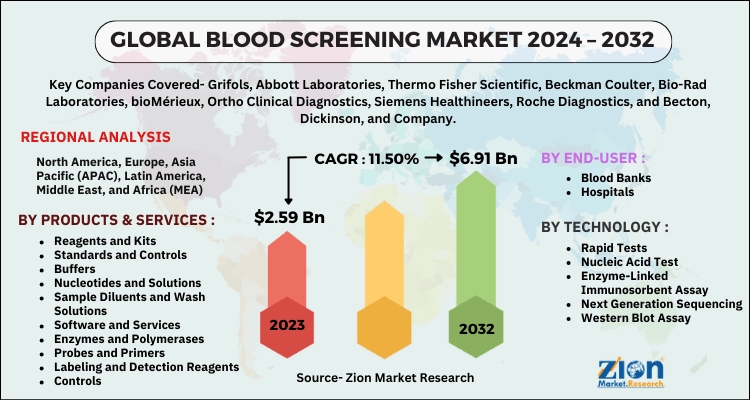 The technology segment of the global blood screening market includes rapid tests, nucleic acid test, enzyme-linked immunosorbent assay, next generation sequencing, and western blot assay. The nucleic acid test segment is sub-divided into transcription-mediated amplification and real-time polymerase chain reaction. The enzyme-linked immunosorbent assay is bifurcated into platform and generation. On the basis of product and services, the blood screening market is segmented into standards and controls, reagents and kits, buffers, immunosorbents, conjugates, sample diluents and wash solutions, nucleotides and solutions, enzymes and polymerases, software and services, controls, probes and primers, substrates, instruments, and labeling and detection reagents. By end-user, the market includes blood banks and hospitals.
By region, North America is projected to lead the blood screening market globally in the future due to various technological advancements made in the blood screening process. The Asia Pacific blood screening market is anticipated to grow at the highest pace over the estimated time period. The European blood screening market is anticipated to show momentous growth due to the increasing number of blood transfusion procedures and complex surgeries performed across the region. The Middle East and Africa and Latin America are projected to show moderate growth in the future.
Some major players operating in the global blood screening market are Grifols, Abbott Laboratories, Thermo Fisher Scientific, Beckman Coulter, Bio-Rad Laboratories, bioMérieux, Ortho Clinical Diagnostics, Siemens Healthineers, Roche Diagnostics, and Becton, Dickinson, and Company.