Analysis
Bioethanol is a colorless liquid with a specific odor. Most people recognize the smell, as it is a spirit or pure alcohol. Bioethanol was previously produced by fermentation and distillation and was based on grain or corn. Currently, bioethanol is generally produced from straw stalks or corn. Bioethanol comprises biological products and combustion of bioethanol results in clean emissions. It is produced from a wide range of vegetable matter, such as forest residue, sugar cane and sugar beet, which makes it a renewable and sustainable fuel source. Bioethanol is used as an additive in petrol. For instance, Statoil Bio95 is used by cars and can substitute 95 octanes unleaded petrol. Bioethanol is usually sold as a mixture, such as 5% ethanol and 95 percent petrol is, called E5. Recent petrol-fuelled cars run on petrol/ethanol blend up to E10. E10 mixture increases the fuel consumption of around 3%, while E85 increases it by around 25%. Bioethanol provides 34% less energy per literal compared to ordinary petrol. This increases the vehicles' fuel consumption. These are some factors expected to drive the global bioethanol market in the future.
As per the American Energy Agency, bioethanol releases less carbon dioxide when burned compared to coal and gasoline. However, increasing competition with other oxygenates, growing adoption of electric vehicles, and the ban on internal combustion engines might restrain the bioethanol market.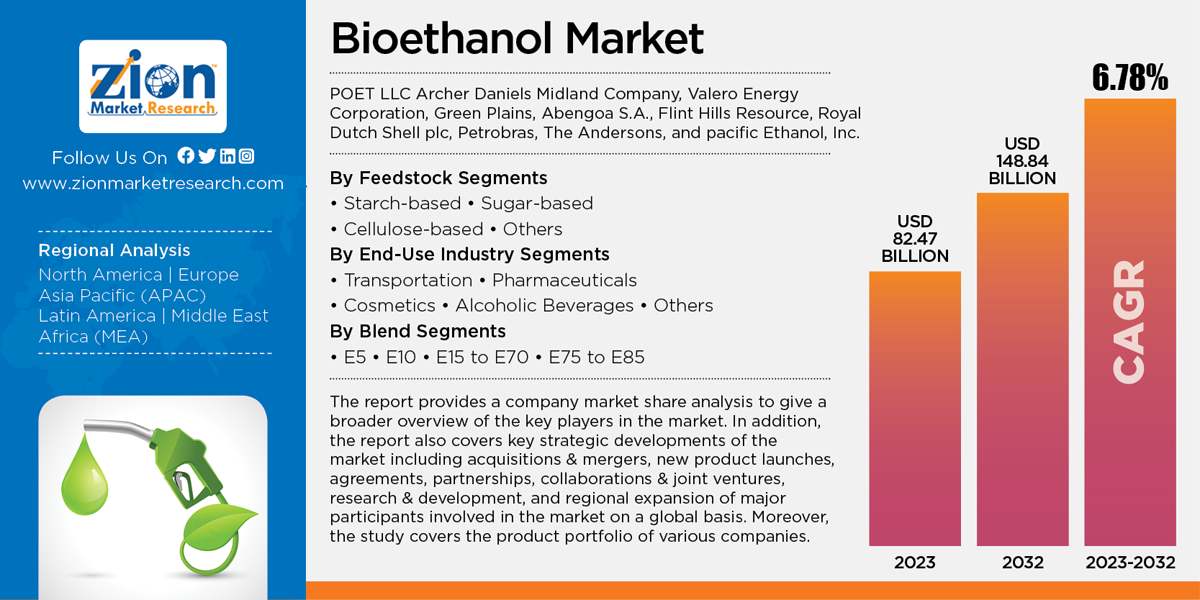 By feedstock, the bioethanol market is segmented into sugar-based, cellulose-based,starch-based, and others. Starch-based segment feedstock accounted for a major revenue share in 2017. This feedstock type uses barley, wheat, corn, etc. raw materials as feedstock for bioethanol production. By end-user industry, the market is segmented into pharmaceuticals, transportation, alcoholic beverages, cosmetics, and others. By blend,this market includesE5, E10, E15 to E70,andE75 to E85.
North America held a major revenue share of the global bioethanol market in 2017 and is anticipated to continue with its domination over the forecast period. This regional share can be attributed to stringent government regulations and eco-friendly policies. The Asia Pacific is anticipated to register the fastest rate of growth over the forecast timeframe, due to the growing demand for alcoholic beverages in India and China.
POET LLC, Archer Daniels Midland Company, Valero Energy Corporation, Green Plains, Abengoa S.A., Flint Hills Resource, Royal Dutch Shell plc, Petrobras, The Andersons, andPacific Ethanol, Inc. are some of the leading players operating in the global bioethanol market.