Free Analysis
The battery recycling market is one of the flourishing markets globally, owing to both environmental and economic advantages of battery recycling. The process of battery recycling extracts reusable hazardous components out of batteries through advanced and extremely careful mechanical and chemical methods and provides those components to battery manufacturers at a reasonable price. This, in turn, assists in curtailing the number of batteries to be disposed of and hence curb potential pollution caused by battery disposal. Battery recycling also reduces battery manufacturing cost involving entirely new components.
The growing use of electronic gadgets, rising potential market of E-vehicles, and strict governmental laws to preserve environmental health are the primary growth factors for the global battery recycling market. The global demand for electronic devices, such as laptops, smartphones, tablets, and digital cameras, is on a consistent rise, which can be attributed to the increasing purchasing power of the people in the developing countries. The electric vehicles market is completely untapped for batteries, which is a new growth avenue for the battery recycling market. Governments all over the world are making serious efforts to limit CO2 emissions by industries and manufacturers. However, low awareness of battery recycling at the individual level and the potential threat of severe damage due to unsafe handling and storage of used batteries may hamper this market. Alternatively, the E-vehicles market is growing at an exponential rate globally, which is expected to present enriching opportunities for the battery recycling market.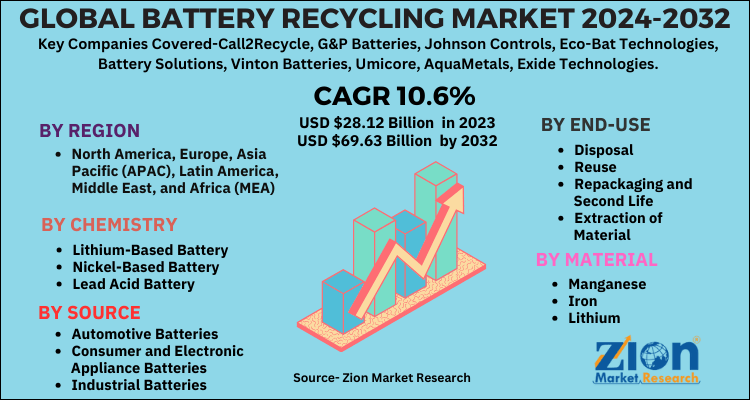 The global battery recycling market is fragmented on the basis of chemistry, source, end-use, and material. By chemistry, the market includes nickel-based battery, lead acid battery, and lithium-based battery. Lead acid batteries are projected to hold the largest share in the future. On the basis of source, the market includes consumer and electronic appliance batteries, industrial batteries, and automotive batteries. By end-use, the global battery recycling market is divided into extraction of material, reuse, repackaging and second life, and disposal. The material segment comprises iron, manganese, lithium, cobalt, nickel, lead, aluminum, and plastic.
Europe was the largest region and accounted for around 40% of the global battery recycling market in 2018. The Asia Pacific battery recycling market is projected to register the highest CAGR over the forecast time period.
Some key players operating in the global battery recycling market are Call2Recycle, G&P Batteries, Johnson Controls, Eco-Bat Technologies, Battery Solutions, Vinton Batteries, Umicore, AquaMetals, Exide Technologies, and Accurec Recycling.