Free Analysis
Baby food is a soft, easily consumed food, other than breastmilk or infant formula that is made specifically for babies, roughly between the ages of four to six months and two years. Baby food is available in multiple varieties, tastes, and forms. It includes table food that has been mashed or readily available and purchased from the retail shop. As a result of the increase in a number of working women and increase in parental concerns for nutrition, the global baby food market has been growing faster pace. The baby food is made by the professional way which helps working women to manage their feeding time. Professionally made baby food is considered as one of the best solutions for breastfeeding problems. Due to the fulfillment of nutrition requirements of babies, it also helps to prevent under nutrition problem in babies.
The increase in disposable income and adoption of the modern lifestyle in developing economies demand for baby food has increased. Moreover, increasing global urbanization is expected to be a major opportunity for the manufacturers of baby food. New product development is likely to attract more consumers. Furthermore, declining birth rates and milk intolerance in babies are expected to be a big challenge for the baby food market.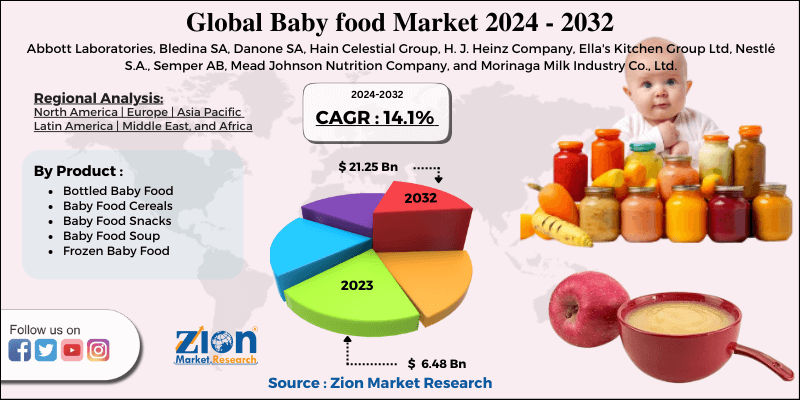 Baby food product includes frozen baby foods, baby snacks, soups, bottled baby foods and baby cereals. In 2015, bottled baby food held the dominant share of the global market followed by baby cereals. Due to easy availability and ease of handling of bottled baby food, consumers tend to prefer bottled baby food. However, frozen baby food is expected to have the highest growth potential within the forecast period. Baby food market can further be segmented by the health benefits derived from it and the basic ingredients used in baby food preparation. However, the product range is the more attractive segment by the consumer.
In baby food market, North America has the largest share in the baby food market, followed by Europe, Asia-Pacific, Latin America and the Middle East & Africa. Major players have been targeting the emerging and heavily populated economies such as China, India, and Vietnam since there may be low growth opportunities in the U.S. and countries in Europe because of low birth rates and static market conditions. Asia Pacific is expected to be fastest growing regional segment owing to the growing urbanization in this region. Germany has been the largest producer Asia Pacific is expected to be fastest growing regional segment owing to the growing urbanization in this region in Europe.
Increasing disposable incomes and high birth rates are especially relevant in a number of North African and the Middle East markets are anticipated to fuel the baby food products market growth. Despite declining birth rates, baby food scenario is strong. In the developed markets, innovation remains significant factor which is expected to create new growth opportunities for the market.
Some of the main companies operating in global baby food market are Abbott Laboratories, Bledina SA, Danone SA, Hain Celestial Group, H. J. Heinz Company, Ella's Kitchen Group Ltd, Nestlé S.A., Semper AB, Mead Johnson Nutrition Company and Morinaga Milk Industry Co., Ltd.