Methodology
Free Analysis
The diaper is the type of underwear used to urinate or defecate without using the toilet. Baby diapers are made up of synthetic cloth or disposable material. The absorbent present in the diapers is polymers with hydrophilic property with high absorption rate. Prolong contact with the wet diaper can cause rashes and inconvenience, so the disposable diapers with advance technical properties are usually used. Plastic diapers are experiencing stumpy demand due to the introduction of new products which are slim fit with anti-bacterial and biodegradable properties.
Global baby diapers market is primarily driven by increasing disposable income in emerging economies paired with growing literacy rate of women. In addition, increasing birth rates in developing the region and growing concern about baby's hygiene spur baby diapers demand. Furthermore, growing online purchase of baby diapers favors the baby diapers market growth. On a contrary, dropping birth rate in the developed countries is expected to have the adverse impact on baby diapers market growth. Nonetheless, increasing demand for an advanced product and significant demand from developing countries are some factors that may disclose new avenues for baby diapers market in the near future.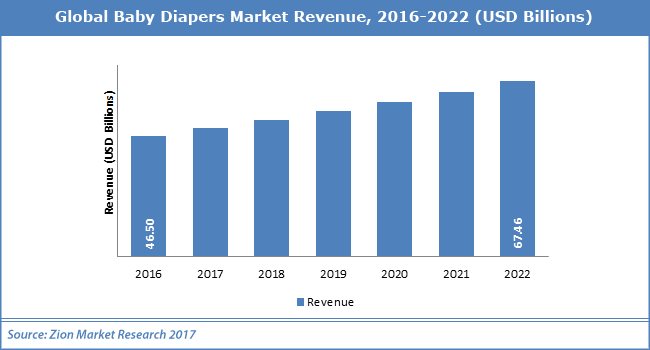 Based on the type of diapers, the market is bifurcated into training nappy, cloth diapers, swim pants, biodegradable diapers and disposable diapers. Rising popularity of disposable diapers due to easy usability is expected to show significant growth in coming years. Further, these diapers are made up of hypoallergenic which is safe for babies. Biodegradable diapers are attaining traction in since past few years due to of rising environmental concerns and are expected to be one of the most attractive segments of baby diapers markets.
North America emerged as dominating the regional market for baby diapers in 2016. The growth of this region is mainly attributed to high product advancement, high literacy rate, and immense working population. Escalating population, increasing disposal income, growing literacy rates in developing regions of Asia Pacific propel this region to grow with highest CAGR in coming years. Europe is also considered to be the lucrative market for baby diapers in near future due to the huge working population.
Some of the key players in the baby diapers are Unicharm, SCA Hygiene, Procter & Gamble, Bumkins, KAO Corporation, Kimberly-Clark, Hengan and Diapees and Wipees amongst others.