Free Analysis
The elastomer was derived from the name "elastic polymer". These are composed of polymer materials, joined through chemical bonds and possess a slightly cross-linked structure. The compound is composed of five to ten components, wherein each one of them plays a specific role. The polymer is a crucial ingredient of the compound that regulates chemical and heat resistance along with the low-temperature performance of the substance. Elastomers include reinforcing filler to improve its strength and plasticizer for enhancing low-temperature properties. Other vital ingredients include an accelerator, curative, scorch retarder, release package and an anti-oxidant. Automotive elastomers are used in manufacturing various parts of vehicles.
Rising demand for high-efficiency vehicles owing to stringent emission norms in automobile industry will primarily drive automotive elastomers market during the forecast period. Several international regulatory bodies are developing standards and restricting emissions of greenhouse gases. Usage of lightweight materials for better fuel efficiency in vehicle manufacturing is further supporting the product penetration. Further, superior properties of the substance as compared to its counterparts such as oil & gas resistance, chemical resistance, variety, aging resistance, durability, flexibility, ozone resistance, and heat resistance provides a traction to automotive elastomers market. However, fluctuating prices of crude oil results in oscillating manufacturing cost of the product. The further imbalance between elastomeric cost and its performance may hinder automotive elastomers market in near future. Extensive usage of thermoplastic polyolefin (TPO) for both interior and exterior applications of the vehicle as a replacement of traditional materials such as polycarbonate, ABS, and other metals is expected to give a positive outlook for automotive elastomers market. Development of environment-friendly elastomers is the latest trend in the automotive industry coupled with lightweight materials.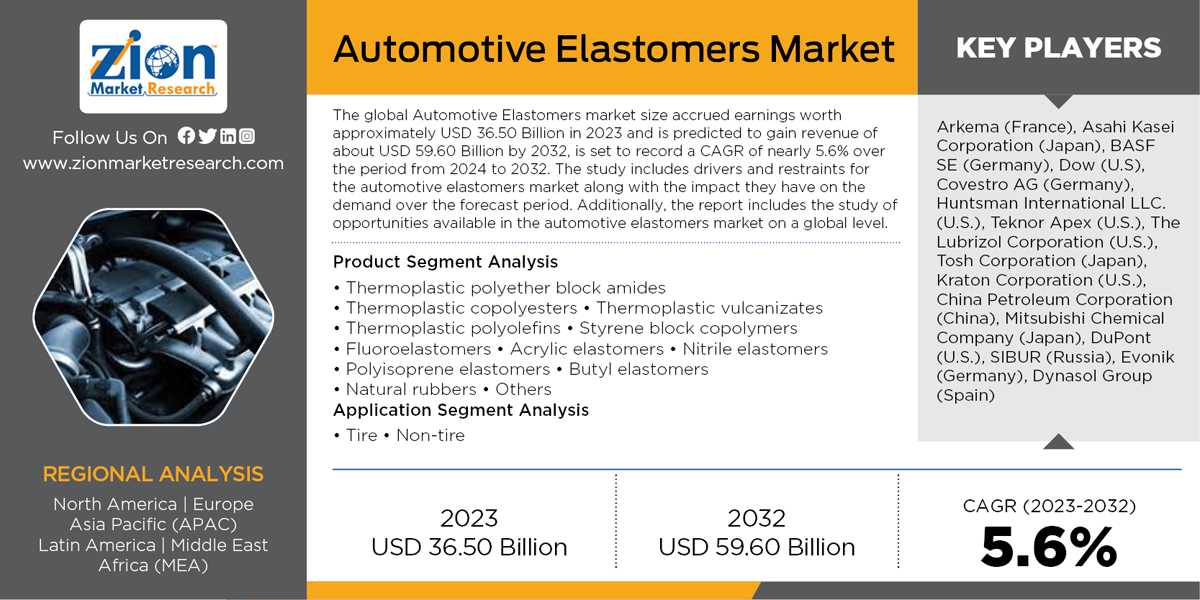 Automotive elastomers market is bifurcated on the basis of the product as thermoplastic polyether block amides, thermoplastic copolyesters, thermoplastic vulcanizates, thermoplastic polyolefins, styrene block copolymers, fluoroelastomers, acrylic elastomers, nitrile elastomers, polyisoprene elastomers, butyl elastomers and natural rubbers. Natural rubber is anticipated to dominate the product segment owing to its superior properties including high-temperature stability, resistance to fungi and bacteria, high physiological inertness, excellent compression set, and resistance to ozone and weathering. Automotive elastomers market is segmented based on its application as tire and non-tire. Tire application is anticipated to dominate the market during the forecast period.
The Asia Pacific will depict substantial growth rate in global automotive elastomers market till 2023. China is witnessing highest demand for the product in the region. Substantial economic growth, low manufacturing cost, and enhanced lifestyle of youth have increased vehicles demand in the Asia Pacific. Europe is estimated to maintain its share in the market between 2018 and 2023 due to its ever-increasing and well-established automobile industry.
Prominent producers in automotive elastomers market are Zeon Corporation, Teknor Apex, SABIC, LG Chem, BASF, DuPont, JSR Corporation, ExxonMobil, Dow, and Arlanxeo. The industry is witnessing many new entrants owing to business-friendly government policies for environment benefiting products. Further, innovative manufacturer's such as DuPont are coming up with a range of elastomeric materials for a wide spectrum of applications.