Analysis
Automation is integrating all the domains and tools into several layers to have a combined interface for all the workflows. Automation helps in streamlining various processes, business functions, tasks, and events.
The automation-as-a-service market is projected to grow considerably in the estimated time period, owing to the use of robotics in various manufacturing processes. In 2016, it was estimated that the global average robot density in the manufacturing industry was about 74 robots per 10,000 personnel. Various manufacturing industries, such as automotive, electronics, metal, and machinery, have increasingly opted to use robots for their assembly line processes. In 2016, the demand for robots in the automotive industry increased by 6% and had a share of 35% in the overall product supply. This has given a positive outlook to automation-as-a-service market and it is projected to continue in the future as well.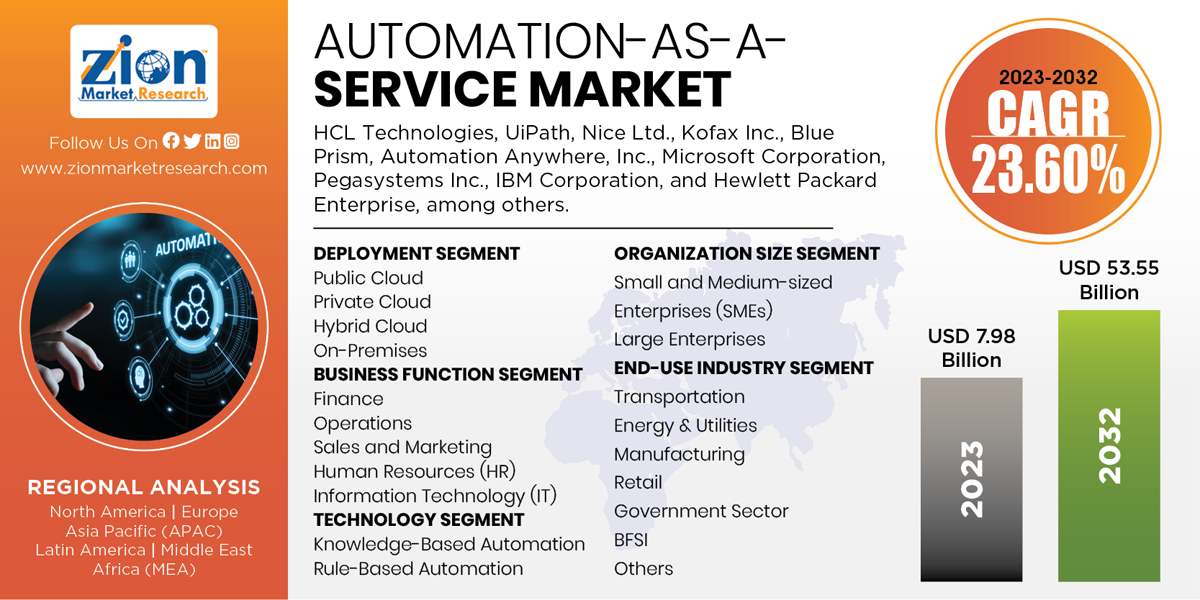 Banking and financial institutes have opted for the new technology to curtail the time taken for various financial processes. In 2016, insurance companies globally invested USD 711 million in AI and IoT, which accounted for 44% of the total insurtech investments. Furthermore, insurance technology startups have been successful in convincing investors and attracting huge investments. In 2016, Coya, a European digital insurance provider, raised about USD 10 million from various major organizations. The rise in the number of cyberattacks is anticipated to be a major obstacle in the growth of this market in the future. However, the increasing use of artificial intelligence (AI) in several sectors might open new growth opportunities for the automation-as-a-service market in the near future.
The automation-as-a-service market is segmented on the basis of deployment, business function, technology, organization size, and end-use industry. By deployment, the automation-as-a-service market is fragmented into public cloud, private cloud, hybrid cloud, and on-premises. Public cloud is anticipated to grow at a noteworthy rate in the future, due to the increasing investments made by various organizations. Various end-use industries in the automation-as-a-service market include transportation, energy and utilities, manufacturing, retail, government sector, BFSI, and others. The manufacturing sector is likely to hold a substantial market share over the estimated timeframe, owing to the use of robotics in manufacturing processes.
The Asia Pacific is likely to hold a significant share in the automation-as-a-service market on a global scale during the estimated timeframe, due to the developments witnessed in the technology used in various developing nations, such as India, China, and South Korea. Furthermore, major organizations, such as IBM Corporation and Microsoft Corporation, are taking initiatives to offer their automated services in this region. IBM Corporation is planning to invest in China's initiative of "AI-enabled China."
Major players operating in the global automation-as-a-service market are HCL Technologies, UiPath, Nice Ltd., Kofax Inc., Blue Prism, Automation Anywhere, Inc., Microsoft Corporation, Pegasystems Inc., IBM Corporation, and Hewlett Packard Enterprise.