Analysis
With features such as advanced algorithms, better computing power, and efficient data storage capabilities AI (Artificial Intelligence) technology is anticipated to flourish notably in the years to come. Artificial intelligence is making platforms and applications much smarter by adapting self-learning and developing their capability on the insights from interactions and data. Artificial intelligence (AI) is about predicting the future/next steps with a high level of accuracy by applying intelligent data models to a huge volume of data. In addition, IoT has spread everywhere and CRM end-users are now exploring the benefits of AI and Internet of Things (IoT) through their devices. Currently, CRM users are predicting the cutting edge of AI and IoT capabilities from platforms for flawless smooth customer experience. CRM completely deals with customer interactions, previous purchases, and interest amongst customers. With quick technological advancements, AI has improved the CRM capabilities. AI not only helps CRM applications to work smartly but also helps enterprises to improve overall productivity. AI will give CRM personnel predictive insights regarding their clients and will offer suggestions for cross or up selling the products. AI is expected to facilitate CRM applications to give customer experience according to customer expectation.
The growth of AI in CRM is mainly attributed to increasing focus on customer engagement paired with developing customer-centric approach amongst the service providers. Additionally, increasing demand from small- and medium-sized enterprises are predicted to contribute to the growth of this market significantly in the near future. However, a limited number of AI experts in the market may hinder the market growth in the near future. Even so, solutions for business specific problems paired with increasing investment by the market participants are expected to create massive opportunities in the forecast period.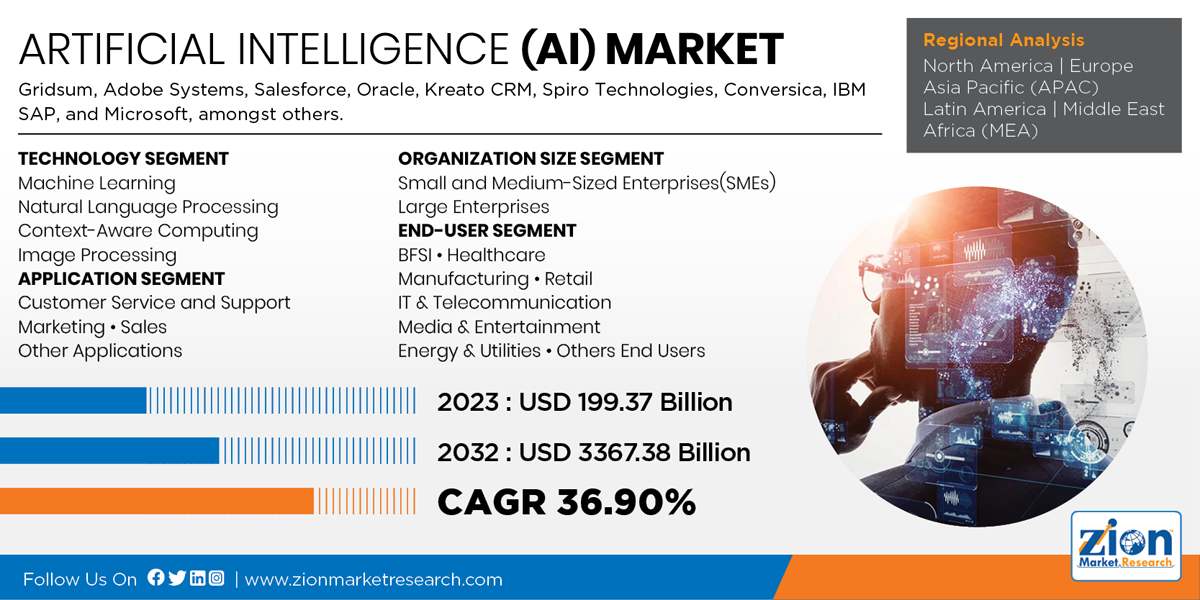 The global AI market for CRM is categorized on the basis of application, technology, organization size, end-user, and region. Based on application, the market is categorized into customer service and support, marketing, sales, and other applications. Machine learning, context-aware computing, natural language processing, and image processing are the technologies used in the AI market for CRM. Based on organization size, the AI market for CRM is segmented into small and medium-sized enterprises and large enterprises. BFSI, healthcare, manufacturing, retail, IT and telecommunication, media & entertainment, energy and utilities, and others are the end-user segment of the AI market for CRM.
In 2017, North America emerged as a dominating regional market for AI market for CRM followed by Europe. The U.S. held the largest market share in 2017 and is expected to grow at a tremendous rate in the coming 3 to 4 years. Availability of technical expertise paired with increased advanced technology adoption rate is expected to be the key contributing factors in the growth of this market in the North America region. Asia Pacific is predicted to be the fastest growing region and is also expected to grow with the highest CAGR in the forecast period. Demand from SMEs will be the key contributing factor to the growth of AI market for CRM.
Major participants operative in the global AI market for CRM is Gridsum, Adobe Systems, Salesforce, Oracle, Kreato CRM, Spiro Technologies, Conversica, IBM SAP, and Microsoft, amongst others.