Analysis
Aquaculture is the fastest growing industry producing animal protein. Aquafeed is an important segment in aquaculture. Providing good quality aquafeed is of prime importance for aquaculture. Aquafeed is a mixture of various kinds of additives and raw materials. This preparation is prepared to suit specific requirement of different kind of aquatic animals and age of the animal.
The global aquafeed market is expected to witness substantial growth within the forecast period. The market is mainly driven by rising demand for sea food coupled with consumer awareness regarding the quality of seafood products. Moreover, increasing per capita income in developing countries is expected to propel the market growth in the near future. Aquafeed ingredients including soybean and fishmeal are among the widely used products in Asia-Pacific due to the change in aquafeed consumption and production pattern witnessed in this region. However, increasing the cost of raw material is expected to hinder the market growth over the forecast period. Nonetheless, high demand for conventional and functional aquafeed emerging economics especially in China and Rest of Asia is expected to open up new growth avenues in the near future.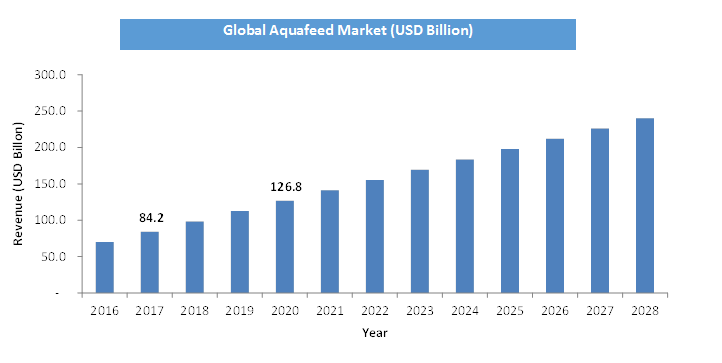 Soybean, fishmeal, fish oil, corn, additives, & others are some of the key sources in the market. Soybean contains best amino acid profiles of all vegetable oil meals. Thus, soybean segment is expected to show strong growth in the coming years. An additive is another leading segment and it accounts for the significant share of total revenue generated in 2016.
Based on end user, the market can be classified into mollusks, carp, crustaceans, carp, tilapia, catfish, salmon, and others. Among all segments, crap was a dominant segment and is expected to witness the fastest growth in the near future. This growth is mainly due to change food habits, changing lifestyles and increasing disposable income. Mollusks were another leading segment in 2016 and are likely to experience significant growth within the forecast period.
The aquafeed market was dominated by Asia Pacific and it accounted for over 60% of the overall consumption in 2016, owing to increasing aquaculture production and growing seafood consumption. Asia Pacific was followed by Europe in terms of volume in 2016. Europe was another leading segment on account of the presence of favorable regulations and rules. In 2015, Norway held the largest market share the total European aquafeed market on account of increasing demand for salmon fish feed. Latin America is another key important regional market and is expected to witness substantial growth within the forecast period.
The global aquafeed market is fragmented in nature with a large number of medium and small scale aquafeed manufacturers across the globe. Key players present in this market include Alltech Inc, Biomar, Ridley, Aller Aqua, Dibaq Aquaculture, Nutreco N.V., Addcon Group GmbH, Cargill Incorporated, Cermaq ASA and Biomin. Some of the major players used acquisition and joint venture and expansion into emerging economies as key strategies for market growth. For instance, in 2015, Cargill signed joint venture agreement with Naturisa SA to develop a shrimp feed facility in Ecuador.