Analysis
Antimicrobial additives are the solutions that are infused into products during manufacturing to kill microorganisms and pathogens or inhibit their growth. These microorganisms include bacteria, algae, fungi, protozoa, and microbes. The antimicrobial additives are majorly used in plastics, inks, textiles, papers, fabric care, paints & coatings, and rubber to improve their performance and durability. These additives inhibit the growth of odor and stain-causing microbes in the product and help in maintaining hygiene and freshness. Therefore, these additives enhance product performance by permanently reducing the negative effects of microbes.
The rising consumer awareness regarding the increasing number of health issues is the major factor anticipated to drive the antimicrobial additives market in the upcoming years. Hygiene issues have become more prevalent across various developing economies. Medical devices use antimicrobial additives to prevent the growth of microbes on the surfaces of devices and equipment. These additives are used in the production of medical devices, such as guidewires, sheaths, access systems, diagnostic catheters, guiding catheters, etc., to avoid microbial growth. Furthermore, antimicrobial additives are also used in the packaging of products and help in preventing food, beverages, and medicines from spoiling. Therefore, the growing packaging industry is likely to positively influence the antimicrobial additives market in the upcoming years. However, the stringent regulations regarding the approval of these additives from the government may hamper this market's growth in the future.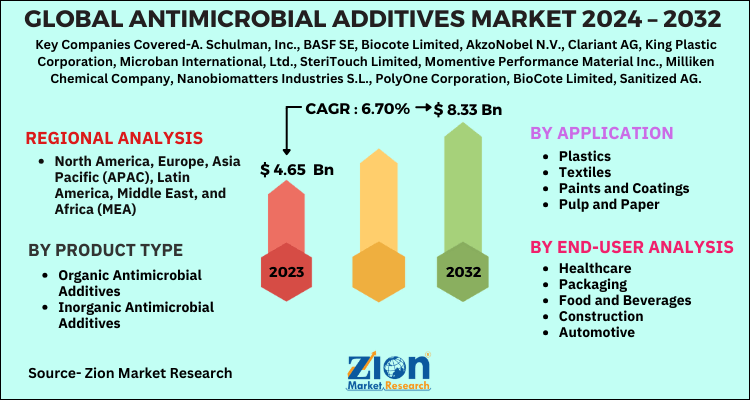 By product type, the global antimicrobial additives market is segmented into organic (OBPA (OxybisphenoxArsin), DCOIT (4, 5-Dichloro-2-(N-Octyl)-4-Isothiazolin-3-One), triclosan, and others) and inorganic antimicrobial additives (zinc, silver, and copper). By application, this global market is categorized into plastics, textiles, paints and coatings, and pulp and paper. By end-user, the market for antimicrobial additives includes healthcare, packaging, food and beverages, construction, automotive, and others.
By region, Asia Pacific held the largest share of the global antimicrobial additives market in 2018 and is anticipated to dominate over the forecast time period as well. This growth can be attributed to the rapid growth of the healthcare industry in China, India, Thailand, and Singapore. Additionally, the increasing government initiatives for improving healthcare amenities are likely to considerably contribute to this regional market's growth over the estimated time period. Europe is estimated to be the second largest market contributor in the upcoming years, owing to the growing construction sector in Germany, Sweden, UK, Poland, Ireland, and the Netherland.
Some major players of the global antimicrobial additives market are A. Schulman, Inc., BASF SE, Biocote Limited, AkzoNobel N.V., Clariant AG, King Plastic Corporation, Microban International, Ltd., SteriTouch Limited, Momentive Performance Material Inc., Milliken Chemical Company, Nanobiomatters Industries S.L., PolyOne Corporation, BioCote Limited, Sanitized AG, Life Material Technologies Limited, and Dow Chemical Company, among others.