Free Analysis
Rising prevalence of parasitic and infectious diseases has led to the innovations in managing animal healthcare. The distinction between animal health and animal production has been changed in the recent times due to the increasing prevalence of animal diseases. Modern medicine in association with technology is more focused on improving livestock and animal health production. Other driving factors such as the rising concerns related to zoonotic diseases which impact both humans and animals have a great effect on the economies of countries globally. This has led to a collective focus on improving the safety and quality of food products thus assuring efficacious animal healthcare products in order to reduce the impact on the economies worldwide.
The significant rise in animal farming has led to a rise in demand for animal health services to improve veterinary public health and food safety systems in order to safeguard human health. The adoption of animal healthcare services is highly dependent on the fiscal, political, and institutional factors of the country. Governments are taking initiatives to increase the adoption of animal health services by increasing awareness among the general population regarding animal diseases and privatization of animal healthcare services. Livestock insurance is one such scheme in Europe, which is implemented to increase the efficiency and effectiveness of animal healthcare systems. Another initiative is of the U.K. government compensating on direct losses incurred due to the outbreaks from the U.K. national budget and Europe compensation schemes.
The animal healthcare market is segmented on the basis of drug type, animal type, route of administration, and distribution channel. Based on drug type, the market is segmented into anti-inflammatory agents, anti-infective agents, parasiticides, vaccines, hormones and substitutes, and others. Based on the animal type, animal healthcare market is segmented into companion animals and farm animals. Based on the route of administration, market is segmented into topical, oral, parenteral, and others. Distribution channel segment is divided into veterinary clinics, veterinary hospitals, pharmacies and drug stores, and online pharmacies.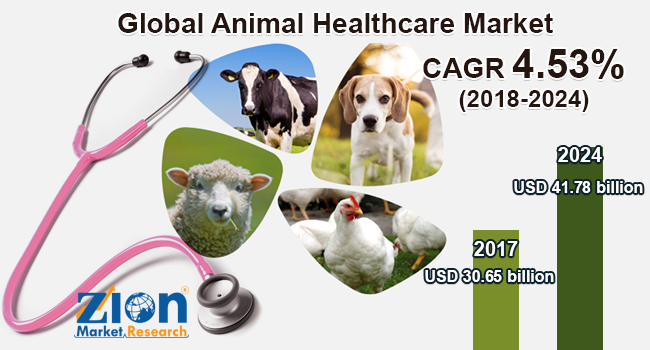 North America is anticipated to lead the animal healthcare market due to increasing government initiatives. Governments throughout the countries are optimizing the veterinary healthcare by establishing persistent healthcare policies in order to control the chronic conditions and endemic diseases. Animals are more susceptible to a wide range of infectious diseases caused by parasites, viruses, bacteria, and fungi. Vaccination is the effective way to control the outbreak of such diseases in animals. Vaccination plays a major role in preventive healthcare for controlling the diseases and epidemics in both farm and companion animals. Governments are keenly involved in control and prevention of animal diseases by creating educational systems and advisory to raise awareness amongst the population. Due to this many developed economies have also introduced incentive programs and compensation schemes to improve animal healthcare.
Some of the key players in animal healthcare market include Boehringer Ingelheim GmbH, Virbac SA, Zoetis, Inc., Bayer AG, Intas Pharmaceuticals, Ltd., Elanco (Eli Lilly and Company), Vetoquinol SA, Zydus Animal Health, Dechra Pharmaceuticals, Ceva Sante Animale, Merck Animal Health, and others.