Analysis
Analytics of things (AoT) studies data generated via the Internet of things (IoT) devices. AoT is integrated with business analytics and is majorly used to enable IoT devices to make better decisions. AoT is merged with IoT for proper observation of the data collected. The data collection process has become easier due to the adoption of high-tech sensors. This collected data can be used by organizations for making improved real-time decisions. Furthermore, AoT is expected to have huge potential globally, due to its growing success in the business field, as it helps organizations to better optimize, manage, and predict business operations and methods to improve efficiency and profitability and neutralize threats. Organizations are increasingly investing huge amounts in hiring skilled human resources and advanced technology for their growth.
The main growth driver of the global analytics of things market is the increasing use of the Internet of Things. IoT is used in various sectors, such as infrastructure management, security management, and automation. To analyze the data collected by these sectors, AoT is necessary, as it helps in transforming, aggregating, managing, and processing data to provide real-time insights regarding the information collected. Additionally, the demand for cost-effective analytical software is projected to drive the analytics of things market globally. However, the lack of skilled workforce due to the complex nature of AoT may slowdown the analytics of things market globally.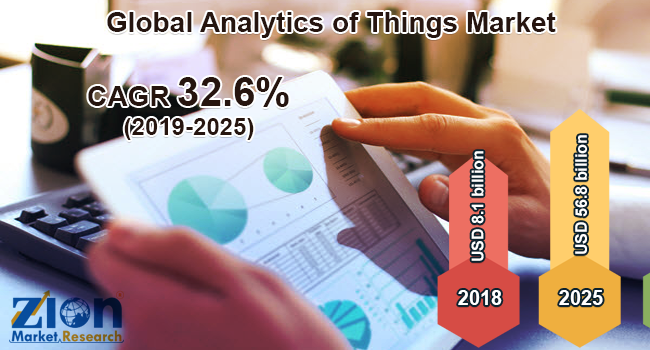 The analytics of things market is fragmented on the basis of type, deployment type, component, and end-user. On the basis of type, the market includes prescriptive analytics, descriptive analytics, automating analytics, diagnostic analytics, and predictive analytics. The end-user segment comprises retail, manufacturing, healthcare, BFSI, and others. The healthcare sector is anticipated to grow considerably in the years ahead, owing to the data availability from IoT that aids in analyzing the data efficiently. Moreover, the data gives real-time alerts to doctors and helps in continuous data observation and obtain actionable insights. Furthermore, due to technological advancements and increased rivalry, the manufacturing sector is expected to lead in the upcoming years.
The North American analytics of things market is expected to grow rapidly in the future, owing to the growing AoT demand by the region's financial and technological sectors. These sectors need constant innovation, which requires consistent research and development activities. AoT can, thus, help the research sector by analyzing the data collected by IoT. The Asia Pacific analytics of things market is anticipated to witness steady growth in the years ahead, owing to the presence of technologically advanced economy of Japan and developing nations of China and India.
Some key players of the global analytics of things market are Google, Amazon Web Services, Hewlett Packard, Cisco Systems, Greenwave Systems, Capgemini, Hitachi, IBM, Oracle, GE, Microsoft Corporation, and Intel Corporation.