Analysis
Analog ICs is a set of electronic circuits that are interconnected components manufactured over a single wafer of semiconducting material. Contradictory to digital ICs that operates only on two levels of input and output voltages i.e. binary analog ICs operate on continuous range of input levels Analog IC is used to process, receive and generate a various levels of continuous signals as device operates. Electronic devices that require multi-vibrators, DC amplifiers, audio amplifiers, and oscillators always make use of analog ICs, which is categorized by continuous and equal output and input signal levels.
The market growth of analog ICs is fuelled by increased adoption of smartphone that is observed to be the most prominent application of analog ICs. The arrival and proliferation of the IoT prime technology are likely to drive market growth as IoT requires analog ICs for signal processing and efficient power consumption to create an ecosystem of automated devices. However, such analog ICs pose monetary and physical limits of integrating such components in the small-scale devices which are anticipated to hinder market growth in the coming years. Therefore, there is need to increase R&D to overcome such limitations. Moreover, the range of opportunities lies for analog ICs in the market due to growing consumer electronics adoption and rising vehicle automation demand.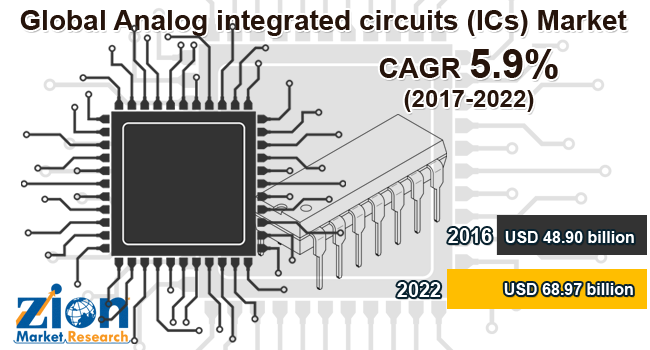 Analog ICs market is segmented on the basis of types, environment, application, and region. Global analog ICs market on the basis of its type is segmented into general purpose ICs and application-specific ICs. General purpose analog ICs are utilized for multiple applications such as data converters, comparators, and amplifiers, among others. Whereas application specific analog ICs are utilized to execute specific functions such as timing control, display drivers, touch sensors, RF transceivers, LED drivers, serializer/deserializer, and others. Market environment segment is further bifurcated to merchant IC and small-scale IC fabrication companies. Merchant vendors include defined strategies to uphold their legacy in the analog ICs market like competitive price, special product design skills and widespread range of product sets. Small-scale IC fabrication companies are new entrants who focus to deal on the particular product category. Application wise the market is subdivided into consumer electronics, automotive, IT & telecommunications, medical & healthcare and other applications. Geographically analog ICs have been divided into five regions North America, Europe, Asia-Pacific, Latin America and Middle East & Africa. Regionally, the analog ICs market in North America is presently fueled by the rising infrastructure and numerous industrial applications. The analog IC market in Europe is driven by the existence of numerous automobile manufacturers with their vast product units. The Asia Pacific is projected to dominate the global market on account of the concentration of electronic component manufacturers and escalating tech-savvy consumer base.
Some of the prominent players involved in the analog ICs market are STMicroelectronics NV, Analog Devices Inc., Richtek Technology Corporation, Maxim Integrated Products Inc., Texas Instruments Inc., Qualcomm Inc., Infineon Technologies AG, Global Mixed-mode Technology Inc., Taiwan Semiconductor and others.