The global LED Driver Market accrued earnings worth approximately 12.31 (USD Billion) in 2021 and is predicted to gain revenue of about 64.13 (USD Billion) by 2028, is set to record a CAGR of nearly 26.1% over the period from 2022 to 2028. The study provides assessment and analysis of the LED Driver Market on a global & regional level. It offers a comprehensive assessment of the market competition, constraints, revenue estimates, opportunities, evolving trends, and industry-validated data. The report provides historical data from 2018 to 2021 along with a forecast from 2022 to 2028 based on revenue (USD Billion).
LED Driver Market: Overview
LED drivers offer protection to LEDs from high voltages as well as fluctuations occurring during power supply. Moreover, these devices are devised for running on low volts as well as direct current power. Reportedly, they are utilized for maintaining voltage and current passing via LED circuit at high rate. Furthermore, this equipment find spectrum of applications in industrial, commercial, and residential sectors.
In addition to this, LED driver is an electrical equipment delivering power to range of LEDs in a controlled way. Apparently, it provides incessant power supply to LED as electrical properties vary with change in temperature for LED. It is accepted by large number of outdoor applications including street lighting, roadway lighting, tunnel lighting, and highway lighting. However, these LED drivers have become innovative along with offering high flexibility for lightning services.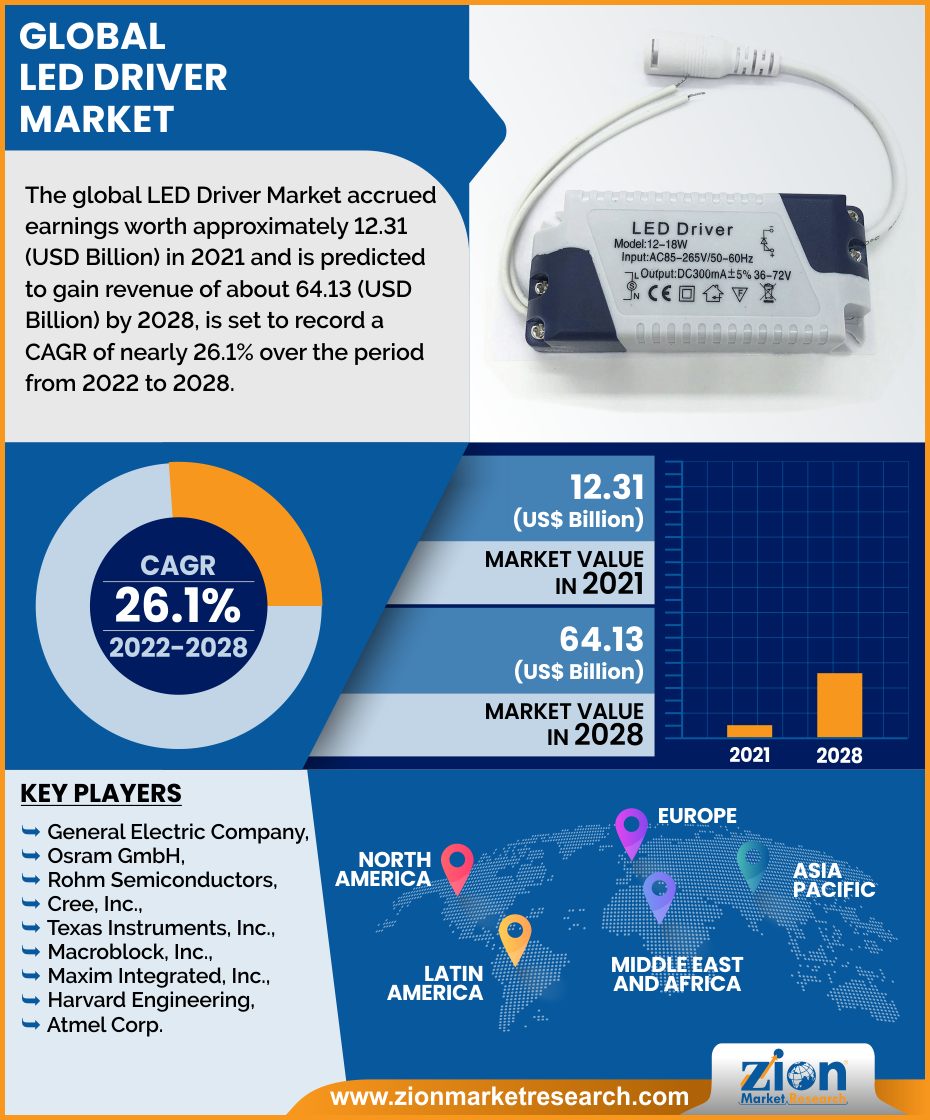 Request Free Sample
LED Driver Market: Growth Drivers
Surge in acceptance of power efficient lighting and surge in production of programmable LED drivers will steer expansion of LED driver market. Increase in development of smart infrastructure in emerging economies will prop up expansion of LED driver market. Supportive power-efficient policies drafted by federal governments and councils promoting funding of manufacture of energy-efficient devices will open new dimensions of growth for LED driver industry. Reportedly, people are making large-scale use of smartphones, laptops, television, and tablets are making use of LED systems as the latter facilitate reduced power consumption and contributes less to electricity bills. This will result in marked growth of LED driver market. Elongated life span and portability makes LED drivers more preferable for end-users, thereby driving market trends.
Furthermore, surging industrial development and rise in population has led to massive demand for energy, thereby leading to popularity & large-scale use of LEDs. This will generate ripples of growth in LED driver business. Massive product penetration in automotive and horticulture sectors will enlarge size of growth of LED driver market. With firms such as NXO semiconductors and ON semiconductors investing largely on research activities for enhancing proficiency of lighting services, the market for LED driver is anticipated to gain traction over years to come. Sustainable lighting has become a vital parcel of smart city projects, thereby multiplying expansion of LED driver business space.
Report Scope:
LED Driver Market: Regional Landscape
Asia Pacific LED Driver Market To Expand Geometrically Over 2022-2028
Growth of LED driver market in Asia Pacific zone can be credited to surging demand for LEDs in commercial & industrial sectors in countries such as China and India. Additionally, rise in preference for LED bulbs & tubes by municipalities of these countries for saving energy will further drive regional market trends. Rise in use of LEDs in street lights and near bridges as well as public parks & highways will culminate in massive market surge in region over coming six years. Smart city projects are also supporting use of LEDs and this has catapulted LED driver market growth in Asia Pacific. Citing an instance, India has started a project referred as Street Lighting National Program (SLNP) and deployed nearly 8 million LED lights in twenty eight states including union territories under its belt. Moreover, the energy savings of nearly 5.07 billion KWh was recorded. As per Power Ministry of Country, nearly 135 million LED lights were installed under SLNP by March 2020.
LED Driver Market: Competitive Landscape
Some of mammoth players have strongly influenced growth of market and will continue to do so even in ensuing years. They are General Electric Company, Osram GmbH, Rohm Semiconductors, Cree, Inc., Texas Instruments, Inc., Macroblock, Inc., Maxim Integrated, Inc., Harvard Engineering, and Atmel Corp.
The global LED Driver Market is segmented as follows:
By Product Type
Constant Current & AC LED
Constant Voltage
By Control Feature
By Channel Count
Single
Dual
Three & Above
By End-User
Residential
Office
Retail & Hospitality
Outdoor
Healthcare & Educational Institutions
Industrial
By Region
North America
Europe

France
The UK
Spain
Germany
Italy
Rest of Europe

Asia Pacific

China
Japan
India
South Korea
Southeast Asia
Rest of Asia Pacific

Latin America

Brazil
Mexico
Rest of Latin America

Middle East & Africa

GCC
South Africa
Rest of Middle East & Africa