Analysis
To facilitate restoration of inherent healing mechanisms for the treatment of chronic wounds active therapies for wound care is required. The active wound management involves the application of a biologically active agent such as skin grafts, growth factor, natural or artificial skin substitutes, etc.
The cleaning of dead or infected tissues promotes faster healing of the wound on the skin. The extensive cleaning of a wound with the application of skin substitute or dressings promotes healing at a rapid pace. To manage the complex wounds, including surgical wounds, burns, diabetic wounds, etc., active wound care products are used. Complex wounds represent predominant challenges to the global healthcare systems because they are hard to heal. Active wound care products are rapidly substituting the traditional wound care products owing to their effectiveness and efficacy in managing wounds by enabling faster healing.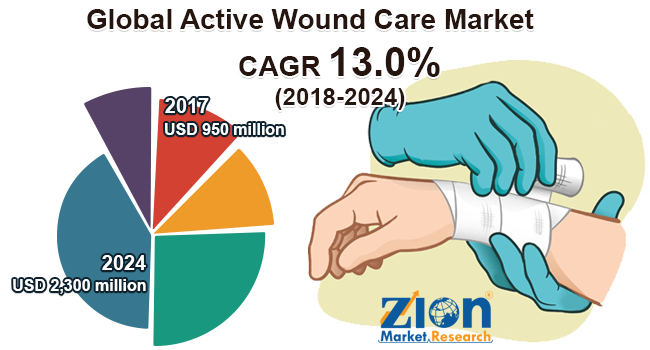 According to the NCBI, about 10% of the U.S. population is affected by diabetes, and about 25% of the population above 65 years is suffering from diabetes. The prevalence of chronic wounds specifically foot ulcers is growing in the diabetic population. Whereas about more than 90,000 adults are predictable to undergo a lower extremity amputation. The increasing geriatric population and rising prevalence of diabetes are expected to boost the growth of the active wound care market.
However, strict regulation for product approval and high costs of treatment may hamper the growth of active wound care market.
In recent times, active wound care therapies are the most promising therapy for the treatment of chronic wounds. The pressure ulcers, diabetic foot ulcers, venous leg ulcers, surgical wounds, etc. are hard to heal by traditional dressings, and therefore numerous healthcare organizations are collaborating with research centers at national and international level.
The global active wound care market is segmented into product type, wound type, end user, and by geography. Based on product type, the market is segmented into synthetic skin grafts, allograft, xenografts, amniotic tissue grafts, collagen dressings, and growth factors. On the basis of wound type, the market is segmented into surgical wounds, ulcers, and other wounds. The ulcers segment is further sub-segmented into pressure ulcers, diabetic foot ulcers, arterial ulcers, and venous ulcers. Based on end users, the active wound care market is segmented into in-patient facilities and out-patient facilities.
North America held a dominant share of the global active wound care market in 2017 and region is projected to continue with its regional supremacy over the forthcoming years as well. The growth of this regional market is attributed with the high awareness about the active wound care products, ease of reimbursement policies, and easy availability of active wound care products in the region. Asia Pacific is projected to grow at a significant CAGR due to rising geriatric population, increasing prevalence of chronic diseases, growing demand for active wound care products, and increasing unmet medical needs.
Some of the key players in the active wound care market are Smith and Nephew, Molnlycke Health Care AB, Integra Life Sciences Corporation, Baxter, Medtronic, ConvaTec Inc., Coloplast Corporation, Organogenesis Inc., KCI Licensing, Inc., Medline Industries, Inc., Avita Medical, Osiris Therapeutics, Inc., Cytori Therapeutics Inc., and Wright Medical Group N.V.