Free Analysis
A well-established wireless mobile network technology that provides internet access to a diversified consumer base without using fixed lines is called fixed wireless access. FWA utilizing 5th-Generation technology is known as 5G fixed wireless access.
The growing adoption of 5G fixed wireless access (FWA) is tremendous worldwide due to its various facilitated benefits. Some prominent advantages driving the 5G fixed wireless access (FWA) market are reliable connectivity, the facility of unlimited data usage, and the benefit of connecting every electronic device including computers. However, the notable delay by different governments in taking the decision regarding standardization of spectrum allocation may hamper the 5G fixed wireless access (FWA) market to some extent. The worldwide technical revolution in telecommunication and communication networking technologies is significantly increasing, which is forecasted to generate lucrative market opportunities in the upcoming years.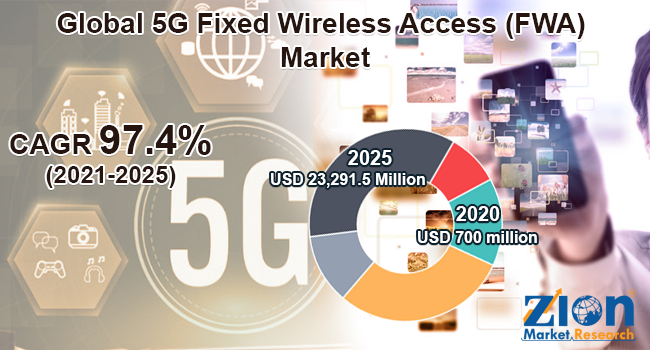 The 5G fixed wireless access (FWA) market is fragmented on the basis of offering, demography, application, and end-user. The offering segment is classified into hardware (access units and customer premises equipment devices) and services. The services segment is expected to account for a substantial market share in the future, owing to the worldwide up-gradation of cellular communications networks to cope up with the rapidly increasing faster data transmission rate demand. The rising penetration of data incentive applications like ultra-HD video, AR, and virtual reality is also driving the services segment. The demography segment includes urban, semi-urban, and rural. The semi-urban areas are estimated to grow at a significant rate over the forecast time period. Generally, due to the need for hefty investments and up-gradation of network infrastructure may be a challenging task in semi-urban areas. However, the implementation of FWA is expected to have a positive impact, as it can facilitate high wireless connections with high throughput. Applications of the 5G fixed wireless access (FWA) market are Internet of Things (IoT), pay TV, broadband internet, and others. The end-user segment includes residential, commercial, industrial, and government.
North America accounted for a prominent share in the 5G fixed wireless access (FWA) market and is forecasted to continue its dominance in the upcoming years as well. The prime factor driving this regional market is the strong presence of developed economies like the U.S. and Canada that can afford huge R&D expenditure.
Some leading players of the 5G fixed wireless access (FWA) market are Samsung Electronics, Qualcomm Technologies, Nokia Corporation, Mimosa Networks, Huawei, Cohere Technologies, Ericsson, Arqiva, Cellular South, Orange, United States Cellular Corporation, Siklu Communication, Mobile Telephone Networks, TELUS Corporation, Telefonica, Swisscom, Hrvatski Telekom, and Verizon Communications.