Abstract
The report encloses the forecasts the estimate for the wood-based panel market on a global and regional level. The study provides historical data for 2016, 2017, and 2018 and the forecast from 2019 to 2025 based on revenue (USD Billion) and volume (Million Cubic Meter). The study also provides the impact and the descriptive analysis of major drivers, restraints, and opportunities of the global wood-based panel market.
The study also offers the market attractiveness and Porter's Five Forces Model analysis to gauge the competitive landscape of major vendors of the global wood-based panel market. This comprehensive study also provides a detailed analysis and overview of each segment included in the study.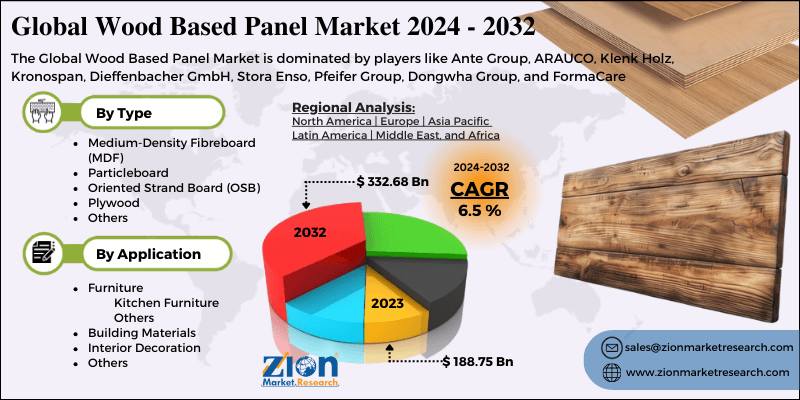 The report concludes the major type, application, and region. All the segments have been analyzed based on present and future trends and the market is estimated from 2019 to 2025. The regional segment includes the historical and forecast demand for North America, Europe, Asia Pacific, Latin America, and the Middle East and Africa.
Some key players operating in the global wood-based panel market include Ante Group, ARAUCO, Klenk Holz, Kronospan, Dieffenbacher GmbH, Stora Enso, Pfeifer Group, Dongwha Group, and FormaCare.
This report segments the global wood-based panel market as follows:
Global Wood-Based Panel Market: Type Analysis
Medium-Density Fibreboard (MDF)
Particleboard
Oriented Strand Board (OSB)
Plywood
Others
Global Wood-Based Panel Market: Application Analysis
Furniture
Building Materials
Interior Decoration
Others
Global Wood-Based Panel Market: Regional Analysis
North America
Europe
Asia Pacific
Latin America
Middle East and Africa