The global Whey Protein Market accrued earnings worth approximately 9.1 (USD Billion) in 2021 and is predicted to gain revenue of about 19.2 (USD Billion) by 2028, is set to record a CAGR of nearly 9.9% over the period from 2022 to 2028. The study provides assessment and analysis of the Whey Protein Market on a global & regional level. It offers a comprehensive assessment of the market competition, constraints, revenue estimates, opportunities, evolving trends, and industry-validated data. The report provides historical data from 2018 to 2021 along with a forecast from 2022 to 2028 based on revenue (USD Billion).
Whey Protein Market: Outlook
Whey protein contributes nearly 20% of cow's milk protein contents and benefits human body. In addition to this, whey protein provides myriad health benefits including repair of muscle tissues, reduction of blood pressure, minimizing of cholesterol, and promotion of health. Apart from this, whey proteins are utilized as dietary supplements as they comprise of key amino acids and branched-chain amino acids. Reportedly, whey protein finds massive utilization in medical items, bakery products, confectionery, and infant formulas. However, huge intake of whey protein accompanied by sedentary lifestyle can result in acne and can affect liver & kidneys. It has been found that consumption of whey protein supplements by athletes resulted into their improved physical performance and had a beneficial effect on vital signs.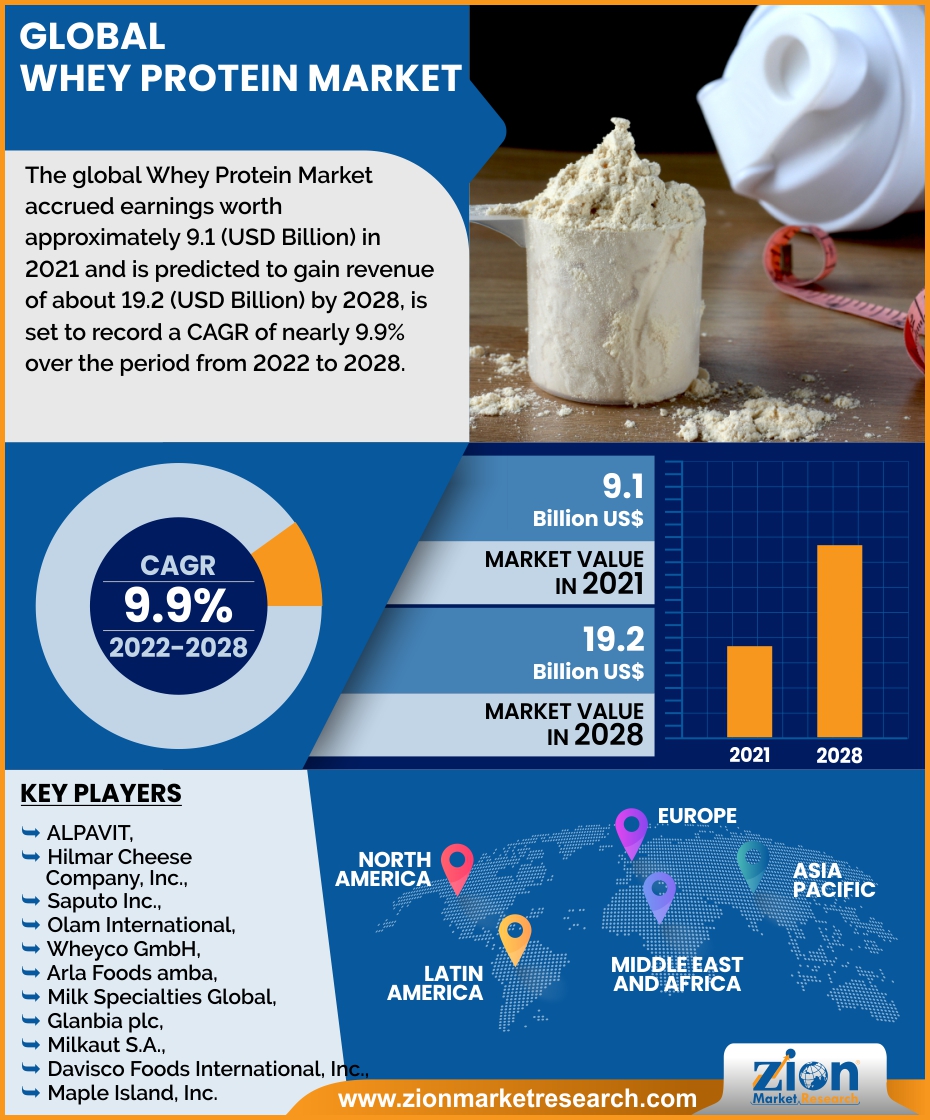 Request Free Sample
Whey Protein Market: Growth Dynamics
Surging cases of chronic illness owing to altering life patterns in millennial population has led to large-scale intake of diet enriched in protein. This has translated into augmented expansion of whey protein market. Apart from this, enhanced demand for sports nutrition has led to growing popularity of protein supplements such as whey proteins, thereby boosting expansion of whey protein market. Moreover, its easy digestibility and strong amino profile has made in popular as dietary supplement in food & beverages sector. Furthermore, altering customer behavior in countries such as the U.S. is propelling food & beverage firms encompass functional whey protein in their packaged food as a substitution for dietary ingredients having huge proportion of fats. Such moves will create plethora of opportunities for whey protein market.
Moreover, immense use of whey protein in production of personal care & cosmetic items such as skin care and hair care items will prompt business trends. Thriving e-commerce & online retail sectors along with surge in working women populace will increase product utility in cosmetics industry, thereby succoring whey protein market explore new horizons of growth.
Report Scope:
Whey Protein Market: Regional Landscape
North America To Lead Overall Whey Protein Market Share In 2022-2028
Rapid expansion of whey protein industry in North America over ensuing years can be attributed to increase in obese population & lifestyle related disorders among people in countries such as the U.S. Moreover, growing preference for functional diet & dietary supplements for maintaining good health has led to massive consumption of whey proteins in diet of people in Canada and the U.S. New product launches has further reinforced growth of whey protein market in North America.
Whey Protein Market: Competitive Landscape
Some of major players have strongly impacted growth of whey protein market and will continue to do so even in foreseeable future. They are ALPAVIT, Hilmar Cheese Company, Inc., Saputo Inc., Olam International, Wheyco GmbH, Arla Foods amba, Milk Specialties Global, Glanbia plc, Milkaut S.A., Davisco Foods International, Inc., and Maple Island, Inc.
The global Whey Protein Market is segmented as follows:
By Type
Whey Protein Isolates
Whey Protein Concentrates
Whey Protein Hydrolysates
By Application
Food & Beverages
Animal Feed & Pet Food
Nutritional Supplements
By Region
North America
Europe

France
The UK
Spain
Germany
Italy
Rest of Europe

Asia Pacific

China
Japan
India
South Korea
Southeast Asia
Rest of Asia Pacific

Latin America

Brazil
Mexico
Rest of Latin America

Middle East & Africa

GCC
South Africa
Rest of Middle East & Africa