Free Analysis
Whey protein is one of the two essential proteins found in milk, with the other being Casein Protein. Whey protein is the water-soluble part of milk. Whey protein is chemically non-stimulatory, but may provide energy via means of caloric consumption and an insulin spike from the amino acids. There are many benefits associated with the consumption of whey protein like aiding weight loss, anti-cancer properties, lowering blood pressure and reducing the risk of cardiovascular disease and many others. The protein in cow's milk is approximately 20% whey and 80% casein whereas the protein in human milk is 60% whey and 40% casein.
Increasing awareness about the benefits of the whey protein in the healthcare sector is the major driving factor of increasing demand for whey protein market. Moreover, increasing global trends in healthcare and fitness coupled with the dairy product are expected to contribute toward the impulsive growth of whey protein market. Furthermore, growing demand for pediatric foods and pharmaceutical products are also expected to propel the growth of global whey protein market over the years. However, the high manufacturing cost of whey protein serves as a major restraining factor which hindered the growth of whey protein market. In addition, health & safety concerns, regulatory issue and certifications for marketing are the noticeable factors for hindering the growth of the market. Nonetheless, sports nutrition segment can be considered as a huge opportunity for modification of global whey protein market in the next few years.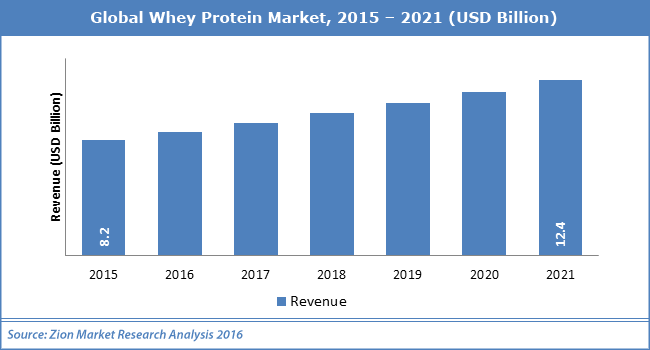 Based on product, the global market of whey protein is bifurcated into three types: Whey protein concentrate (WPC), whey protein isolate (WPI) and hydrolyzed whey protein (HWP). Hydrolyzed whey protein (HWP) segment was the leading segment followed by whey protein isolate in terms of revenue generation in 2015 and it is expected to maintain its dominance throughout the forecast period. Whereas, Whey protein concentrate (WPC) constitutes over 27% of total whey protein market share in 2015. This growth is mainly attributed to high investment in fitness and gymnasium activities coupled with government support.
Based on application, the global market of whey protein is bifurcated into six types: dietary supplement, pharmaceutical and clinical nutrition, bakers and confectionaries, snacks and dairy products and others. Dietary Supplement segment was the leading segment in 2015. In Asia Pacific region dietary supplement segment had grown approximately three fold during the past decade and is expected to follow the same trend over the next 5 years. However, lack of nutrition among the population in developing countries like India and China is expected to fuel the growth of pharmaceutical and clinical nutrition segment, which is accounted for around 20% of market share in 2015
Based on geography, the global market of whey protein is bifurcated into five types: North America, Europe, Asia-Pacific, Latin America and the Middle East and Africa. Global whey protein market was dominated by Europe in 2015 due to increasing in geriatric population in this region. Europe accounted more than 38% of the global whey protein market in 2015. Asia-Pacific is expected to be the fastest growing market within the forecast period, owing to its larger population and booming industrial sector. An emerging economy like Brazil is expected to fuel growth in Latin America region.
Key market players of whey protein market include American Dairy Products Institute, Arla Foods, Agropur MSI, DMK Group, Glanbia Plc and Westland Milk Products.