Description
Market Overview
The global Waterproof Textiles Market accounted for USD 1,563.6 Million in 2020 and is expected to reach USD 2,303.6 Million by 2028, growing at a CAGR of 5.3 % from 2021 to 2028.
Waterproof literally means something that is impervious to water and Waterproof fabrics are those that that are highly water resistance and water does not pass through it easily. Waterproof fabrics are designed to be used in garments that provide us protection from external affecting factors like rain, winter and internal factors like loss of body heat. These fabrics are ventilated by infinite pores.
The use of waterproof fabric in sports and outdoor apparels are growing rapidly owing to its durability and light weight. After some work out our body perspires and if the outfit is not breathable it results is body heat loss which can cause health issues. The millennia's are aware about the importance of fitness and this has impacted positively to Waterproof Textiles Market.
COVID-19 Impact Analysis
The global waterproof textiles market has witnessed a downturn in the sales for short term owing to the hindered possibilities of not being manufactured in various countries due to lockdown enforcement. The decline in demand of outdoor and sports outfit has also led to decline for waterproof fabric. However, the world markets are slowly opening to their full potential and theirs a surge in demand of waterproof fabric. The market would remain sluggish in upcoming year but it is expected to gain momentum due to the rise in outdoor activates preferred by young generation. The restrictions imposed by various nations to contain COVID had stopped the production resulting in a disruption across the whole supply chain.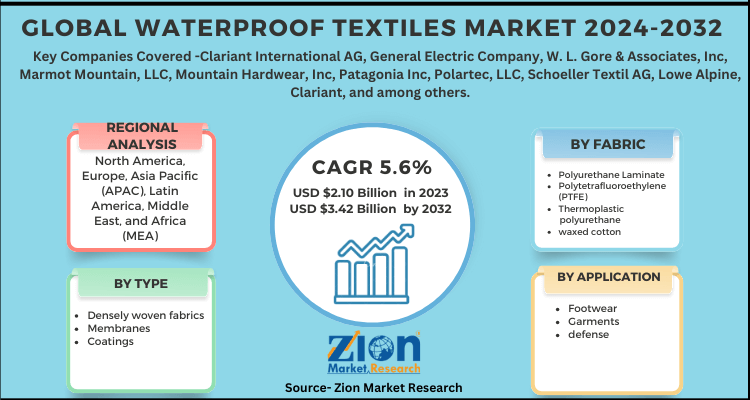 Growth Factors
The rise in demand of sports, leisure, outdoor and warm ware the waterproof fabric market is growing positively. The customers are aware of its durability and lightweight and fashionable which makes them easy to carry. The waterproof fabric is mostly recyclable which makes it eco-friendly and is being prompted by key market player. Waterproof fabrics are also known for their ability to stop Water from outside but it also permits the penetration of water vapor from inside. This allows Waterproof fabrics to be breathable even under rainy conditions.
The demand of fashionable items like jackets, riding gears and others have caught the investor's eyes and will likely be a major factor for growth in forecast period. The footwear market has also seen rise in demand for quality, durable, lightweight and waterproof products. As more and more people are attracted to healthy life style the sale of waterproof fabric is growing positively. Extreme sports like paragliding, scuba diving, para jumping, etc. require special gears to protect themselves and these gears are mostly made of waterproof fabric, these sports are like by young and energetic people, there is demand for such gores which will boost the waterproof fabric market.
Report Scope: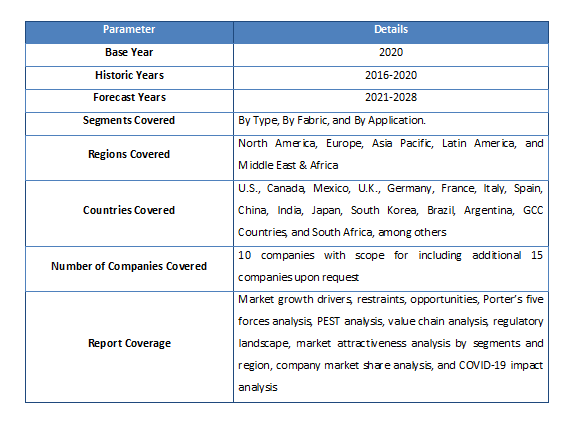 Fabric Segment Analysis Preview
Polyurethane segment held a share of around 32.56% in 2020. This is attributable to low cost and high durability. It is used in footwear as well as garment making it one of the key fabrics. Polyurethane is also used in making defense equipment's and the investors are attracted to the wide range of possibilities in this market, owing to this the waterproof fabric is all set grow positively.
Membrane segment is also growing due to its outstanding mechanical properties. These membrane fabrics are extremely thin and resist water and allow the flow of outward water vapor. Membranes are around 10mm thick and can be laminated with fabrics to strengthen its mechanical properties.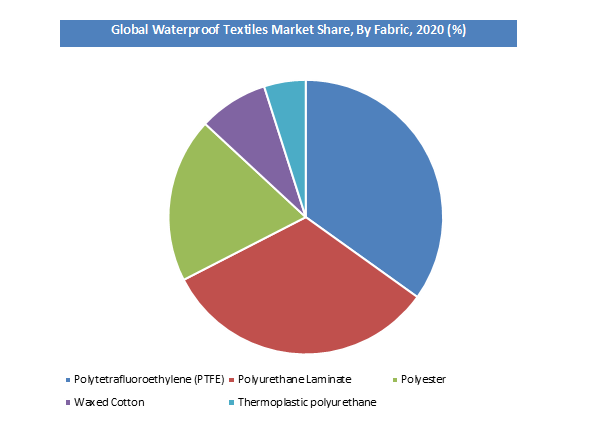 Application Segment Analysis Preview
Garment segment will grow at a CAGR of over 5.6% from 2021 to 2028. This is attributable to the growing demand of fashionable goods around the globe. Footwear is made using waterproof fabrics like polytetrafluoroethylene which gives it extra protection and is highly durable. It is also used to make protective gears, winter wares. Ecofriendly sustainable appeals are preferred as the leading manufactures are promoting and encouraging their customers to purchase such products
Defense segment is also growing as new application of waterproof fabric is being researched to make it military grade. Investors are looking to explore this segment.
Regional Analysis Preview
The APAC region held a share of waterproof textiles market 39.23% in 2020. This comprises some of major economies like China, India Japan, Australia, etc. This is attributable to the presence of top companies such as Clariant International AG, Schoeller Textil AG, Lowe Alpine, Clariant and others. Moreover, the increasing usage of waterproof fabric apparels and outdoor sector is expected to generate huge demand for the market in this region. This demand has urged manufactures to produce quality products and also increase the production to meet the demands with easy availability of raw material, growth of this is region is forecasted positive growth.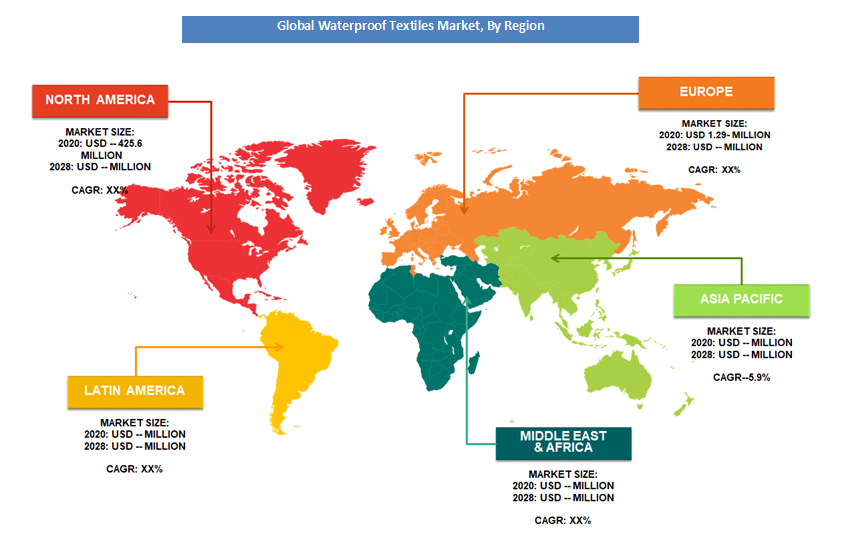 The North American region is projected to grow at a CAGR of 4.8% over the forecast period. This surge is due to the increasing adoption of Waterproof textiles Market in industrial and multifunctional use. These fabrics are very reliable and industrial workers are advised to use it. This increase in demand for Waterproof textiles Market is also due attraction of people to healthy life last has boosted to Waterproof textiles Market. More and more people are trying yoga, aerobics, and other fitness activities.
Key Market Players & Competitive Landscape
Some of key players in Waterproof textiles Market are Clariant International AG, General Electric Company, W. L. Gore & Associates, Inc, Marmot Mountain, LLC, Mountain Hardwear, Inc, Patagonia Inc, Polartec, LLC, Schoeller Textil AG, Lowe Alpine, Clariant, and among others.
The Waterproof Textiles Market is segmented as follows:
By Type
Densely woven fabrics
Membranes
Coatings
By Fabric
Polyurethane Laminate
Polytetrafluoroethylene (PTFE)
Thermoplastic polyurethane
waxed cotton
Polyester
By Application
Footwear
Garments
defense
By Region
North America
Europe

France
The UK
Spain
Germany
Italy
Rest of Europe

Asia Pacific

China
Japan
India
South Korea
Southeast Asia
Rest of Asia Pacific

Latin America

Brazil
Mexico
Rest of Latin America

Middle East & Africa

GCC
South Africa
Rest of Middle East & Africa