Global Vitamin Deficiency Treatment Market: Size
The Global Vitamin Deficiency Treatment market is set for a rapid growth over the forecast period. In terms of revenue, the global vitamin deficiency treatment market size was worth around USD 5,470.7 Million in 2019 and is expected to reach USD 8,705.2 Million by 2026, growing at a CAGR of 6.86%.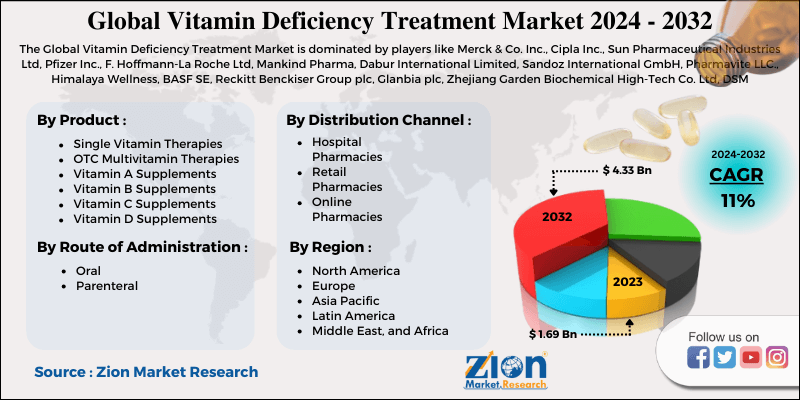 Request Free Sample
Global Vitamin Deficiency Treatment Market: Overview
Vitamin deficiencies continue to pose enormous threat to the general well-being of worldwide population. Vitamin deficiencies can lead to nausea, mental confusion, irritability, depression, muscle weakness, and constipation, among others. Vitamin B12 deficiencies have been increasingly reported among athletes, individuals with high alcohol intake, and women who frequently use birth control pills. In the present situation, the market for vitamin deficiency treatment is highly on demand and includes mainly a combination of vitamin B6 and synergistic B vitamins. Vitamin B12 deficiencies have often been blinded or misdiagnosed in clinical practices around the world for several decades. However, current trends suggest that diagnosis, detection, and vitamin deficiency treatment continue to progress at an amazing speed.
Global Vitamin Deficiency Treatment Market: Growth Factors
The healthcare industry is increasingly finding new ways to overcome the burden of vitamin deficiency-related issues. As the number of people suffering from vitamin deficiencies continues to rise at an alarming pace worldwide, over the past couple of decades, vitamin deficiency therapies have gained a lot of interest. Increasing prevalence of patients with chronic or acute disorders, an increase in the amount of research and development projects, and the demand for vitamin B and vitamin D complex, due to health benefits are some of the key factors that are anticipated to affect the growth of the vitamin deficiency treatment market in the near future.
A significant number of research projects are currently focused on tackling health problems and risks associated with nutritional deficiencies. In the past few years, vitamin D testing and treatment have seen considerable progress. Protocols related to the treatment of different vitamin deficiencies continue to change due to various researches. As vitamin D deficiency proceeds to emerge as a global challenge, tackling vitamin D deficiency will require vigorous public health interventions, involving vitamin D food fortification, in addition to vitamin deficiency treatment.
The growth in the global geriatric population is expected to boost demand for vitamins and other dietary supplements at a rapid pace in the coming years. The rise in the geriatric population directly affects the supply for vitamins, mainly because of the higher vulnerability of this population to different diseases. Many developed countries have a growing geriatric population. As per WHO, the geriatric population is projected to grow rapidly in developed economies such as the United States, the United Kingdom and Japan.
Impact due to the outbreak of COVID-19
The world is currently in the midst of the coronavirus disease (COVID-19) epidemic caused by the SARS-CoV-2 virus. The virus has evolved to allow human-to-human spread, this infection can cause dry cough, fever, respiratory distress syndrome, fatigue, serious pneumonia, and death in some cases. COVID-19 affects the immune system by causing a systemic inflammatory reaction or cytokine release syndrome. Individuals affected with COVID-19 showed a high level of pro-inflammatory chemokines and cytokines There are presently no effective viral anti-SARS-CoV-2 drugs or vaccines available. COVID-19, has unfairly targeted the elderly population, both directly and through a number of significant age-related comorbidities. Nutrition is undoubtedly a key determinant of the maintenance of good health. Key nutritional ingredients such as vitamins C, D, E, selenium, zinc, and omega-3 fatty acids have well developed immunomodulatory effects and are beneficial for infectious diseases. Also, some of these nutrients have been shown to have a potential role in COVID-19 management.
Global Vitamin Deficiency Treatment Market: Segmentation
Researchers are increasingly trying to explore the potential solutions to tackle muscle weakness among the elderly population affected by vitamin D deficiency. The prevalence of vitamin D deficiency has observed massive growth over the last few years, which has necessitated a demand for supplementation of 800 IU vitamin D. In most cases, vitamin D is primarily administered in the form of cholecalciferol. The value for cholecalciferol is expected to increase in the coming years, as it is proven safe for elderly people. The demand for vitamin B complex supplements is expected to remain the highest among all other types of products followed by vitamin C and vitamin D supplements.
By route of administration, the market is segmented into the oral and parenteral route of administration. The oral route of administration is estimated to hold the largest share and the highest CAGR in the forecast period. This can be due to ease of administration, improved pharmacokinetic and pharmacodynamic operation, decreased toxicity, increased patient compliance, and growth in preference for the oral route.
Vitamin Deficiency Treatment Market: Report Scope
Report Attributes
Report Details
Report Name
Vitamin Deficiency Treatment Market Research Report
Market Size in 2019
USD 5,470.7 Million
Market Forecast in 2026
USD 8,705.2 Million
Growth Rate
CAGR of 6.86%
Number of Pages
214
Key Companies Covered
Merck & Co. Inc., Cipla Inc., Sun Pharmaceutical Industries Ltd, Pfizer Inc., F. Hoffmann-La Roche Ltd, Mankind Pharma, Dabur International Limited, Sandoz International GmbH, Pharmavite LLC., Himalaya Wellness, BASF SE, Reckitt Benckiser Group plc, Glanbia plc, Zhejiang Garden Biochemical High-Tech Co. Ltd, DSM
Segments Covered
By Product, By Route of Administration, By Distribution Channel, And By Region
Regions Covered
North America, Europe, Asia Pacific (APAC), Latin America, Middle East, and Africa (MEA)
Base Year
2019
Historical Year
2016 to 2018
Forecast Year
2020 - 2026
Customization Scope
Avail customized purchase options to meet your exact research needs. Request For Customization
Global Vitamin Deficiency Treatment Market: Regional Analysis
By Geography, the vitamin deficiency treatment market is segmented into North America, Europe, Latin America, Asia Pacific, and Middle East and Africa.
Vitamin D deficiency is widespread in Asia Pacific, especially in South and South East Asia. Rickets (soft bone deformity) are very common in China and it is the result of low vitamin D intake. Moreover, an increase in income levels and a substantial consumer demand for nutritionally rich products are expected to provide exciting outcomes for the expansion and development of functional food and beverage products in the region, which, in turn, will lead to an increase in the intake of vitamin-infused products and thus boosting market growth.
India and China are two of the most favorable markets for vitamin D producers to expand due to increasing demand for fortified food products, animal feed, and easy availability of raw materials. It has become a major destination for vitamin D supplement manufacturers and pharmaceutical companies, such as Alkem Laboratories, Abbott Laboratories, Cadila Pharmaceuticals, and Sanofi S.A.
Global Vitamin Deficiency Treatment Market: Competitive Players
The major players in the global vitamin deficiency treatment market include
Merck & Co. Inc.
Cipla Inc.
Sun Pharmaceutical Industries Ltd
Pfizer Inc.
F. Hoffmann-La Roche Ltd
Mankind Pharma
Dabur International Limited
Sandoz International GmbH
Pharmavite LLC.
Himalaya Wellness
BASF SE
Reckitt Benckiser Group plc
Glanbia plc
Zhejiang Garden Biochemical High-Tech Co. Ltd
DSM
The report segment of global vitamin deficiency treatment market are as follows:
By Product
Single Vitamin Therapies
OTC Multivitamin Therapies
Vitamin A Supplements
Vitamin B Supplements
Vitamin C Supplements
Vitamin D Supplements
Others
By Route of Administration
By Distribution Channel
Hospital Pharmacies
Retail Pharmacies
Online Pharmacies
By Region
North America
Europe

France
The UK
Spain
Germany
Italy
Rest of Europe

Asia Pacific

China
Japan
India
South Korea
Southeast Asia
Rest of Asia Pacific

Latin America

Brazil
Mexico
Rest of Latin America

Middle East & Africa

GCC
South Africa
Rest of Middle East & Africa