Abstract
The report contains an analysis and a forecast of the vision processing unit market globally and regionally. It provides past data from 2016 to 2018 along with a forecast from 2019 to 2025 based on revenue (USD Million). The report includes drivers, challenges, and restraints for the vision processing unit market along with their influence on the demand during the projected period. Additionally, the report contains the study of opportunities available in the vision processing unit market on a global level.
The report also includes an elaborated competitive scenario and portfolio of the key market players. To know the competitive landscape prevailing in the market, an analysis of Porter's Five Forces Model has also been included. The study includes market attractiveness analysis, wherein all the segments are benchmarked based on the market growth rate, size, and attractiveness.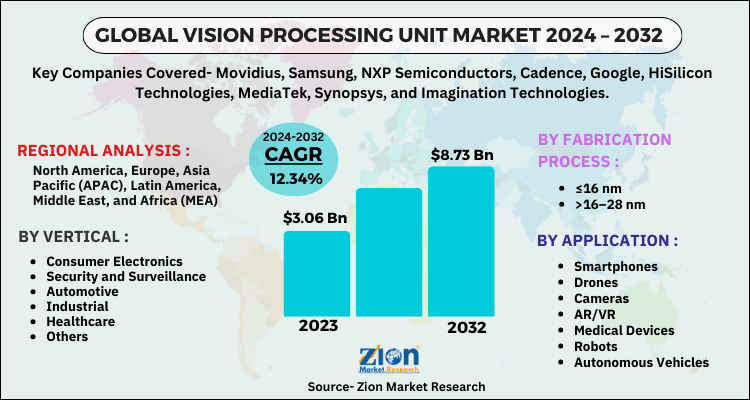 The global vision processing unit market is fragmented on the basis of application, vertical, fabrication process, and region. All the segments have been analyzed based on current and future trends and market estimated from 2019 to 2025. The regional segment includes the present and forecast demand for North America, Europe, Asia Pacific, Latin America, and the Middle East and Africa.
Some noticeable players of the vision processing unit market are Movidius, Samsung, NXP Semiconductors, Cadence, Google, HiSilicon Technologies, MediaTek, Synopsys, and Imagination Technologies.
This report segments the global vision processing unit market into:
Vision Processing Unit Market: Application Analysis
Smartphones
Drones
Cameras
AR/VR
Medical Devices
Robots
Autonomous Vehicles
Vision Processing Unit Market: Vertical Analysis
Consumer Electronics
Security and Surveillance
Automotive
Industrial
Healthcare
Others
Vision Processing Unit Market: Fabrication Process Analysis
Vision Processing Unit Market: Regional Analysis
North America
Europe
Asia Pacific
Latin America
Middle East and Africa