Analysis
Vision processing units are different in comparison to video processing units. Vision processing units are suitable for running machine vision algorithms like convolution neural networks and scale-invariant feature transform. These units use direct interface to capture date from cameras and emphasize on on-chip data flow between parallel execution units.
The vision processing unit market is anticipated to witness notable growth in the upcoming years, owing to the rising adoption of machine vision system across numerous industry verticals, such as manufacturing, consumer electronics, healthcare, and automotive. It is a dedicated processor that helps in capturing high-quality images with ambient light reducing power consumption by freeing CPU and GPU space. This, in turn, enhances the overall performance of the product it is integrated with. Moreover, the rising adoption of artificial intelligence across various industries along with the increasing requirement of machine learning technologies to program the systems is also anticipated to support the vision processing unit market globally in the years ahead. Many industries like automobile and manufacturing are using numerous robots with vision abilities and increasing their implementation for quality check, products inspection, assistance in production stages, and security and surveillance among others. This is another vital growth factor of the market for vision processing unit. Furthermore, the ongoing development to automate different processes in various industries will also fuel the vision processing unit market development globally over the forecast time period.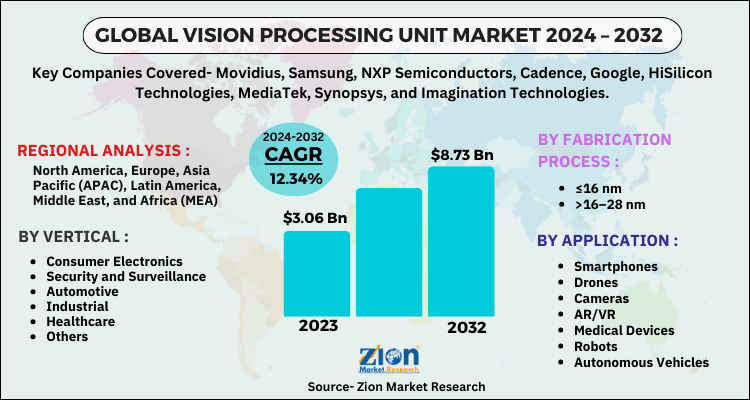 The vision processing unit market is fragmented on the basis of application, vertical, and fabrication process. By application, the vision processing unit market is segmented into drones, smartphones, cameras, medical devices, AR/VR, autonomous vehicles, and robots. Smartphones are anticipated to hold a major market share, owing to the increasing use of smartphones globally. The utilization of vision processors in smartphones is to drive product differentiation, customize camera functionalities, and perform real-time processing functions, which leads to saving power consumption and perform advanced multi-function tasks. This will further propel this segment's growth in the long run.
North America is expected to witness substantial growth in the vision processing unit market in the years ahead, owing to the technologically advanced countries of the U.S and Canada, rising adoption rate of machine language, and the regional presence of artificial intelligence and machine language vendors.
Some noticeable players of the vision processing unit market are Movidius, Samsung, NXP Semiconductors, Cadence, Google, HiSilicon Technologies, MediaTek, Synopsys, and Imagination Technologies.