Global Vegetarian Capsules Market Overview
The global Vegetarian Capsules market accounted for USD 396.71 Million in 2020 and is expected to reach USD 722.70 Million by 2028, growing at a CAGR of 8.2 % from 2021 to 2028.
Capsules are two piece enclosures commonly made of gelatin. Vegetarian capsules are which contain plant based compounds and free of animal derivatives of any kind. Vegetarian capsules are free of any modified sugar form and contain vegetable cellulose forms if needed. Vegetarian capsules are preferred supplement over animal supplement by those who do not prefer animal products.
The growing concern for healthy body is one of the key market drivers. These capsules are rapidly absorbed by our digestive system. Vegetarian capsules are takes as supplement for vital mineral or vitamins which our day to day lifestyle fails to provide. These capsules are said to be free of any carcinogenic substance as they are plant based. These capsules are used by sports persons, body builders, athletes, etc. Increase in adaption of vegetarian lifestyle is also one of the key market drivers.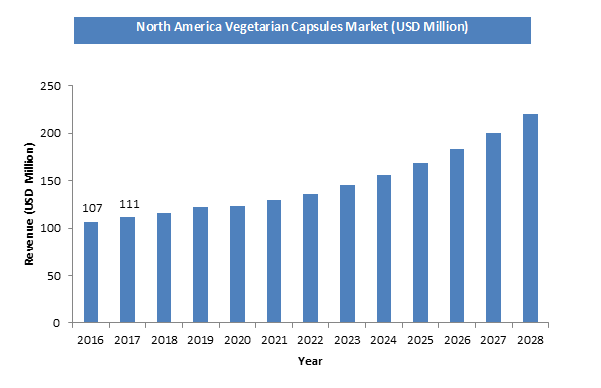 Request Free Sample
COVID-19 Impact Analysis
The global vegetarian capsules market has witnessed an increase in the sales for short term owing to the urgent need of vitamins and minerals to lower the fatality rate due to COVID. Supplement of Vitamins sales were rocketed due spread of news that these help you recover faster if COVID positive. Thaw the manufacturing was hampered during early lockdown phase but was later allowed due to its growing demand. The restrictions imposed by various nations to contain COVID had stopped the production resulting in a disruption across the whole supply chain. However, the world markets are slowly opening to their full potential and theirs a surge in demand of Vegetarian Capsules. The market would remain bullish in upcoming year.
Growth Factors
Vegetarian capsules improve immune system to fight against any foreign object in our body which is why people are attracted towards it. More people are adapting healthy lifestyle and these capsules help them with essential vitamins and minerals. These capsules are recommended by medical professionals, nutritionist experts to their clients to fulfill body requirements. Vegan people are one of the key market drivers.
Vegetarian capsules do not have many side effects compared to animals based supplement. Absence of accessibility to good and essential variety of food which provides basic need for smooth functioning of the human body has lead people to look out for cheaper options to aid themselves for these capsules. Uses of Vegetarian based products are extensive in medicine research. Cosmetics are also prepared using Vegetarian based products.
Report Scope: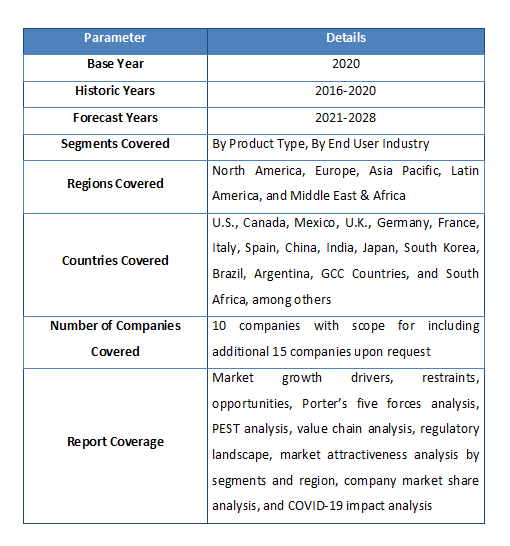 Request Free Sample
Product Type Segment Analysis Preview
HPMC (Hydroxypropyl methylcellulose) segment held a share of around 36.95% in 2020. HPMC is the most common vegetable cellulose and have trace amount is most of Vegetarian capsules. HPMC is extracted mainly from bark of some tree like pine or spruce tree. Vegetarian capsules are pure as they do not contain even trace amount of animal byproducts, it's solely plant based therefore it is preferred by many. This segments growth is attributable to the significant increase in demand for such products for consumption. This segment is going to see largest increase because of above factor.
Pullulan is another important component of vegetarian capsule. It is chemical compound obtained from water extracted from fungi that grow on starch substances. This is also pure and no other chemicals are added in the process.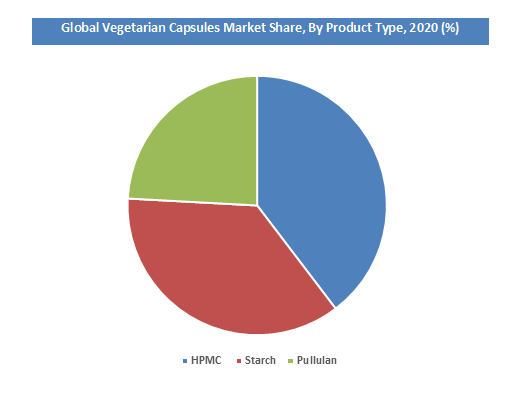 Request Free Sample
End User Industry Segment Analysis Preview
Pharmaceutical Companies in end use segment will grow at a CAGR of over 9.6% from 2021 to 2028. This is attributable to the number of products launched by various companies in order to lure more and more customers. Pharmaceutical Companies is the largest purchaser of Vegetarian cellulose as they use them in other medicine making process.
Nutraceutical are any substances that are part of food that provide medicinal or health benefits. Most of the Pharmaceutical Companies use plant based nutraceutical to either prevent of treat a disease.
Cosmetic making companies use these plant based nutraceutical to make different products because its rich in chemical compounds which are useful in making various type of cosmetic products. Thaw they are mixed with animal byproducts but some products offer solely plant based cosmetic products.
Regional Analysis Preview
The North American region held a share of about 31.21% in 2020. This is attributable to the presence of top companies such as Aenova, Ayanda, Captek, Catalent, EuroCaps among others. Moreover, the increasing usage of vegetarian capsule expected to generate huge demand for the market in this region. North America is the largest market for vegetarian capsule. This is due to their advanced researches and application in this field.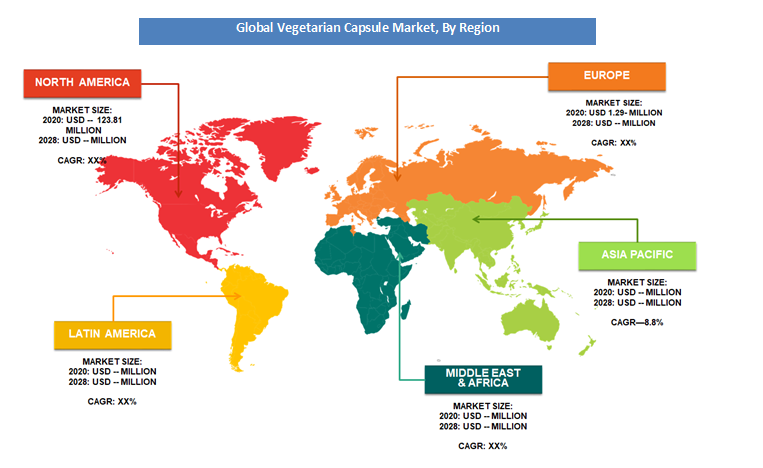 Request Free Sample
The Asia Pacific region is projected to grow at a CAGR of 8.8% over the forecast period. This surge is due to the increasing awareness among common people regarding the benefits of using vegetarian capsule. APAC region is also one of the major markets of vegetarian capsule as the huge population has to be feed and basic needs of people in country like India, China are not fissile for everybody, so they use these capsules to aid for the vitamins and mineral needs.
Key Market Players & Competitive Landscape
Some of key players in vegetarian capsule market are Aenova, Ayanda, Bahrain Pharma, Best Formulations, Captek, Catalent, EuroCaps, Procaps Laboratories, Robinson Pharma, SIRIO, Medgel, neclife, etc. among others.
In April 2021, smartypants announced new Multi Capsule products to provide most innovative and nutritionally comprehensive supplements.
The global vegetarian capsule market is segmented as follows:
By Product Type
By End User Industry
Pharmaceutical Companies
Nutraceutical Companies
CMO's And Cosmetic Companies
By Region
North America
Europe

France
The UK
Spain
Germany
Italy
Rest of Europe

Asia Pacific

China
Japan
India
South Korea
Southeast Asia
Rest of Asia Pacific

Latin America

Brazil
Mexico
Rest of Latin America

Middle East & Africa

GCC
South Africa
Rest of Middle East & Africa