U.S. Staple Gun Market Size Overview
The U.S. Staple Gun Market size accounted for USD 108.80 Million in 2020 and is expected to reach USD 135.42 Million in 2028 growing at a CAGR of 2.8% between 2021 and 2028.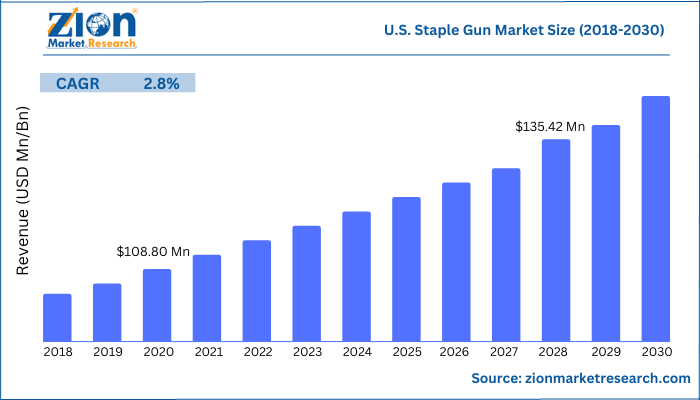 Request Free Sample
A staple gun is a hand-held machine that drives heavy staples of metal into plastic, wood, or masonry. These guns are used for various applications and to tack an array of materials, which also includes house wrap, upholstery, insulation, wiring, carpeting, roofing, and craft and hobby materials.
There are mainly three types of staple guns dignified to operate the gun by the power source used: electric (From a battery or cord), manual, and pneumatic (Compressed air). Hand-powered guns are slower as compared to Power staple guns. Power Staple gun staples at a quicker rate to some extent than hand-powered guns, but their key benefit is they can be continuously used for hours with relatively little fatigue.
Staple guns are also called as heavy-duty staplers, it basically does the work of a normal stapler, but that requires enormous power and force compared to a general stapler. Unlike staplers at office, not all staple guns have an anvil (it is a metal plate having curved slots that office staplers make use to flatten it and bend the staple against the paper.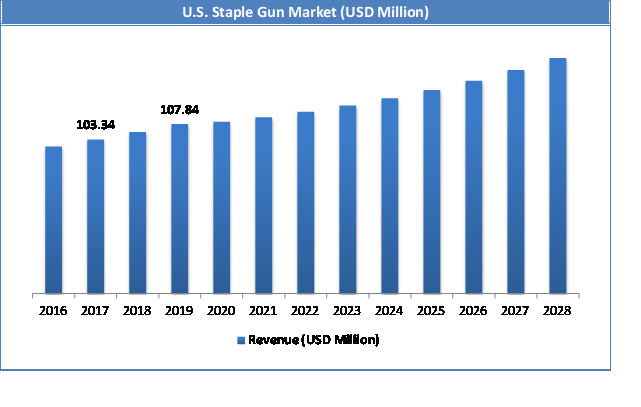 Request Free Sample
COVID-19 Impact Analysis
COVID-19 Pandemic hit manufacturing due to lock down and stringent policies passed by government bodies. The manufacturing was able to sustain business operations by implementing critical safety measures and wellness policies, oversight and systems. These actions proved to be highly effective in protecting critical manufacturing and operating employees in site locations and field operations. Companies also quickly transitioned its office employees around the globe to a nearly complete virtual workforce, providing the necessary technical and collaboration support to enable these employees to adjust to a virtual working environment. The Company believes the adopted hybrid work policies are likely to be a lasting result of the pandemic and will be a key enabler to support the broad needs of critical on-site to fully virtual employees.
U.S. Staple Gun Market Growth Factors
Packaging has become an essential part of a lifecycle of a product largely because packaging preserves and protects a product from various types of harm for instance, contamination, damage, leakage, etc. during the course of consumption, transit, and storage. Accomplishing the highest degree of safety of a product at every stage of the product lifecycle is considered to be one of the biggest concerns nowadays of product manufacturers producing sensitive Products. Furthermore, sensitive products need adamant packaging made of plastic and wood. Stapling plastic and wood has been a key pain point for a couple of decades now for the packaging industry. Staple guns are primarily used to turn metal staples of heavy-duty into plastic, wood, or another solid surface. Staple guns are also known as trigger trackers sometimes and are used in a range of applications including carpeting, upholstery, craft material, insulation, house wrap, roofing, and wiring. These staple guns are fast and give a long shelf life to a packaged product. The increasing demand from the packaging sector is expected to drive growth over the forecast period of the staple gun market.
Staple guns are used to set up carpets and helps to retack again back onto the floor. The tool even let you have a soundproof a room by fixing them onto the walls, and it comes in super accessible. Staple guns are ideal for jobs related to carpeting because they don't take as much pressure as the other tools takes, and there's much less chance of the carpet being messed up. Staple guns can simply allow fixing furniture by fixing fabrics onto it, without any wrinkles. They work on numerous materials such as foam, leather, wood, and fabric. With staple guns, one might even hold the option to put nails. Staple guns can make work a lot quicker and easier, pushing huge metal staples into materials. From insulation to upholstery, they can be used for a vareity of handiwork. These are some of the factors driving the growth for the market.
Type Analysis Preview
Manual segment held a share of around 41.75% in 2020. Based on type segment, the U.S. staple gun market is further bifurcated into manual, electric, and pneumatic. In 2020, the manual type was valued at USD 45.42 Million and is projected to reach USD 46.58 Million in 2028. The electric type is projected to grow at a CAGR of 5.3% to reach USD 58.11 Million in 2028.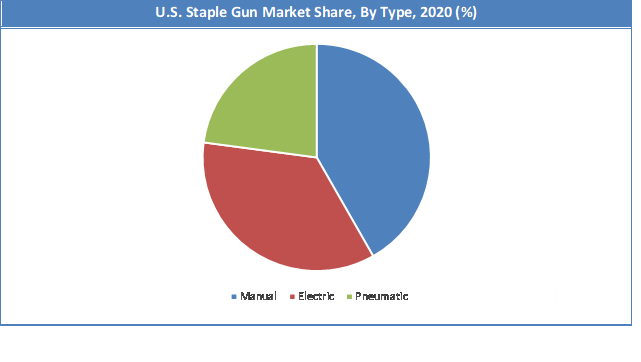 Request Free Sample
End-User Segment Analysis Preview
The individual segment is expected to grow at a CAGR of over 1.3% from 2021 to 2028. Based on the end-user segment, the U.S. staple gun market is further bifurcated into professional and individual. In 2020, the professional segment was valued at USD 80.09 Million and is projected to reach USD 103.55 Million in 2028. The individual segment is projected to grow at a CAGR of 1.3% to reach USD 31.87 Million in 2028.
Regional Analysis Preview
As staple guns need to be long lasting, good quality and durability companies such Stanley black & decker are investing huge amounts of funds in research and development of this product. Pneumatic and electric-operated staple guns are majorly used in construction industry whereas batteries operated are used in household applications.
Heavy duty rigid packaging requires rigid staple guns which are manufactured by companies such as Stanley Black & Decker, Arrow Fasteners Inc., ACCO and various others which are continuously modifying staple gun products for better grip and durability which will indirectly grow market opportunities for this market. The majority of segment of buyers of staple guns are the movers and packer companies. Companies are developing long durable battery operated stapling guns which will grow the market in future and have bright opportunities for the manufacturing companies.
U.S. Staple Gun Market Report Scope:
Report Attributes
Report Details
Report Name
U.S. Staple Gun Market Size, Research Survey Report
Market Size in 2020
USD 108.80 Million
Market Forecast by 2028
USD 135.42 Million
Compound Annual Growth Rate
CAGR of 2.8%
Number of Pages
130
Forecast Units
Value (USD Million), and Volume (Units)
Key Companies Covered
Tacwise Group PLC, Kyocera Senco Industrial Tools Inc, Stanley Black & decker, Arrow Fastener Co. LLC, ACCO Brands, Acme Staple Company Inc, Salco Inc, among others
Segments Covered
By Type, By End User, By Distribution Channel, By Region
Regions Covered
North America, Europe, Asia Pacific (APAC), Latin America, Middle East and Africa (MEA)
Countries Covered
North America: U.S and Canada
Europe: Germany, Italy, Russia, U.K, Spain, France, Rest of Europe
APAC: China, Australia, Japan, India, South Korea, South East Asia, Rest of Asia Pacific
Latin America: Brazil, Argentina, Chile
The Middle East And Africa: South Africa, GCC, Rest of MEA
Base Year
2020
Historical Year
2016 - 2020
Forecast Year
2021 - 2028
Customization Scope
Avail customized purchase options to meet your exact research needs. Request For Customization
Report Coverage
Market growth drivers, restraints, opportunities, Porter's five forces analysis, PEST analysis, value chain analysis, regulatory landscape, market attractiveness analysis by segments and region, company market share analysis, and COVID-19 impact analysis.
Key Market Players & Competitive Landscape
Some of key players in U.S. Staple Gun Market are Tacwise Group PLC, Kyocera Senco Industrial Tools, Inc., Stanley Black & decker, Arrow Fastener co. LLC, ACCO Brands, Acme Staple Company, Inc., Salco Inc., among others.
The U.S. Staple Gun Market is segmented as follows:
By Type
Manual
Electric
Pneumatic
By End User
By Distribution Channel
Hypermarkets & Supermarkets
Specialty Store
Online
Others
By Region
U.S. Education Market: Regional Analysis
North America
Europe

France
The UK
Spain
Germany
Italy
Rest of Europe

Asia Pacific

China
Japan
India
South Korea
Southeast Asia
Rest of Asia Pacific

Latin America

Brazil
Mexico
Rest of Latin America

Middle East & Africa

GCC
South Africa
Rest of Middle East & Africa