According to the report, global demand for Urinary Tract Cancer market was valued at approximately USD 2.4 billion in 2019, and is expected to generate revenue of around USD 9.3 billion by end of 2026, growing at a CAGR of around 21.1% between 2020 and 2026.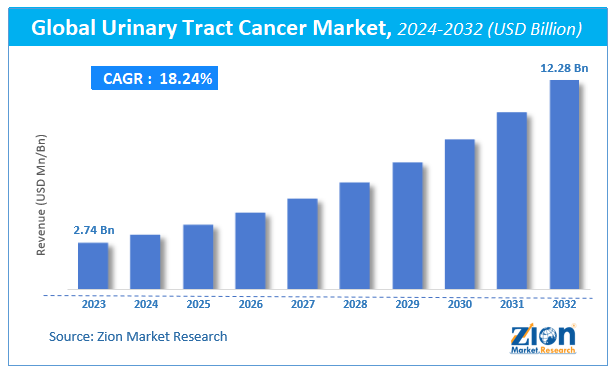 Request Free Sample
Cancer is the adverse disease caused due to abnormal cell growth with potential to spread or invade to all over the body. Urinary tract cancer is generally known as bladder cancer. Uncontrolled growth of cells in the urinary tract is said as bladder cancer. The bladder cancer is recognized from the most common symptoms that is presence of blood in urine. The urine tract cancer is mainly observed among smokers, generic population, workers in chemical industries and people with prolonged urine infections. Patient can be survived in the bladder cancer if identified at early stages.
The report provides a comprehensive view on the urinary tract cancer market we have included a detailed value chain analysis. To understand the competitive landscape in the market, an analysis of Porter's Five Forces model for the urinary tract cancer market has also been included. The study encompasses a market attractiveness analysis, wherein product segments are benchmarked based on their market size, growth rate and general attractiveness. The report also analyzes several driving and restraining factors and their impact on the market during the forecast period.
Increasing consumption of cigarettes globally coupled with increasing sedentary lifestyle had increased the incidence of urinary tract cancer. Accomplishment from the government to generate awareness regarding the urinary tract cancer and advance modern medications drives the urinary tract cancer market. Lack of awareness in the developing countries may suppress the growth of urinary tract cancer market. Nevertheless, untapped techniques for treatment of urinary tract cancer are likely to open new opportunities for the urinary tract cancer market in the coming years.
Based on type the urinary tract cancer market can be segmented as squamous cell carcinoma, adenocarcinoma and urothelial carcinoma among others. Urothelial carcinoma is leading segment with 95% of incidence rate, globally. On basis of diagnostic techniques, the urinary tract cancer market is segmented into, cystoscopy, transurethral resection of tumor, imaging tests and urine analyses among others. Different treatments for the urinary tract cancer include chemotherapy, intravesical therapy, radiation therapy, and surgery.
Report Scope:
North America and Europe dominated the urinary tract cancer market owing to high prevalence rate of urinary tract cancer, increasing healthcare expenditure and sophisticated healthcare sector. Asia Pacific is expected to experience fastest growth in the forecast period. Factors such as increasing awareness, growing healthcare sector and rising government support for research and development are the driving factors for the urinary tract cancer market in these region.
Shionogi & Co., Ltd., Medical Enzymes AG, Amgen Inc, Spectrum pharmaceuticals, Bristol-Myers Squibb Company, F. Hoffmann-La Roche Ltd, Boehringer Ingelheim GmbH, IkerChem S.L., Kyowa Hakko Kirin Co., Ltd and Genzyme Corporation among others are some of the leading players for the urinary tract cancer market.
The report segments of the urinary tract cancer market into:
Urinary Tract Cancer Market: Type Segment Analysis
Squamous cell carcinoma
Adenocarcinoma
Urothelial carcinoma a
Other
Urinary Tract Cancer Market: Diagnostic Techniques Segment Analysis
Cystoscopy
Transurethral resection of tumor
Imaging tests
Urine analyses
Others
Urinary Tract Cancer Market: Treatment Segment Analysis
Chemotherapy
Intravesical therapy
Radiation therapy
Surgery
Urinary Tract Cancer Market: Regional Segment Analysis
North America
Europe
Asia Pacific
Latin America
Middle East & Africa