Trencher Industry Prospective:
The global trencher market size was worth around USD 390.2 million in 2022 and is predicted to grow to around USD 513.8 million by 2030 with a compound annual growth rate (CAGR) of roughly 3.5% between 2023 and 2030.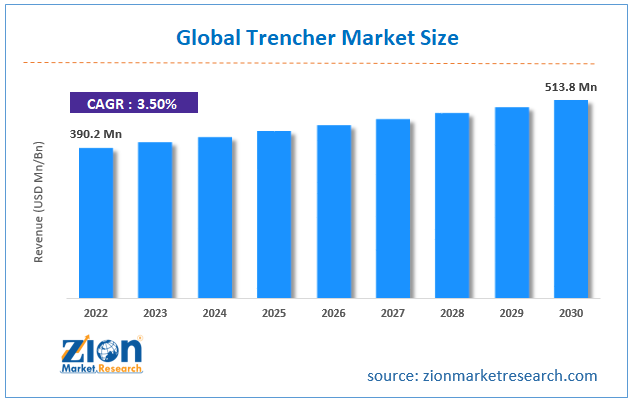 Request Free Sample
The report analyzes the global trencher market's drivers, restraints/challenges, and the effect they have on the demands during the projection period. In addition, the report explores emerging opportunities in the trencher industry.
Trencher Market: Overview
A trencher is a type of construction or excavation machine used for digging trenches, which are long, narrow excavations in the ground. It typically consists of a sturdy metal blade or chain that is attached to the front of a vehicle or equipment. The blade or chain is designed to cut through soil, rock, or other materials, creating a trench of the desired width and depth. Trenchers are commonly used in various industries and applications, including construction, agriculture, landscaping, and utility installation. They are often employed for tasks such as laying underground cables, pipes, or irrigation systems, creating drainage ditches, or preparing the ground for the installation of utilities. Trenchers come in different sizes and configurations, ranging from small walk-behind models to larger, self-propelled machines. Some trenchers are equipped with additional features, such as adjustable blades, conveyor systems to remove excavated material, or attachments for backfilling the trench after it has been dug.
Key Insights
As per the analysis shared by our research analyst, the global trencher market is estimated to grow annually at a CAGR of around 3.5% over the forecast period (2023-2030).
In terms of revenue, the global trencher market size was valued at around USD 390.2 million in 2022 and is projected to reach USD 513.8 million, by 2030.
The growing demand for trenchers in various industries including agriculture, oil & gas, and construction is expected to drive the trencher market growth over the projected period.
Based on the product, the wheel trencher segment is expected to dominate the market over the forecast period.
Based on the application, the agriculture trenching segment is expected to grow significantly during the forecast period.
Based on region, the North American region is expected to dominate the market over the forecast period.
Trencher Market: Growth Drivers
The increasing infrastructural development across the globe drives the market growth
The need for infrastructure development, including the construction of roads, highways, railways, and underground utilities, drives the demand for trenchers. As urbanization and population growth continue, there is a constant requirement for new infrastructure projects, which in turn increases the demand for trenching equipment. For instance, according to the United Nations, the population of the globe has increased by more than three times since the middle of the 20th century. In mid-November 2022, there were 8.0 billion people on the planet, up from 2.5 billion in 1950, 1 billion since 2010, and 2 billion since 1998. The population of the world is projected to rise by about 2 billion people over the next 30 years, from the present 8 billion to 9.7 billion in 2050, with a potential peak of roughly 10.4 billion in the middle of the 1980s. In addition, according to the World Bank Data, approximately 4.4 billion people, or 56% of the world's population, now reside in cities. By 2050, approximately 7 out of 10 people will live in cities, with the urban population predicted to more than double its current level. Therefore, the aforementioned facts will drive the global trencher market growth during the forecast period.
Trencher Market: Restraints
The high cost of maintenance is expected to hamper the market
Trenchers require regular maintenance to ensure optimal performance and longevity. The costs associated with routine maintenance, repairs, and replacement of parts can add up over time. Additionally, operating costs, including fuel or energy consumption, can be a consideration for potential buyers. These ongoing expenses can act as a restraint for some businesses.
Trencher Market: Opportunities
Increasing government initiatives provides a significant opportunity
Government initiatives and investments in infrastructure development, utilities, and agriculture sectors further contribute to the trencher market's growth. Public infrastructure projects, such as road construction, utility expansion, and rural development programs, create a significant demand for trenching equipment. For instance, according to the International Trade Administration, China's 14th Five-Year Plan prioritizes new infrastructure projects in transportation, energy, water systems, and new urbanization. According to projections, total investment in new infrastructure during the 14th Five-Year Plan period (2021-2025) would be over $ 4.2 trillion. The new plan stressed nine important elements for energy efficiency and green building development; it also asks for the retrofitting of over 350 million square meters of buildings and the construction of over 50 million square meters of net zero energy consumption structures. Thus, these types of government plans and investments favor the growth of the trencher industry over the coming years.
Trencher Market: Challenges
High initial investment poses a major challenge
Trenchers can be expensive machines, especially larger and more advanced models. The high initial investment required to purchase or lease trenchers can be a significant barrier for small and medium-sized businesses or contractors with limited budgets. This can limit the adoption of trenching equipment and affect market growth.
Trencher Market: Segmentation
The global trencher industry is segmented based on product, operating type, application, and region.
Based on the product, the global market is bifurcated into wheel trenchers, chain trenchers, micro trenchers, and others. The wheel trencher segment is expected to dominate the market over the forecast period. The segment growth is attributed to the high demand for wheel trenchers in the construction industry. The construction industry represents a significant segment for wheel trenchers. They are used for tasks such as laying underground utility lines, including water, gas, electricity, and telecommunications cables. Wheel trenchers offer efficiency and speed in creating trenches, which is crucial for construction projects with tight schedules. On the other hand, the chain trencher segment is expected to grow at a significant rate over the forecast period. The segment growth is ascribed to its versatility and flexibility. Chain trenchers are known for their versatility and flexibility in various soil conditions. They can efficiently handle different types of terrain, including soft soil, compacted earth, rocky ground, and even frozen ground. This adaptability makes them suitable for a wide range of applications and environments. Thereby, driving the segment growth.
Based on the operating type, the global trencher industry is bifurcated into ride-on and walk-behind.
Based on the application, the global trencher market is segmented into agriculture trenching, oil & gas pipeline installation, energy cables & fiber optic laying, telecommunication networks construction, sewers & water pipeline installation, and others. The agriculture trenching segment is expected to grow significantly during the forecast period. The application of trenchers in agriculture trenching significantly contributes to increasing productivity, optimizing resource utilization, and promoting sustainable farming practices. Trenchers facilitate efficient and precise trenching operations, reducing manual labor and expediting various agricultural tasks. As the agricultural sector continues to evolve and adopt advanced technologies, the demand for trenchers in agriculture trenching is expected to grow.
Recent Developments:
In April 2021, the Jan de Nul Group and the UK offshore technology provider Osbit have a contract for the design and development of a new underwater trenching vehicle. The Swordfish will be a powerful underwater trenching machine that may be equipped with a mechanical chain cutter, a jetting installation, or both to work in a range of soil types and bury cables as deep as three or three and a half meters. Two 300 kW hydraulic power units and two 300 kW electric HP jet pumps will power the Swordfish. With the aid of its 1,120 kW pump power, it will be able to handle soil strengths up to 125 kPa when configured for jetting. Utilizing its 420 kW increased jetting power and 400 kW chain cutting tool, it will be able to handle soil strengths up to 400 kPa.
In June 2022, for its increasing fleet of trenching machines, the Greek company Asso Group, a specialist in installing and repairing submarine cables, selected underwater vehicle navigation technology from Sonardyne. In particular, the business will equip its trenching equipment used for offshore wind wire installation, protection, and repair with Sonardyne's underwater Lodestar attitude and heading reference sensors (AHRS). Asso strives for effective cable laying and burial operations with Lodestar placed in its trenches by keeping a high level of situational awareness of the platform's dynamics. This, according to the business, is essential for guiding vehicles in locations with zero sight and difficult geotechnical conditions.
Trencher Market: Report Scope
Report Attributes
Report Details
Report Name
Trencher Market Research Report
Market Size in 2022
USD 390.2 Million
Market Forecast in 2030
USD 513.8 Million
Growth Rate
CAGR of 3.5%
Number of Pages
222
Key Companies Covered
Wolfe Heavy Equipment, EZ-Trench, Tesmec, Ditch Witch, Marais, Vermeer, Toro, UNAC, Port Industries, Guntert & Zimmerman, Mastenbroek, Shandong Gaotang trencher, Rongcheng Shenyuan, and Inter-Drain among others.
Segments Covered
By Product, By Operating Type, By Application, and By Region
Regions Covered
North America, Europe, Asia Pacific (APAC), Latin America, Middle East, and Africa (MEA)
Base Year
2022
Historical Year
2017 to 2021
Forecast Year
2023 - 2030
Customization Scope
Avail customized purchase options to meet your exact research needs. Request For Customization
Trencher Market: Regional Analysis
North America is expected to dominate the market over the forecast period
North America is expected to dominate the global trencher market during the forecast period. Regional growth is driven by various factors such as infrastructure development, utility installation, and others. The region has a robust construction industry with continuous infrastructure development, including road and highway construction, urbanization projects, and utility installations. Trenchers are widely used in these projects to dig trenches for underground utilities, such as water, gas, and electrical lines, as well as for creating foundations and footings. The demand for trenchers in the construction sector is high in the area.
For instance, a huge infrastructure network, including roads, bridges, freight rail, ports, electricity grids, and internet access, supports the USD 20 trillion US economy. The USDOT Secretary announced in July 2021 that the Infrastructure for Rebuilding America (INFRA) program will award 24 projects across 18 states with a total of USD 905.25 million in discretionary grants. Moreover, the Canadian government's decision to invest USD 12 billion in public transportation projects over the next eight years (announced in February 2021) will boost long-term output in the Canadian construction industry. Thus, the increasing construction industry in the North American region is expected to favor the trencher market growth.
Trencher Market: Competitive Analysis
The global trencher market is dominated by players like:
Wolfe Heavy Equipment
EZ-Trench
Tesmec
Ditch Witch
Marais
Vermeer
Toro
UNAC
Port Industries
Guntert & Zimmerman
Mastenbroek
Shandong Gaotang trencher
Rongcheng Shenyuan
Inter-Drain
Others.
The global trencher market is segmented as follows:
By Product
Wheel Trencher
Chain Trencher
Micro Trencher
Others
By Operating Type
By Application
Agriculture Trenching
Oil & Gas Pipeline Installation
Energy Cables and Fiber Optic Laying
Telecommunication Networks Construction
Sewers and Water Pipelines Installation
Others
By Region
North America
Europe

France
The UK
Spain
Germany
Italy
Rest of Europe

Asia Pacific

China
Japan
India
South Korea
Southeast Asia
Rest of Asia Pacific

Latin America

Brazil
Mexico
Rest of Latin America

Middle East & Africa

GCC
South Africa
Rest of Middle East & Africa