Industry Prospective:
The global thrombectomy devices market size was worth around USD 1.35 Billion in 2021 and is estimated to grow to about USD 2.12 Billion by 2030, with a compound annual growth rate (CAGR) of approximately 6.9% over the forecast period. The report analyzes the thrombectomy devices market's drivers, restraints/challenges, and the effect they have on the demands during the projection period. In addition, the report explores emerging opportunities in the thrombectomy devices market.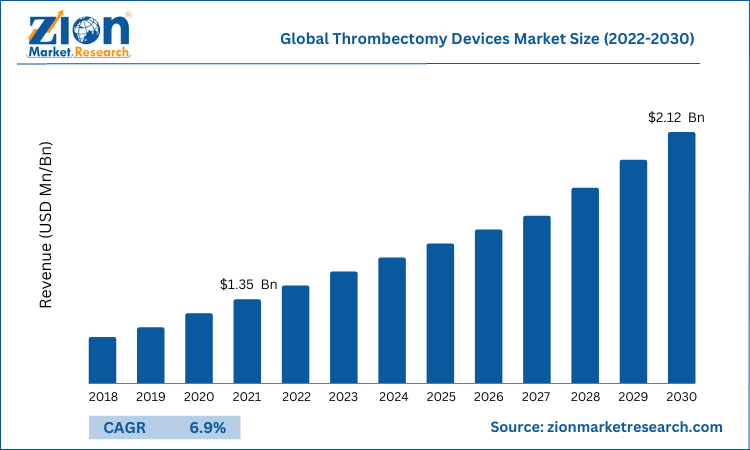 Request Free Sample
Thrombectomy Devices Market: Overview
Thrombectomy devices are used to treat blood clots in the veins, arteries, and capillaries. These are meticulously developed devices to reduce blood loss while minimizing injury to the vascular wall during an operation. These devices are available in a variety of diameters and sizes, and the appropriate catheter is chosen based on the afflicted region. Disease and abnormalities such as peripheral arterial disorders, acute myocardial infarction, deep vein thrombosis, neurovascular thrombosis, and pulmonary embolism are all treated with these devices.
COVID-19 Impact:
The impact of the COVID-19 pandemic on the global thrombectomy devices market was low to moderate. Most of the medical device manufacturing remained functional due to low restrictions. Also, demand for surgical devices increased during the pandemic period which ultimately supported the market growth. However, the shortage of raw materials and supply chain disruptions affected the market growth to some extent.
Thrombectomy Devices Market: Growth Drivers
Increasing demand for stent retrievers is likely to boost the global market.
Stent retrievers are mechanical thrombectomy products from the second generation that are used to treat thrombotic diseases. For the accurate placement of the stent at the occlusion site, a balloon-expanding or self-expanding stent is connected to a Guidewire in-stent retrieval devices. By inflating the stent body, the stent is put at the blockage site and covers the thrombus. The thrombus is then completely removed using a stent extraction device.
Rising reimbursement for thrombectomy operations, growing public-private product development & commercialization expenditures, and enhanced patient priority on less invasive therapeutic techniques are some of the factors propelling the market growth. In addition to this, current product developments by leading companies, as well as key market players' expansion of their presence in emerging countries through the organization of manufacturing facilities, R&D facilities, and distribution networks are likely to propel the thrombectomy devices market forward.
Thrombectomy Devices Market: Restraints
Dearth of expertise may impede the growth of the market.
In the field of medical devices, having skilled professionals with appropriate knowledge of the device is essential. The treatment of the patient depends on the diagnosis of the disease and thus accurate diagnosis with proper data & images is required by the providers. With the increase in technological advancements and lack of training in low & middle-income countries may lead to a decrease in the use of thrombectomy devices thereby hampering the market growth. In addition to this, stringent regulatory bodies, lack of awareness among the people regarding the benefits of thrombectomy devices, and poor healthcare infrastructure in rural areas and underdeveloped countries are also some of the factors that may hinder the market growth.
Thrombectomy Devices Market: Opportunities
Technological advancement and implementation of AI in medical devices to drive market growth during the forecast period.
Mechanical thrombectomy devices, which are directed from the wrist or groin through a wire to the blockage, can be used to treat acute ischemic stroke, which is a primary cause of long-term impairment. The clot must be removed as soon as feasible to enhance the patient's prognosis.
In today's technologically advanced world, without knowing the clot's characteristics, just one out of every three clots can be removed on the first try. Smart Guidewire System incorporating AI-powered tissue sensor allows the guidewire to deliver doctors with acute data on the clot. This is likely to boost the growth of the global market during the forecast market. In addition to this, an increase in the use of automated thrombectomy devices is also expected to fuel market growth during the forecast period.
Thrombectomy Devices Market: Challenges.
Multiple passes by the thrombectomy device may cause vascular damage
Numerous passes of a thrombectomy device might cause vascular damage, resulting in vascular re-occlusion, endothelial denudation, and microembolization of distant branches, all of which could have serious consequences for a patient's neurological recovery. In the aged, deep atheroma plaques in the intracerebral circulation may exist, and microscopic damage to such lesions may worsen the pro-thrombotic environment. These factors act as a major challenge for the manufacturers as well as providers over the use of thrombectomy devices.
Thrombectomy Devices Market: Segmentation
The global thrombectomy devices market is segmented as thrombectomy devices technology, devices type, utility, diseases, and region.
Based on thrombectomy devices technology, the market is categorized into aspiration, mechanical, and rheolytic.
The device type segment is bifurcated into manual and automated. The manual segment held the largest market share in 2021 and is further predicted to grow rapidly at a promising CAGR during the forecast period. The major reason for the growth of this segment is the rise in healthcare expenditure, prevalence of approving medical reimbursements, and surge in research & development activities in healthcare
By utility, the market is segregated into disposable devices and reusable devices. The disposable thrombectomy device segment held the largest market share in 2021 and is further expected to occupy a dominant market share and simultaneously grow at a significant CAGR during the forecast period.
The major reason for the growth of this segment is its increased application in hospitals and clinics as the chances of contracting and spreading infection with disposable devices are completely eliminated, which results in its increased adoption among healthcare professionals for undertaking various treatments.
The disease segment of the market is divided into coronary peripheral and neural.
Recent Developments:
In February 2022, Cardiovascular Systems, Inc., an innovative medical device company, announced that they have collaborated with Innova Vascular, Inc., a creative medical devices startup that is involved in developing breakthrough medical devices with a minimally invasive approach, in order to develop an effective line of thrombectomy devices. They strive to develop effective aspiration and mechanical devices to functionally treat various diseases such as deep vein thrombosis, peripheral vascular disease, pulmonary embolism, and others.
In July 2021, Surmodics, Inc., a dominant provider of in vitro diagnostic technologies and medical devices, announced that they have acquired Vetex Medical Limited, an Ireland-based medical device provider. The acquisition expands Surmodics' offerings to provide utterly effective mechanical thrombectomy devices which is also U.S. Food and Drug Administration (FDA) cleared. Their devices are specially designed to treat various acute diseases including arterial and venous thrombosis.
Thrombectomy Devices Market Report Scope:
Report Attributes
Report Details
Report Name
Thrombectomy Devices Market Research Report
Market Size in 2022
USD 1.35 Billion
Market Forecast in 2030
USD 2.12 Billion
Compound Annual Growth Rate
CAGR of 6.9%
Number of Pages
208
Forecast Units
Value (USD Billion), and Volume (Units)
Key Companies Covered
Stryker Corporation, Medtronic plc., Boston Scientific Corporation, Terumo Corporation, Penumbra, Inc., Johnson & Johnson, Spectranetics Corporation, Teleflex Incorporated, AngioDynamics, Inc., Bayer AG, Merit Medical Systems, Phenox Gmbh, Philips Healthcare, Straub Medical AG, Teleflex Incorporated, Argon Medical Devices, Inc., and Edwards Lifesciences Corporation.
Segments Covered
By Technology, By Type, By Utility, By Diseases, And By Region
Regions Covered
North America, Europe, Asia Pacific (APAC), Latin America, Middle East and Africa (MEA)
Countries Covered
North America: U.S and Canada
Europe: Germany, Italy, Russia, U.K, Spain, France, Rest of Europe
APAC: China, Australia, Japan, India, South Korea, South East Asia, Rest of Asia Pacific
Latin America: Brazil, Argentina, Chile
The Middle East And Africa: South Africa, GCC, Rest of MEA
Base Year
2021
Historical Year
2016 to 2020
Forecast Year
2022 - 2030
Customization Scope
Avail customized purchase options to meet your exact research needs. Request For Customization
Thrombectomy Devices Market: Regional Landscape
North American region held the largest market share in 2021 and is predicted to grow at a significant CAGR
North America led the global thrombectomy devices market with over 39 percent of the share. The United States is expected to remain the major revenue contributor in the North American market. The thrombectomy devices market in the United States is being driven by the rising burden of cardiac patients, technical developments in devices to achieve better clinical results, and increased demand for less invasive solutions.
During the projected period, emerging Asia Pacific nations such as China and India are predicted to become the new revenue-generating markets for major market participants. The existence of a large population of patients for target diseases, increasing healthcare expenditure, rising awareness among surgeons about the advantages offered by thrombectomy devices, and growing adoption of such devices owing to their declining costs are all contributing to the growth of the market in Asia Pacific.
Thrombectomy Devices Market: Competitive Landscape
Key players functioning in the global thrombectomy devices market include:
Stryker Corporation
Medtronic plc.
Boston Scientific Corporation
Terumo Corporation
Penumbra Inc.
Johnson & Johnson
Spectranetics Corporation
Teleflex Incorporated
AngioDynamics Inc.
Bayer AG
Merit Medical Systems
Phenox Gmbh
Philips Healthcare
Straub Medical AG
Teleflex Incorporated
Argon Medical Devices Inc.
Edwards Lifesciences Corporation.
Global thrombectomy devices market is segmented as follows:
By Technology
Mechanical Thrombectomy Devices
Aspiration Thrombectomy Devices
Rheolytic Thrombectomy Devices
By Type
Automated Devices
Manual Devices
By Utility
Reusable Devices
Disposable Devices
By Diseases
Peripheral Diseases
Coronary Diseases
Neural Diseases
By Region
North America
Europe

France
The UK
Spain
Germany
Italy
Rest of Europe

Asia Pacific

China
Japan
India
South Korea
Southeast Asia
Rest of Asia Pacific

Latin America

Brazil
Mexico
Rest of Latin America

Middle East & Africa

GCC
South Africa
Rest of Middle East & Africa