Teleradiology Market Overview
The global Teleradiology market size accounted for USD 3.80 Billion in 2020 and is expected to reach USD 7.59 Billion by 2028, growing at a CAGR of around 8.5% between 2021 and 2028.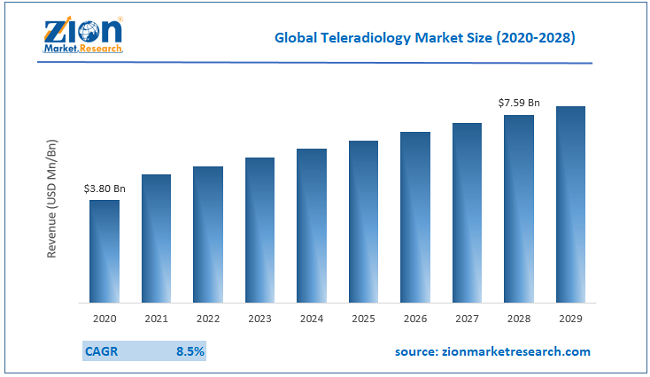 Request Free Sample
To know more about this report, Request A Sample Copy.
The global teleradiology market is majorly enhanced by technological advancements in teleradiology everywhere on the planet. Other major factors are the rising geriatric population base and elevation in healthcare expenditure, paired with an elevated occurrence of chronic disorders. On the opposite hand, technology paired with a possible lack of skilled technicians & radiologists are the main hindering factors which will hamper the event of teleradiology market.
However, high rates of penetration by Internet & smartphones paired with elevated healthcare awareness amongst patients everywhere on the planet are expected to reveal new growth opportunities for the teleradiology market within the forecast period.
In addition to the present, various government initiatives also will support the event of the worldwide teleradiology market. For instance, in May 2018, the Maharashtra Government of India (APAC) roped private companies for development in teleradiology. This boosted the expansion of the worldwide teleradiology market.
COVID-19 Impact Analysis
With the sudden outbreak of COVID-19 globally, medical practices of all sizes are under huge pressure, and healthcare providers got to believe in teleradiology solutions to read diagnostic reports and treat patients. Teleradiology solutions also help to enhance the efficiency of diagnostic imaging by optimizing and simplifying radiology with accurate reads and reducing human/manual errors. However, this industry is facing monetary, staffing, and logistics challenges as a variety of radiologists are getting into the cluster of telehealth and teleradiology. Also, there are internet bandwidth issues, especially in rural hospital settings, and other people living in rural areas are hesitant to simply accept teleradiology reports due to data breaching issues.
Growth Factors
Due to the outbreak of the coronavirus globally, there's a sudden rise in the demand for teleradiology services. The growth of this market is especially attributed to the increasing geriatric population and therefore the subsequent upsurge in the prevalence of associated diseases, the increasing adoption of cloud-based solutions, and therefore the benefits offered by teleradiology and a shortage of skilled radiologists. However, declining reimbursements and increasing regulatory burden within the US, and data breaching of imaging reports hampered market growth to an extent.
Report Scope:
Teleradiology Market Report Scope
REPORT ATTRIBUTES

DETAILS

Market Size in 2020 (USD)

USD 3.80 Billion

Revenue Forecast in 2028 (USD)

USD 7.59 Billion

Compound Annual Growth Rate (%)

CAGR of 8.5% from 2021 to 2028

Historic Data

2018 - 2020

Base Year

2020

Forecast Period

2021 - 2028

Segments Covered

Category Type, Modality Type, Top Manufacturers, Region

Leading Manufacturers Profiles

Virtual Radiologic, Agfa-Gevaert Group, ONRAD Inc., Global Diagnostics Ltd., Everlight Radiology, 4ways Healthcare Limited, RamSoft Inc., Sectra AB, and HealthWatch TeleDiagnostics Pvt. Ltd. among others

Geographical Reach

North America; Europe; Asia Pacific; Latin America; Middle East & Africa

Personalize/Buying Opportunities

Free Report Customization (equivalent to up to 8 analyst's working days) with purchase. Addition or alteration to country, regional & segment scope

Avail customized purchase options to meet your exact research needs.
Category Type Segment Analysis Preview
Based on this, the teleradiology market is classified into category types such as software, hardware, and telecom & networking. The software sector is likely to develop in the teleradiology market at the quickest rate shortly, owing to the increasing demand for healthcare software to improve interoperability, enhance technical capabilities, and enhance data transparency.
Modality Type Segment Analysis Preview
Based on modality type, the teleradiology market is divided into CT (computed tomography), X-ray, ultrasound, MRI (magnetic resonance imaging), fluoroscopy, and nuclear imaging. X-ray was the dominant segment owing to high usage in primary diagnosis, economical pricing, and the introduction of innovative systems such as filmless x-ray systems are some of the factors responsible for the segment's dominance.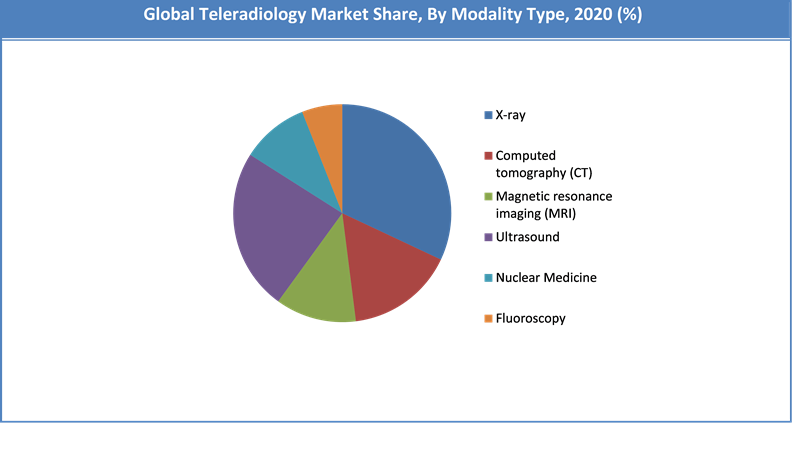 Request Free Sample
Regional Analysis Preview
North America is predicted to remain the ruling area within the teleradiology market in the years to return. Demand for teleradiology was uppermost in North America, particularly within the U.S., boosting the teleradiology market. Europe was the second biggest market chased by the Asia Pacific. Asia Pacific is probably going to be developing at the highest CAGR within the years to return for the teleradiology market. Additionally, Latin America and the Middle East & Africa also are likely to exhibit perceptible development for the teleradiology market within the coming years.
Key Market Players & Competitive Landscape
The key players in the Teleradiology market include
Virtual Radiologic
Agfa-Gevaert Group
ONRAD, Inc.
Global Diagnostics Ltd.
Everlight Radiology
4ways Healthcare Limited
RamSoft, Inc.
Sectra AB
HealthWatch TeleDiagnostics Pvt. Ltd.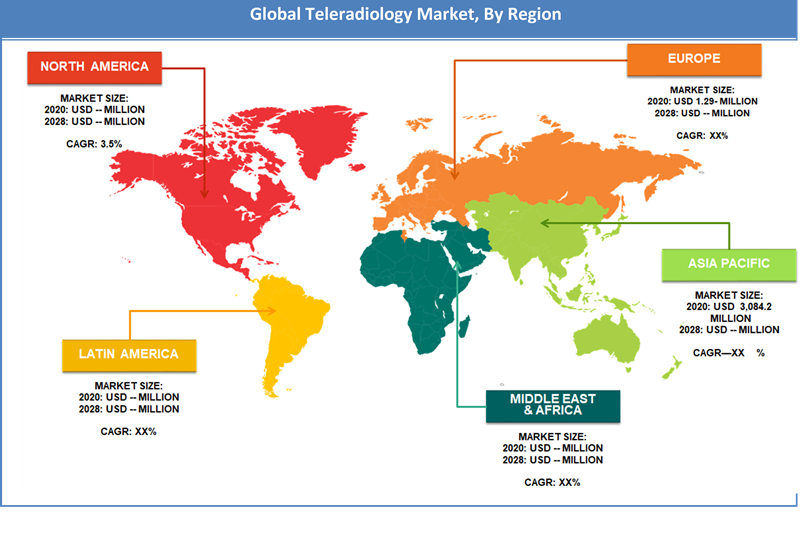 Request Free Sample
The global Teleradiology Market is segmented as follows:
By Category Type
Hardware
Software
Telecom and networking
By Modality Type
X-ray
Magnetic resonance imaging (MRI)
Ultrasound
Nuclear Medicine
Fluoroscopy
By Region
North America
Europe

France
The UK
Spain
Germany
Italy
Rest of Europe

Asia Pacific

China
Japan
India
South Korea
Southeast Asia
Rest of Asia Pacific

Latin America

Brazil
Mexico
Rest of Latin America

Middle East & Africa

GCC
South Africa
Rest of Middle East & Africa