According to the report published by Zion Market Research, global demand for System Integration market was valued at approximately USD 280 Million in 2019, and is expected to generate revenue of around USD 420 Million by end of 2026, growing at a CAGR of around 9-10% between 2020 and 2026.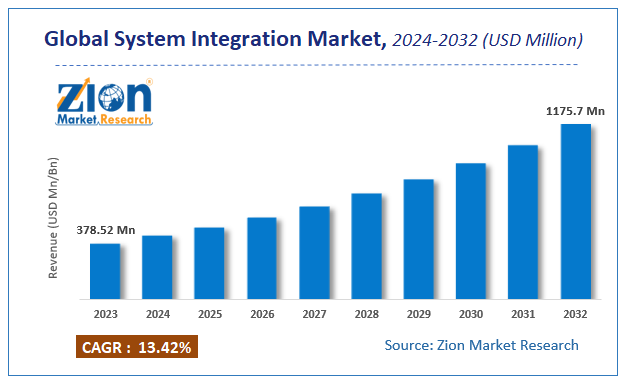 Request Free Sample
Global System Integration Market: Overview
System integration is an ecosystem in which multiple systems are linked to a common platform, resulting in easy real-time data accessibility. Digitization and centralization of corporate operations have thus enabled diverse enterprises to select economical and distributed strategies for information technology. In addition, growing developments in technology, such as cloud and virtual computing, are projected to have a positive impact on business development.
Global System Integration Market: Growth Factors
Integration of the framework helps companies to simultaneously view and visualise data for improved decision making. Therefore, some of the main factors driving market growth are increased demand from companies to maximise the productivity of their current systems, increasing preference for automated solutions, the introduction of cloud computing technology, and the growth of broadband networks. Integration of the system is a cost-effective strategy for the worldwide presence of IT application software and infrastructure. It guarantees increased control of infrastructure, eliminates data duplication, and protects data security, resulting in enhanced quality and reliability of the enterprise. Moreover, technological advances such as hardware and software solutions, mobility applications, and big data management software are influencing organisations around the world. This has resulted in increased demand for decreased operational complexity and streamlined business procedures, thereby generating growth opportunities.
Report Scope:
Global System Integration Market: Segmentation
The System Integration market is fragmented based on infrastructure integration, application, consulting and end user. By infrastructure integration, the market is divided into building management system (BMS), cloud integration, integrated communication, data center infrastructure management (DCIM) and network integration. On the basis of application, the System Integration market includes application integration, data integration, unified communication, integrated security software and integrated social software. On the basis of Consulting segment, the market is segmented into lifecycle management (ALM), business transformation, and business process integration. On the basis of verticals, the market is segmented into IT & Telecommunications, defense & security, BFSI, oil & gas, healthcare, transportation, retail and others.
Region-wise, the global market is segregated into North America, Europe, Asia Pacific, Latin America, and Middle East & Africa.
Global System Integration Market: Regional Analysis
In 2018, North America had the highest market largest share in terms of sales, owing to massive investments made by governments within different departments to implement creative solutions. Significant investments in the market are also expected in the regions of Latin America and the Middle East and Africa, owing to the several benefits offered by system integration solutions and services. Meanwhile, from 2020 to 2026, Asia Pacific is projected to grow at a CAGR of over 10%. This is accredited to data globalisation and virtualization along with the increasing demand in the telecom industry for device integration services.
Global System Integration Market: Competitive Players
Some main participants of the System Integration market are Accenture, BAE systems, FUJITSU, Hewlett Packard Enterprise Development LP, IBM Corporation, Lockheed Martin Corporation, Tata Consultancy Services Limited, DXC Technology Company, Telefonaktiebolaget LM, Ericsson, Cognizant, CGI Group Inc., Wipro Limited, Informatica, MuleSoft Inc., General Dynamics Corporation, Harris Corporation, Infosys Limited, Northrop Grumman Corporation, Raytheon Company, Leidos, Oracle, among others.
System Integration Market: Regional Segment Analysis
North America
Europe

France
The UK
Spain
Germany
Italy
Rest of Europe

Asia Pacific

China
Japan
India
South Korea
Southeast Asia
Rest of Asia Pacific

Latin America

Brazil
Mexico
Rest of Latin America

Middle East & Africa

GCC
South Africa
Rest of Middle East & Africa