Industry Prospective:
The global synthetic rope market size was worth around USD 877.5 Million in 2022 and is predicted to grow to around USD 1466.7 Million by 2030 with a compound annual growth rate (CAGR) of roughly 6.80% between 2023 and 2030. The report analyzes the global synthetic rope market drivers, restraints/challenges, and the effect they have on the demands during the projection period. In addition, the report explores emerging opportunities in the synthetic rope industry.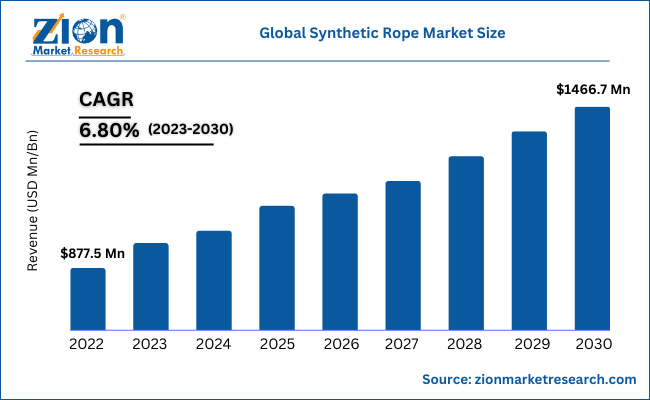 Request Free Sample
Synthetic Rope Market: Overview
The synthetic rope industry deals with the production, distribution, and consumption of ropes that are made of synthetic materials like nylon, polypropylene, polyester, and others. These ropes have a wide range of applications across end-user verticals including offshore, construction, and industrial operations. The major driving factors for the higher demand for synthetic ropes are the several advantages offered by these ropes as compared to naturally-derived counterparts. They tend to be more durable and offer higher resistance to abrasion while ensuring a significant strength-to-weight ratio. Furthermore, synthetic ropes are less prone to mildew, rotting, and any other form of quality degradation thus making them an ideal choice for outdoor use. In the coming years, the industry players can expect higher demand owing to the rising demand in the end-user verticals along with consistent product innovation and improvement.
Key Insights:
As per the analysis shared by our research analyst, the global synthetic rope market is estimated to grow annually at a CAGR of around 6.80% over the forecast period (2023-2030)
In terms of revenue, the global synthetic rope market size was valued at around USD 877.5 million in 2022 and is projected to reach USD 1466.7 million, by 2030.
The market is projected to grow at a significant rate due to the growing focus on reliability and safety
Based on type segmentation, polypropylene was predicted to show maximum market share in the year 2022
Based on end-user segmentation, the marine was the leading vertical in 2022
On the basis of region, North America was the leading revenue generator in 2022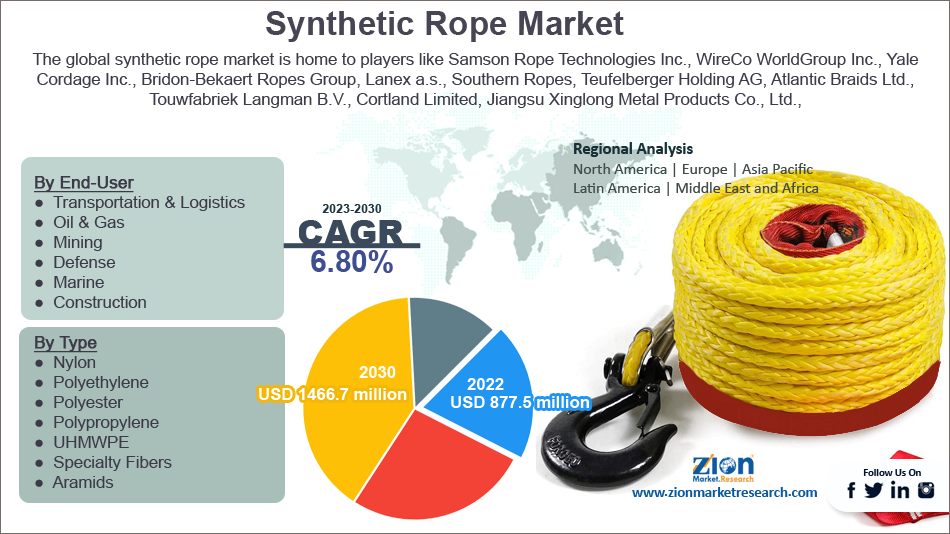 Request Free Sample
Synthetic Rope Market: Growth Drivers
Growing focus on reliability and safety to act as growth drivers
The global synthetic rope market is anticipated to witness steady growth owing to the increasing focus on the reliability and safety of products used in end-user verticals. Synthetic ropes are less prone to untimely breakage as compared to traditional ropes. They are more durable and consumers have higher confidence in synthetic ropes. The safety index of any product is given higher importance in any business activity and especially in areas that are more vulnerable to incidents. For instance offshore events and marine operations. As companies are increasingly focusing on the safety of the people using these products, the demand for synthetic rope is expected to grow. In addition to this, the rising demand for high-strength and lightweight materials could create more momentum. This is applicable to the automotive and aviation sector where the weight of the products used in operations plays a significant role.
Synthetic Rope Market: Restraints
Environmental concerns to restrict market expansion
Synthetic ropes are generally made of non-environment-friendly materials like polypropylene and nylon. These materials are non-biodegradable and survive in the environment for many years thus acting as potential pollutants. Moreover, all sectors are currently under the radar of environmental agencies in terms of the impact of business operations on the environment. Several companies have been criticized on a global scale for the harmful and irreversible damage to the ecosystem due to negligence in business activities. Additionally, there is a significant rise in the adoption of naturally-derived ropes as competitors continue to work on enhancing product deliverables. This could act as a crucial limitation against global synthetic rope industry growth.
Synthetic Rope Market: Opportunities
Emerging applications to provide growth opportunities
The synthetic rope market size may benefit from the rising number of end-user applications across industrial sectors. The market players are working toward tapping into the lesser-explored segments and regions for instance leisure or sports activities, mining, and agriculture. This could lead to higher growth opportunities during the forecast period along with rising investments in the development and innovation of new material technology. Synthetic raw materials that offer better performance while eliminating environmental concerns could lead to further expansion of scope.
Synthetic Rope Market: Challenges
Changing prices of raw materials to challenge market growth
Synthetic ropes are derived using raw materials that are petroleum-based. For instance nylon and polypropylene. As the prices of raw materials are continuously fluctuating, it is getting difficult for industry players to maintain profit share and subsequent business operations. Moreover, currently, the world is witnessing extreme political turmoil in terms of petroleum-derived products at least in some parts of the world which could further damage the growth trajectory of the global industry players.
Synthetic Rope Market: Segmentation
The global synthetic rope market is segmented based on end-user, type, and region.
Based on end-user, the global market segments are transportation & logistics, oil & gas, mining, defense, marine, and construction. Currently, industrial growth has gained a high response from the marine and offshore segments since synthetic ropes have wide applications in this sector. They are used for activities like towing, mooring, and lifting which are extremely common events that occur in every marine unit. Construction is the second-largest revenue generator for the industry players where synthetic ropes are crucial to activities like scaffolding and lifting heavy loads. The mining and oil & gas sector is expected to grow at a high CAGR during the forecast period as the end-user applications continue to rise due to dynamically changing business requirements. As per the International Nylon Study Group (INS), in 2020, more than 7.8 million tonnes of nylon filaments and fibers were produced worldwide.
Based on type, the global synthetic rope industry segments are nylon, polyethylene, polyester, polypropylene, UHMWPE, specialty fibers, and aramids. Polypropylene currently dominates the global industry growth owing to the several advantages of the material. For instance, propylene is low in cost and can float on water. It is also lightweight making it ideal for fishing applications. Ropes made of nylon offer extreme durability and resistance to abrasion. Ultra-high molecular weight polyethylene (UHMWPE) exhibits low stretch and high strength while specialty fibers including Vectran, Spectra, and Dyneema that can survive high temperatures and low creep. As per a 2019 study, fishing gear accounts for over 10% of the globe's plastic waste in the ocean.
Recent Developments:
In March 2023, Verlinde, a France-based maker of industrial products, announced the launch of a new range of synthetic ropes electric hoists that are available in 3 models. EUROBLOC VF can be used for loads weighing up to 20,000 kg and makes use of Dyneema® ropes, which are known to be 15 times stronger than steel
In March 2023, WireCo, a leading provider of mission-critical synthetic rope, wire rope, electromechanical cable, and netting, launched Made in the USA crane ropes that are high in performance. The launch is in regard to the company's investment of USD 30 million directed toward the production of high-quality ropes
In August 2022, WireCo announced the launch of Union Gladiator pendants which are expected to assist in improving shovel service life by at least 10 to 15 times as compared to other technologies. The product is made of synthetic fibers
Synthetic Rope Market: Report Scope:
Report Attributes
Report Details
Report Name
Synthetic Rope Market Research Report
Market Size in 2022
USD 877.5 Million
Market Forecast in 2030
USD 1466.7 Million
Growth Rate
CAGR of 6.80%
Number of Pages
218
Key Companies Covered
Samson Rope Technologies Inc., WireCo WorldGroup Inc., Yale Cordage Inc., Bridon-Bekaert Ropes Group, Lanex a.s., Southern Ropes, Teufelberger Holding AG, Atlantic Braids Ltd., Touwfabriek Langman B.V., Cortland Limited, Jiangsu Xinglong Metal Products Co., Ltd., Marlow Ropes Ltd., Katradis Marine Ropes Ind. S.A., Novabraid, Phillystran, Inc., English Braids Ltd., and Bridco Australia Pty Ltd. amongst others.
Segments Covered
By End-User, By Type, And By Region
Regions Covered
North America, Europe, Asia Pacific (APAC), Latin America, Middle East, and Africa (MEA)
Base Year
2022
Historical Year
2017 to 2021
Forecast Year
2023 - 2030
Customization Scope
Avail customized purchase options to meet your exact research needs. Request For Customization
Synthetic Rope Market: Regional Analysis
North America to register the highest CAGR
The global synthetic rope market is expected to witness the highest growth in North America mainly due to the presence of key market players in the US that have a global presence and are continuously looking for measures to expand their foothold. The country's already established encouraging infrastructure along with growing investments toward further technological advancements works in the favor of regional growth. Alongside, the country is also witnessing a surge in research & development activities as existing players continue to add a new range of products that offer better performance. Moreover, the addition of new players assists in increasing the intensity of regional competition. Growth in Europe may be driven by the increasing application of synthetic ropes for various offshore and marine activities along with usage in renewable energy production.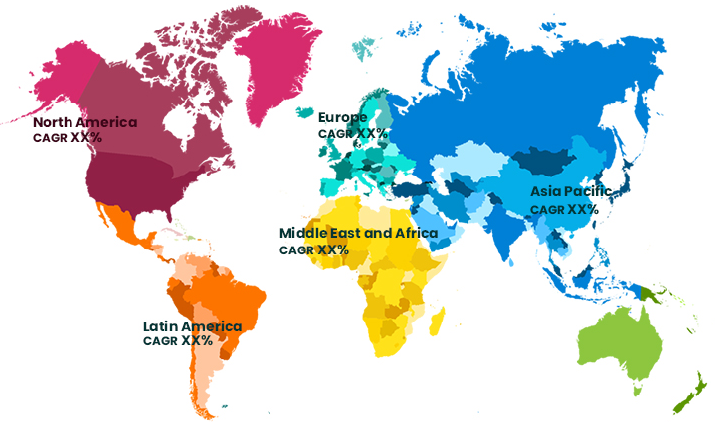 Request Free Sample
Synthetic Rope Market: Competitive Analysis
The global synthetic rope market is home to players like:
Samson Rope Technologies Inc.
WireCo WorldGroup Inc.
Yale Cordage Inc.
Bridon-Bekaert Ropes Group
Lanex a.s.
Southern Ropes
Teufelberger Holding AG
Atlantic Braids Ltd.
Touwfabriek Langman B.V.
Cortland Limited
Jiangsu Xinglong Metal Products Co. Ltd.
Marlow Ropes Ltd.
Katradis Marine Ropes Ind. S.A.
Novabraid
Phillystran Inc.
English Braids Ltd.
Bridco Australia Pty Ltd. amongst others.
The global synthetic rope market is segmented as follows:
By End-User
Transportation & Logistics
Oil & Gas
Mining
Defense
Marine
Construction
By Type
Nylon
Polyethylene
Polyester
Polypropylene
UHMWPE
Specialty Fibers
Aramids
By Region
North America
Europe

France
The UK
Spain
Germany
Italy
Rest of Europe

Asia Pacific

China
Japan
India
South Korea
Southeast Asia
Rest of Asia Pacific

Latin America

Brazil
Mexico
Rest of Latin America

Middle East & Africa

GCC
South Africa
Rest of Middle East & Africa