Market Overview
The global Superhydrophobic Coating market accounted for USD 8.6 Million in 2020 and is expected to reach USD 100.3 Million by 2028, growing at a CAGR of 25.1% from 2021 to 2028.
The term Superhydrophobic coating refers to the thin layer that repels water. The droplets which hit the surface of these coatings rebounds fully. These are used in the ultra-dry surface applications. The idea came from the nature itself as there are few insects and plants which have the hydrophobic property. For example, hydrophobic coatings can be found on Lotus leaves and few insects which makes them water repellent. Humans grabbed the idea and formed the superhydrophobic coatings which can broadly be divided into two types: a) Durable water repellent- which is used for fabric in order to protect them from water and b) Rain repellent- which is used in cars windshield to make them repel water during rain in order to increase the visibility.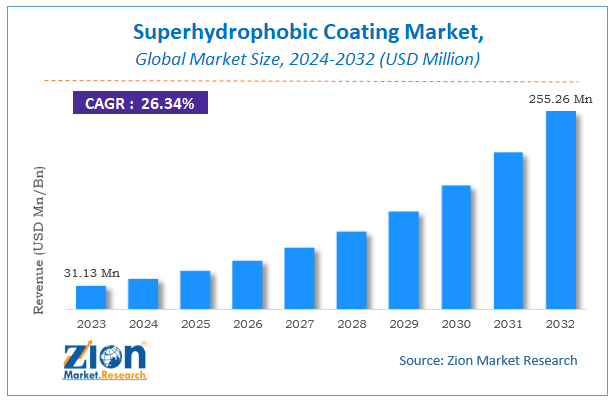 Request Free Sample
COVID-19 Impact Analysis
Superhydrophobic coating market is undergoing lots of challenges due to COVID outbreak. The textile and footwear industry dominated the market due to the increasing demand for advanced textile and high-end footwear. In spite the COVID impact, the industry showed an opportunistic market in wearable electronics including wrist bands, smart watches and many more whose sales and utilization increased over the years. During past decade organizations are striving towards self-cleaning textiles which are much better repellents of dirt and water than the conventional fabric.
Growth Factors
Superhydrophobic coatings are extensively used in the Electrical and Electronics industry which is one of the major growth factors. The biggest foe to the electronics equipment is water and these coatings helps in repelling water. Millions of electronics components like smart phones, TVs, radios etc. are damaged due to the contact with water. There is a significant rise in demand of wearable electronics which needs to be water repellent in order to succeed. So, there in unforeseen demand of these superhydrophobic coatings over the years and some electronics manufacturers like Apple, Titan, OnePlus, FastTrack are already in transit of using the technology which led to the growth of the material exponentially.
Other growth factor is ever growing demand in Automobile sector. The superhydrophobic coating is super water repellent with super scratch and abrasion resistant which makes this nano material special. These coatings provide protection and give a glossy look to the windows which makes it most beneficial for the Automobile Industry.
Another growth factor is the growing demand in the Textile Industry. Due to the repellent property the usage of these nano coatings has endless advantages over the normal textile. These coatings have the potential to save the energy and water and the chemicals which are used in the manufacturing of cleaning agents. With the reduced usage of chemicals, textiles are long lasting with better shining and durability.
Global Superhydrophobic Coating Markett: Report Scope:
Report Attributes
Report Details
Report Name
Superhydrophobic Coating Market
Market Size in 2020
USD 8.6 Million
Market Forecast in 2028
USD 100.3 Million
Compound Annual Growth Rate
CAGR of 25.1%
Number of Pages
110
Forecast Units
Value (USD Million), and Volume (Units)
Key Companies Covered
Aculon, Inc., Exceletech Coating and Applications, P2i Limited., Rust-Oleum Corp., Lotus Leaf Coatings Inc., Advanced NanoTech Lab (ANT Lab), NEI Corporation, NeverWet LLC, UltraTech International Inc., United Protective Technologies, among others.
Segments Covered
By Product Type, By Application And By Region
Regions Covered
North America, Europe, Asia Pacific (APAC), Latian America, Middle East and Africa (MEA)
Countries Covered
North America: U.S and Canada
Europe: Germany, Italy, Russia, U.K, Spain, France, Rest of Europe
APAC: China, Australia, Japan, India, South Korea, South East Asia, Rest of Asia Pacific
Latin America: Brazil, Argentina, Chile
The Middle East And Africa: South Africa, GCC, Rest of MEA
Base Year
2020
Historical Year
2015 to 2019
Forecast Year
2021 - 2028
Customization Scope
Avail customized purchase options to meet your exact research needs. Request For Customization
Product Segment Analysis Preview
The use of Anti-corrosion Superhydrophobic Coatings have increased over the years. This is attributable to the fact that the addition of functionalized fullerene C60 and graphene to epoxy composite coatings improved the anti-corrosion properties. Customer needs their products to be anti-corrosive and the industries grabbed this and made the use of the technology. Anti-icing, Self-cleaning, Anti-wetting, and others form the product type segment.
End-User Segment Analysis Preview
The textile and footwear segment holds a share of 62.7% in 2020. This is attributable to the fact that customers are shifting from traditional textile towards the water resistant as hydrophobic textile is less prone to less moisture and degradation from subsequent corrosion. The shoe user needs their shoes to be cleaned in a single wash rather giving hours cleaning a pair of shoes. This has surged the superhydrophobic coating market to move up. Automotive, Building and Construction, and Upcoming End-user Industries such as Aerospace, Healthcare, Optical, and others form the end user type segment.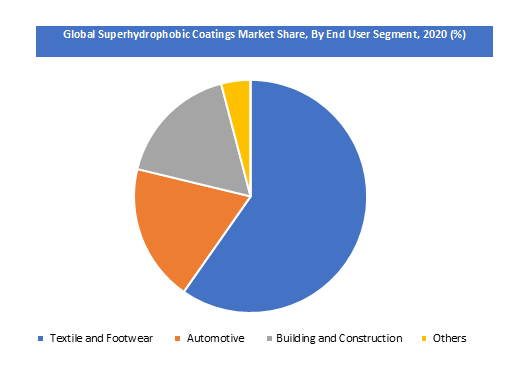 Request Free Sample
Regional Analysis Preview
The North American region held a share of 37.56% in 2020. This is attributable to the investment in R&D of Superhydrophobic coatings and nano particles. For instance, Aculon which is a major player has doubled the laboratory size for the research and production of the superhydrophobic coatings. Rise in the regional players and the customer paradigm shift towards the superhydrophobic coatings.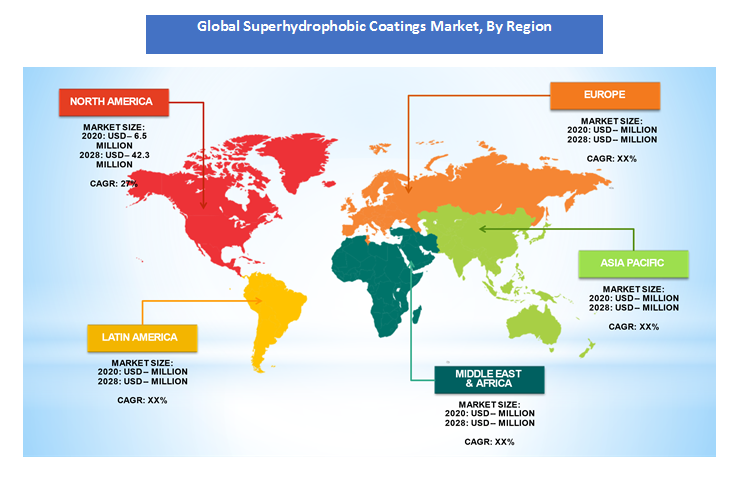 Request Free Sample
The Asia Pacific region is projected to grow at a CAGR of 10.2% over the forecast period. This surge is due to the availability of the inexpensive raw material at optimum quality, expanding electronics industry and proliferating human resource. Also, the growing consumer awareness regarding the coatings in various sectors such as textiles, automobile, aerospace is another factor driving the industry.
Key Market Players & Competitive Landscape
Some of key players in superhydrophobic coating market are Aculon, Inc., Exceletech Coating and Applications, P2i Limited., Rust-Oleum Corp., Lotus Leaf Coatings Inc., Advanced NanoTech Lab (ANT Lab), NEI Corporation, NeverWet LLC, UltraTech International Inc., United Protective Technologies, among others.
Market players are adopting the technologies such as mergers, partnerships, mergers and acquisition along with regional expansion in order to become the leader of the industry. These companies are also focusing towards the R&D process to improve their market presence and come up with better solution and technology. For example- In 2019, Tesla the largest producers of Electric cars across the globe recommended to use the Oleum NewerWet Spray on the front windows in order to prevent from ice. In 2018, to meet rising demand P2i Limited introduced high-speed Splash-proof X, an advanced nano-coating technology. Splash-proof X coats smartphones, headsets, and a variety of IoT devices with liquid-resistant nano-coatings.
The global superhydrophobic coating market is segmented as follows:
By Product
Anti-corrosion
Anti-icing
Anti-cleaning
Anti- wetting
By End User
Textile and Footwear
Automotive
Building and Construction
Upcoming End-user Industries

Healthcare
Optical
Electrical and Electronics
By Region
North America
Europe

France
The UK
Spain
Germany
Italy
Rest of Europe

Asia Pacific

China
Japan
India
South Korea
Southeast Asia
Rest of Asia Pacific

Latin America

Brazil
Mexico
Rest of Latin America

Middle East & Africa

GCC
South Africa
Rest of Middle East & Africa