Industry Prospective:
The global sugar toppings market size was worth around USD 42,096 million in 2021 and is predicted to grow to around USD 94,789 million by 2030 with a compound annual growth rate (CAGR) of roughly 8.42% between 2022 and 2030. The report analyzes the global sugar toppings market drivers, restraints/challenges, and the effect they have on the demands during the projection period. In addition, the report explores emerging opportunities in the sugar toppings market.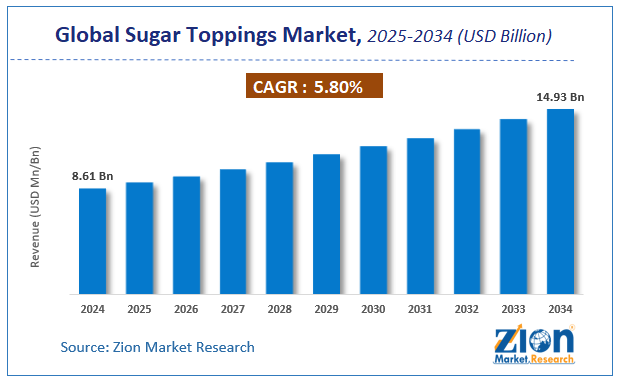 Sugar Toppings Market: Overview
The term 'sugar' is generally used for soluble carbohydrates that taste sweet and sugar is generally used in food products. There are two types of sugars, namely simple and compound. The former is also known as monosaccharides and consists of galactose, glucose, and fructose whereas the latter, known as disaccharides are formed by bonding two different sets of monosaccharides and some examples are lactose, sucrose, and maltose. The most commonly consumed form of sugar is white sugar and it is produced by refining sucrose.
Sugar is already present in the human body and they form due to the hydrolysis of compound sugars into simple sugars. Toppings refer to any product that is placed at the top of the outer layer of any food covering. The end goal of the toppings is to provide the food item with an enhanced appearance and taste. Sugar toppings are added to sweet or salty products, to elevate the final flavor of the product.
Key Insights
As per the analysis shared by our research analyst, the global sugar toppings market is estimated to grow annually at a CAGR of around 8.42% over the forecast period (2022-2030)
In terms of revenue, the global sugar toppings market size was valued at around USD 42,096 million in 2021 and is projected to reach USD 94,789 million, by 2030.
The global sugar toppings market is projected to grow owing to the high innovation rate in the sugar industry.
Based on nature segmentation, conventional was predicted to show maximum market share in the year 2021
Based on type segmentation, dry was the leading type in 2021
On the basis of region, North America was the leading revenue generator in 2021
Sugar Toppings Market: Growth Drivers
Growing innovation to propel market demand
The global sugar toppings market is projected to grow owing to the high innovation rate in the sugar industry. With the changing consumer eating patterns, and shift in preference as more people strive to eat healthily, and since the over-consumption of sugar can lead to medical problems like diabetes, global market players have to constantly make efforts to adapt to the change in consumer expectations and demand. The prime example is the increased production rate of brown sugar, which is being sold in the market as a healthier substitute for white sugar.
Some of the main characteristics of brown sugar include the presence of molasses, which helps to impart a peculiar brown color to the branded sugars. They contain relatively fewer calories than white sugar and are hence ideal for people who are trying to lose or maintain body weight. Although recent studies have pointed out that brown and white sugar are almost similar, however, the global market players have invested heavily in marketing the product as a healthier choice leading to a large segment of consumers believing the same and opting for improvised versions of white sugar.
Sugar Toppings Market: Restraints
Health concerns associated with sugar toppings to restrict market expansion
Sugar, in general, is considered extremely unhealthy since it is heavily refined. There are various health concerns associated with the regular consumption of sugar in any form. Some of these medical issues are related to weight gain, high blood pressure, fatty liver disease, diabetes, and inflammation. As per official data submitted by the International diabetes federation, 1 in every 8 people is known to suffer from diabetes across the globe. Over 90 million cases of sugar-induced diseases are already recorded in South East Asia, whereas the number in North America and the Caribbean is around 51 million.
Sugar Toppings Market: Opportunities
Unexplored markets to provide growth opportunities
The global sugar toppings market players may enter the previously unexplored market, especially in developing or underdeveloped nations as these areas hold immense growth opportunities. Some governments of unexplored markets have launched various programs and initiatives to attract foreign investors as a way to boost the regional economy. For instance, the Australian government runs various free trade agreements, bilateral international treaties, and supportive foreign investment policies. By the end of 2021, Australia had over AUD 4 trillion of foreign investments in the country, with the United Kingdom and the US emerging as the top 2 international investors. South Africa recorded around USD 10.79 billion in foreign investments in 2014.
Sugar Toppings Market: Challenges
Impact of political strain on export-import of sugar to challenge market growth
As the world faces political volatility due to the ongoing Russia-Ukraine war, market players will have to strategize in advance about the impact of the way of business and trade associations especially when exporting or importing the product to international territories. As quoted by Reuters, during Soviet time, Ukraine produced more than 5 million tons of beer sugar, while the number fell to 1 million tons in 2022 due to factors like increased fuel prices and lower demand.
Sugar Toppings Market: Segmentation
The global sugar toppings market is segmented based on type, application, nature, and region
Based on type, the global market divisions are wet and dry. In 2021, the global market registered the highest revenue in the dry toppings segment due to the high application of these edibles in the bakery and confectionery segment, two of the largest consumers of sugar toppings. In the bakery industry, sugar toppings are used to change the physical appearance of cookies, cupcakes, cakes, pastries, pieces of bread, and other items. Sugar toppings help enhance the flavor as well. When using powdered sugar on top of cakes, around 3% cornstarch is added to avoid clumping of sugar.
Based on nature, the global market divisions are conventional and organic. Currently, the leading segment is the conventional form of sugar toppings however, organic sweet toppings may gain more popularity due to the rising number of people who focus on a healthy diet. For instance, as per a report on Statista, around 67% of the survey respondents claimed to limit their sugar intake regularly.
Recent Developments:
In June 2022, EID Parry, a leading producer of sugar and nutraceutical products, announced its partnership with Nutrition Innovation to manufacture sugar with a low glycemic index
In October 2021, Reddi-wip announced the launch of a new range of whipped toppings that is keto-friendly and has no sugar content
Sugar Toppings Market Report Scope:
Report Attributes
Report Details
Report Name
Sugar Toppings Market Research Report
Market Size in 2021
USD 42,096 Million
Market Forecast in 2030
USD 94,789 Million
Compound Annual Growth Rate
CAGR of 8.42%
Number of Pages
282
Forecast Units
Value (USD Million), and Volume (Units)
Key Companies Covered
Baldwin Richardson Foods Co., Hershey Company, Monin Inc., Kraft Heinz Company, Pinnacle Foods Inc., and the J.M. Smucker Company.
Segments Covered
By Type, By Application, By Nature and By Region
Regions Covered
North America, Europe, Asia Pacific (APAC), Latin America, Middle East and Africa (MEA)
Countries Covered
North America: U.S and Canada
Europe: Germany, Italy, Russia, U.K, Spain, France, Rest of Europe
APAC: China, Australia, Japan, India, South Korea, South East Asia, Rest of Asia Pacific
Latin America: Brazil, Argentina, Chile
The Middle East And Africa: South Africa, GCC, Rest of MEA
Base Year
2021
Historical Year
2016 to 2020
Forecast Year
2022 - 2030
Customization Scope
Avail customized purchase options to meet your exact research needs. Request For Customization
Sugar Toppings Market: Regional Analysis
North America to dominate market growth by 2030
The global sugar toppings market is projected to witness the highest growth in North America owing to the high prosecution rate of sugar in countries like the US and Brazil, two of the world's largest producers of sugar. Brazil is ranked as the number one country across the globe in terms of export quantity which reached a total of 25.76 million metric tons in the fiscal year 2021-2022. The country is known to produce more than 25.5% of the world's sugar and ethanol content. The US produced around 7.4 million metric tons of sugar in 2019-2020.
The regional market may be favored due to the presence of key market players in the food solutions segment like Sysco Corporation and Cargill. More than USD 51 billion was amassed by the Sysco Group in 2021. High consumption of sugar toppings and the growing bakery industry in North America may further add more revenue. As of November 2022, Canada's revenue from the bread and baked goods industry stand at USD 4.79 billion.
Sugar Toppings Market: Competitive Analysis
The global sugar toppings market is dominated by players like
Baldwin Richardson Foods Co.
Hershey Company
Monin Inc.
Kraft Heinz Company
Pinnacle Foods Inc.
The J.M. Smucker Company.
The global sugar toppings market is segmented as follows:
By Type
By Application
Confectionery
Bakery
Convenience Food
Packaged Food
By Nature
By Region
North America
Europe

France
The UK
Spain
Germany
Italy
Rest of Europe

Asia Pacific

China
Japan
India
South Korea
Southeast Asia
Rest of Asia Pacific

Latin America

Brazil
Mexico
Rest of Latin America

Middle East & Africa

GCC
South Africa
Rest of Middle East & Africa